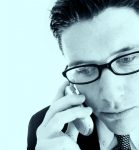 Are Thriveworks Online Counselors Licensed?
All of our online counselors are fully licensed in their states of residence and practice. In fact, our "online counselors" are actually full-fledged employees of Thriveworks, who maintain in-person caseloads at our "brick and mortar" offices in Boston, Philadelphia, and Atlanta.
While counselors are licensed in their state of practice, they are likely not licensed in your state of residence. By soliciting the services of a Thriveworks counselor, you (the client) agree that the point-of-service of the care is the counselor's physical location (and the counselors agrees to abide by the laws and ethics of the state where he/she is licensed).
You have a right as a client to seek out the professional services of a provider outside your state of residence. By soliciting services from a Thriveworks counselor, you are figuratively traveling on the "information highway" to seek out the expertise of an out of state professional.