Cambridge Counseling and Therapy – Life Coaching, Depression, Anxiety
Thriveworks has locations across the USA, but it all began at Thriveworks Cambridge.
Did you know that Thriveworks was founded in Cambridge, Massachusetts? It's true. Our Cambridge office is our charter location. Because of this, we have an incredible group of counseling and life coaching professionals (who have many years of clinical experience) to serve Cambridge- and Boston-area clients.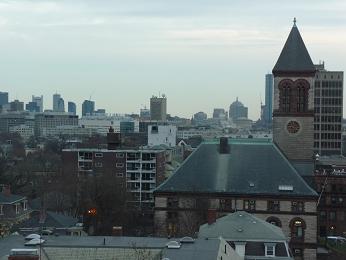 Thriveworks helped me realize that I do believe people can change. I'm not the person I was three months ago, broken and fearful. I'm healthy and happy and for the first time being kind to myself. Thank you for giving me my life back."
Thriveworks Cambridge Counseling is unlike any other therapy practice in Boston or Cambridge, Massachusetts. We believe that anyone can benefit from counseling therapy or life coaching. Many of our clients are successful individuals and couples who know, as we do, that everyone has the potential to grow — to thrive.
The problem is, that there are many people out there that think they have to achieve this alone.
This is not the case. The truth is that millions of people, even (if not especially) already successful people reach out to a counselor or coach for help with achieving their goals or to overcome problems.
When we started this company, we wanted to be a direct response to the challenge so many people have when pursuing coaching or counseling for the first time. That challenge might have started days, weeks or even years ago, when trauma occurred or anxiety percolated from some unknown, dark place.
Even if you've only been dealing with your particular set of issues for a short period of time, going through the process of researching counselors, leaving voicemails and playing "phone tag" only to be told that your insurance provider isn't accepted makes matters far worse.
You might even be experiencing a level of shame about what you're going through and about needing a counselor.
We want you to know that seeking a counselor or coach isn't weak or shameful. Struggling alone through your issues, however, is tragic.
In many ways, scheduling an appointment with a mental health professional is no less ordinary than scheduling a routine medical examination. In order to live happy, fulfilling lives, we need to be healthy. So just like you need to take certain measures to keep your physical health in check (such as exercising, getting plenty of sleep and eating well), monitoring your mental and emotional health can also dramatically improve your wellbeing.
Because when you're somehow off balance (mentally, physically or both), making even the smallest decisions or accomplishing small tasks can be next to impossible.
Thriveworks Cambridge Counseling appreciates these challenges, and in turn has created a mental health practice that aims to provide the care you need, when you need it — regardless of the difficulty or goal you're facing.
Millions of individuals have already discovered how a counselor or coach can help you to:
Establish and achieve goals
Overcome professional and personal relationship problems
Be proactive about personal growth
We hire only the best, most qualified professional coaches and counselors we can find. You can trust your issues in the hands of our mental health experts.
There's no limit to the reasons why people look to a coach or therapist for guidance.
Some common scenarios include:
A closed loved one has passed away, and you need help working through the grief and getting on with your life
You ruminate over past mistakes, making it difficult for you to be present and calm
Your child is having trouble adjusting to a new school after a recent move to a different city
You want to get married, and are looking for premarital (or pre-engagement) counseling
You feel like your life is in a rut; every day is the same and you're beginning to feel depressed
Thriveworks Cambridge Counseling helps individuals, couples and families address numerous issues, such as:
Anxiety issues
Couples and marriage counseling
Eating disorders
Obsessive-compulsive tendencies
Grief counseling
Gender identity concerns
Child therapy
Suspected abuse of a child
Anger management
Addiction issues
Life coaching
Life transitions such as divorce or loss of a job
Our unique approach:
Clients with Depression are not just freed from pain, they experience Happiness
Clients with Anxiety are not just calmed down, they learn Peace of Mind
Clients with relationship problems learn to build Healthy Relationships
Clients with Guilt and Shame learn to Forgive Themselves, and others
Extended Hours and No Waiting Lists
Our trained and licensed Cambridge counselors, therapists, and life coaches are experts in their field, and have been featured in various trusted news outlets, such as, The Boston Globe, CNN, Mashable, The Journal of Mental Health Counseling, Prevention, Psychiatric Times, Counseling Today and many others.
No Waiting List Policy
In Cambridge, waiting lists for a counseling appointment can be weeks, or longer. At Thrive, we adhere to a strict "no waiting list" policy. The way we see it, if you're ready to begin counseling therapy or life coaching, the least we can do is help you to schedule your first session right away.
Most new clients are offered an appointment within 24 hours of their call to us.
Extended Weekend and Evening Hours
Thriveworks Cambridge Counseling offers sessions at times that fit your schedule; daytimes, weekends and evenings.
Our current hours of operation are from 8 a.m. to 9 p.m. Monday through Friday, and from 8 a.m. to 5 p.m. Saturday.
Even if you need an appointment outside of our posted schedule — say at 7 a.m. on a Tuesday or 3 p.m. on a Sunday — don't hesitate to contact us. Our clinicians are often willing to schedule clients outside of our already extended hours. We really do care about you that much.
Concierge-Level Access to Your Coach or Therapist
Every Thriveworks Cambridge Counseling client receives the phone number and email address of his or her therapist or life coach, and has an open invitation to reach out to him or her — even without an appointment.
Contact Thriveworks Cambridge Counseling
The therapists and coaches at Thriveworks Cambridge Counseling are looking forward to working with you.
Your problems do not have to rule your life. Your goals do not have to remain out of reach. You're about to embark on a brave journey toward meaning and fulfillment. Contact us, and we will handle all the details.
Call us today at 617-395-5806 to set up your first session and start the process to change.