Allentown, PA Counselors – Thriveworks Allentown Counseling, Therapy and Coaching
---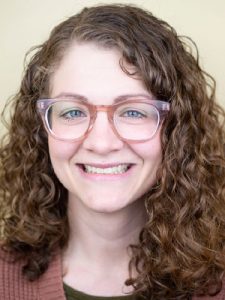 Annalisa Bova, MSW, LCSW
Annalisa is a Licensed Clinical Social Worker who graduated from Marywood University and received a Masters of Social Work degree. Annalisa attended SUNY Oneonta for her undergraduate education and earned a Bachelor of Science in Child and Family Studies. Annalisa has been working in an outpatient setting for the last five years.
Annalisa has experience working with adults, adolescents and children. Annalisa has experience with but not limited to bereavement, parenting issues, depression, anxiety, and mood disorders. Annalisa has a strong passion for eating disorders and self-esteem issues in men and women.  Annalisa identifies as an anti-diet therapist and utilizes intuitive eating principles when treating eating disorders. Annalisa uses cognitive behavioral therapy to deconstruct and reframe negative thinking patterns. Annalisa provides positive reinforcement and uses the humanistic theory to allow for a safe and inviting environment.
Annalisa commissioned in the Pennsylvania Army National Guard as a Behavioral Health Officer in 2018. Annalisa has a passion for working with active military as well as veterans. Annalisa's hands on experience in the military helps with understanding the cultural and social dynamics of the military.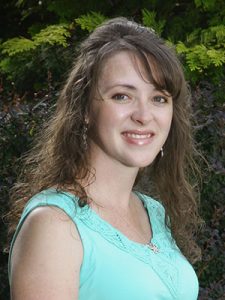 Crystal Witmer, PsyD
Dr. Crystal Witmer graduated from the American School of Professional Psychology at Argosy University, Washington, DC in 2014 with her doctorate in Clinical Psychology. She completed her doctoral internship at the MidAtlantic Internship Consortium: Catholic Charities Child and Family Services.  She then went on to complete her Postdoctoral residency at Cognitive Health Solutions. She has worked with children, adolescents, and families in a variety of treatment settings including private practice, hospitals, and community mental health.  Dr. Witmer specializes in the treatment of depression, anxiety, AD/HD, parenting techniques, behavioral concerns, developmental concerns, anger management, psychological and diagnostic assessment, and has training beyond these areas as well.  Dr. Witmer utilizes integrative, cognitive behavioral, and play therapy approaches when working with children, adolescents, and families.   Dr. Witmer is currently working under the supervision of Dr. Chaundy while she completes the final steps for licensure in Pennsylvania. She is available for psychotherapy and psychological assessments for self pay only.
Dr. Witmer believes that anything is possible with hard work and determination.  She recognizes that the therapeutic process is not a one size fits all process and therefore works alongside with her clients to formulate a therapeutic plan for each client based on their individual needs.  Dr. Witmer enjoys assisting children, adolescents, and their families on a journey to better themselves while teaching healthy coping skills and promote personal and familial growth.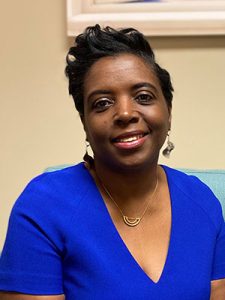 Jacqueline Biggs, LPC
Jackie is a Licensed Professional Counselor who has experience working in various areas of mental health with children, adolescents, young adults, and families. Her experience spans over fifteen years serving as Out Patient Psychotherapist, Behavior Specialist/Mobile Therapist, Adjunct Professor/College Counselor, court appointed Psychotherapist for adjudicated youths in Therapeutic Foster Care, as well as Therapeutic & Education Management. Jackie studied Forensic Psychology at John Jay College of Criminal Justice, where she earned a Bachelors Degree. She went on to earn her masters in Human Services with a concentration in Counseling at Lincoln University and has a Certification as a Psychiatric Rehabilitation Practitioner. She is a member of the National Council for Behavioral Health.
Jackie utilizes Family Therapy, Cognitive Behavioral Therapy, Interpersonal Psychotherapy, Person Center therapy, Behavior Modification Techniques, Career Counseling, Emotionally Focused Therapy, as well as Trauma Based Therapy. Within the last two years Jackie has focused on working with individuals diagnosed with depression, anxiety, adjustment disorder, behavioral disorders, and personality disorders. This includes helping clients navigate family, relationships, self-esteem, social skills building and life transitions issues.
She has facilitated Parent support groups, psycho-educational groups; Moral Development, Relapse Prevention (for youth sex offenders), Bipolar, Schizophrenia, Major Depressive Disorder, Anger Management, IMR-Illness Management Recovery and WRAP-Wellness Recovery Action Plan (for adults with persistent mental illness).
If you are dealing with stress or worry that prevent you from living a full and satisfying life, having memories of past trauma that distract you from living your best life in the present moment, or simply dealing with everyday stress that negatively change the way you think, feel, and behave, then Jackie's goal is to provide you a safe, judgment-free, step-by-step experience designed to get you back to a fulfilling and authentic expression of yourself that leads to a full and rewarding life.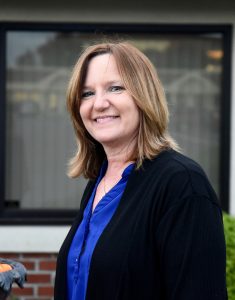 Kathy DeSantis, MA, LPC
Kathy is a Licensed Professional Counselor who is passionate about helping individuals going through difficult life transitions, individuals wondering if there is more to life than what they are experiencing, and couples who are seeking to save a difficult marriage.
Kathy obtained her Bachelor's Degree in Business Administration from the University of Arizona. She spent the first part of her career in various positions in the business world. After going through an existential crisis, she realized she had to find a new path that resonated with the person she was becoming. She decided to go back to school and obtained a Masters Degree in Pastoral Counseling from Moravian Theological Seminary and a Graduate Certificate in Spiritual Direction.
Kathy's counseling experience includes working for an Employee Assistance Program (EAP) providing therapy for children, adolescents, adults, families, couples, and individuals in the LGBT community in the areas of parenting, stress, suicide ideation, anger, self-esteem, grief, anxiety, depression, communication, life balance, couples therapy, family problems, work problems, divorce, and issues associated with aging.
Kathy has a holistic approach to counseling that integrates body, mind, and spirit. She recognizes there is a difference between religion and spirituality, and has a deep respect for all religions and forms of spirituality. She has a passion for working with individuals who have been injured by religious systems.
Whether you are seeking to live life with greater meaning and purpose; trying to put your marriage back together; struggling with depression, anxiety, a life transition, grief, a spiritual injury or just an overall general feeling of dissatisfaction with life, Kathy is here to walk beside you on your path to wholeness.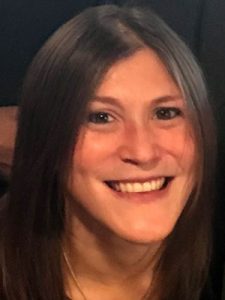 Lindsay Capobianco, M.Ed, LPC
We've all been there...that feeling of uncertainty looms when you sit at your computer and need to type a cover letter. We take the "easy" way out and just state facts in a polite manner so our cover letter shows professionalism, yet, says NOTHING about ourselves and how we can benefit from and contribute to the prospective employer. Cover letters are similar to college admissions essays; if executed correctly, they become strong written demonstrations of our identity which allow for a total stranger, who has your fate in his or her hands, get to know you...and ideally like you!
For the past 12 years, I have helped teenagers, college students, and professionals put what they want to clearly convey into words through college admissions essays, personal statements, and cover letters. Likewise, I have assisted in creating and editing admissions resumes, professional resumes, and military biographies. Throughout the entire college process, emotions get heightened, self-assurance may lessen, and goals becoming conflicted all tend to negatively impact strong family dynamics. Therefore, I have helped students and families through the toughest of divorce and custody situations to assisting in positive parenting skills while keeping the student's own identity unwavering and true. My educational path started at Muhlenberg College where I dual majored in Psychology and Dance. After, I worked as the Behavioral Specialist at Trexler Middle School for the Emotional Support Program and as a Teacher at William Allen High School while obtaining my Masters degree in Education through Kutztown University and later my LPC in May 2015.
If you are stuck after typing: "Dear Director of Human Resources," ask me for help. We will come up with a masterpiece together - one you can feel happy and confident with when applying for and pursuing your next academic or professional endeavor. You can do this! These transitional endeavors will leave you feeling happy and fulfilled.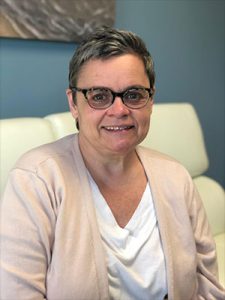 Rachel Taylor, MA, LPC
Rachel is a Licensed Professional Counselor who graduated from Moravian Theological Seminary and has a Master of Arts in Pastoral Counseling.  Rachel offers a client-centered approach in a holistic, non-judgmental environment to address issues across the lifespan of diverse populations from children to seniors.  Rachel will help you address what keeps you from a positive life of wholeness. Rachel can treat anxiety, depression, addiction, phobias, ADHD, trauma, etc. and help clients learn healthy ways to cope. She can also help with relationships of couples and family.  Rachel has extensive experience in substance abuse counseling, including addictions concurrent with mental health issues, as well as with elder issues, grief and loss, and pastoral counseling of all faith backgrounds. Therapy modalities include:  Acceptance and Commitment Therapy, Cognitive Behavioral Therapy, Dialectical Behavioral Therapy, Marriage and Family Therapy, Mindfulness, Positive Psychology, and Solution-Focused Brief Therapy.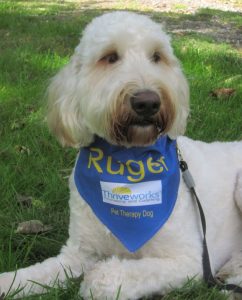 Ruger, Pet Therapy Dog – Coming Soon!
Ruger "aka Roogie Pie" will be Thriveworks-Reading official pet therapy dog in the near future. Ruger is a Goldendoodle (part golden retriever and part poodle), which is a breed known for being friendly, affectionate, and intelligent, as well as having a good temperament. They are also hypoallergenic. Although this big meat head is only a year old, Roogie is working on becoming a certified pet therapy dog. Ruger has graduated from Puppy Kindergarten for basic obedience and is currently enrolled at Whoodles Times Squared where he has the opportunity to get experience and time in the community with other animals and people. Ruger has completed his AKC Canine Good Citizenship Certification and is currently working on his skills in the community so he can take the Community Canine Good Citizen Test and hopefully be a member of Therapy Dogs International (TDI) one day. TDI is a volunteer organization dedicated to the regulation, testing, and registration of therapy dogs and their handlers for the purpose of visiting nursing homes, hospitals, schools, and other institutions where therapy dogs are needed. Ruger will be available in the future on a limited basis or during special "pet therapy nights." He will be busy volunteering with his family out in the community to get service experience under his belt. Ruger loves people of all ages and especially children and is loved for his comical actions and for being a "gentle giant."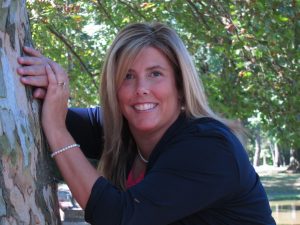 Leslie M. Chaundy, Psy.D, LCSW, NCSP, ABSNP
Owner, CEO & Clinical Director
Dr. Chaundy is a Pennsylvania Licensed Psychologist and Licensed Clinical Social Worker, as well as a Nationally Certified School Psychologist who holds a Diplomate in School Neuropsychology. She has over twenty years of experience working in the mental health field with children, adolescents, families, and adults of all ages and has worked in a variety of settings such as agencies, hospitals, and schools. Dr. Chaundy is also currently an Assistant Professor at Kutztown University and teaches in the Department of Social Work.
Dr. Chaundy earned her Bachelor's degree in Psychology from Wesley College, Masters of Social Work degree from Marywood University, and Educational Specialist and Doctorate degree in School Psychology from the Philadelphia College of Osteopathic Medicine. Dr. Chaundy also has additional training in family therapy from the Philadelphia Child Guidance Center as well as additional training in cognitive behavioral therapy, play therapy, and biblical counseling. Dr. Chaundy has presented at several national conferences in Pennsylvania, New Orleans, and California and has been a guest speaker on Berks TV "Talking Mental Health" and at Penn State University. Her doctoral dissertation topic "Religious Beliefs, Emotional Attachment, and Behavioral Commitment: It's Relationship with the Self-Regulation of Adolescents" was published into a book by Scholar's Press in 2014. Dr. Chaundy is a member of the American Psychological Association, National Association of Social Workers, National Association of School Psychologists, American Board of School Neuropsychologists, and the American Association of Christian Counselors.
Dr. Chaundy's interests outside of work include spending time with her family and friends, traveling, reading, and writing. She would like to find more time to go on mission trips. She lives at home with her husband, two teenage daughters, and their two dogs; one of which is Ruger, a soon to be certified pet therapy dog.
Dr. Chaundy believes that dreams really do come true with a lot of hard work. One of her life time goals since 7th grade was to one day open a practice to help others dealing with difficulty in their lives. Dr. Chaundy's story began after experiencing the loss of her father at a very young age due to cancer. She had the opportunity to be helped by a hospice worker and it was from there she decided that she wanted to help others as well. Although she was a work in progress for over 30 years and traveled a long rough road, her vision of finally opening a practice became a reality. Dr. Chaundy now likes helping others achieve their own personal and professional life goals and believes in the power of dreams, visions, and planning to help attain them. She also believes in the power of faith in healing, forgiveness, and in making lemonade out of life when life hands you lemons.
Dr. Chaundy's true passion is psychological and educational assessment and she enjoys completing comprehensive evaluations to get people the help that they need in school or within the community. She enjoys assisting people in their life journey and guiding them on the path toward healing. She loves hearing other's stories of hope and inspiration. Overall, Dr. Chaundy's gentle style and strength based perspective helps her easily build a rapport with others which leads to positive and productive changes in their lives