It's easy to focus on our flaws and failings, but what would happen if we chose to explore our strengths? Strengths-based therapy is a counseling approach that works with individuals to identify their strengths and help them gain the confidence and motivation they need to achieve their goals, among other benefits.
What Is Strength-Based Therapy? Understanding Strength-Based Therapy
Strength-based therapy is an evidence-based therapeutic approach that focuses on the client's strengths and ways to capitalize on them in order to help them improve their confidence, self-efficacy, and personalized success. It explores both known and unknown strengths, allowing individuals to make discoveries and see themselves in terms of their strengths and abilities rather than their faults.
Strength-based therapy pays attention to a client's past successes and the personal capacities and resources that allowed them to succeed. It also addresses any barriers they're currently experiencing that are impeding their ability to engage in behaviors and routines that align with their strengths. 
What Is an Example of Strength-Based Therapy? What Are Strength-Based Therapy Techniques?
Some common techniques used in strength-based therapy involve Socratic questioning surrounding your view of self, personal talents, and capacities. Your therapist will ask you about past personal successes and will help you identify strengths and talents that enabled you to succeed. 
Other examples of strength-based therapy techniques might include: 
Exploring your personal values 

Looking at lists of personal strengths 

Creating a personal timeline of past successes
All of these exercises are meant to help you look past failures and doubts and see the truth of yourself: your strengths, talents, and power to accomplish what you want.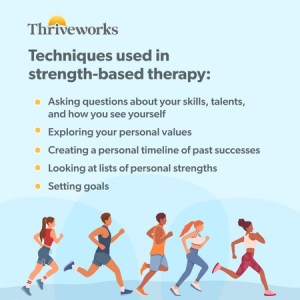 What Are the 3 Elements of a Strength-Based Perspective?
There are three universal elements that are present throughout a strength-based perspective. These beliefs are the basis of an effective strength-based approach. In strength-based therapy, therapists must hold the views that: 
Individuals and their communities are unique and possess their own strengths and resources.

The systematic exploration of resources and strengths is critical to success.

Trauma

and other adverse life events can have significant personal meaning and can be used in non-injurious ways to help promote growth (such as post-traumatic growth). 
Functioning off of these beliefs allows strength-based therapy to be effective in drawing out the strengths and talents of individuals and helping them believe in their abilities.
What Are the 6 Key Principles of a Strength-Based Approach? Core Principles of Strength-Based Therapy
Different from the three key elements, in the strength-based theoretical approach, there are six principles that the therapist is tasked with keeping in mind when developing and formulating interventions: 
Goal setting 

Strengths exploration/assessment 

Environmental resources

Alternative methods

Hope-inducing relationships

Autonomy to make meaningful choices
These principles help equip the client to self-actualize and to be the best version of themselves they can be. They also allow them to increase their overall distress tolerance and personal accountability levels by allowing them to engage in self-led but therapist-supported problem-solving using their own personal strengths.
What Are the Criticisms of Strength-Based Therapy?
Some critics of strength-based therapy state that by not focusing on a client's weaknesses, therapists are not providing the client with a full picture of all of their growth and development areas, which can potentially hinder them from achieving full self-realization and self-efficacy. 
Further, some critics also argue that strength-based therapy does not offer preventative maintenance or prevent recurrence of symptoms due to this lack of focus on areas of growth and personal weaknesses.
However, strength-based therapy can be (and often is) used alongside other therapeutic approaches like cognitive behavioral therapy (CBT), mindfulness, and more, which can mitigate many of the risks and give clients a fuller, more holistic form of treatment as they benefit from strength-based techniques.
How Strength-Based Therapy Differs from Traditional Approaches
Strength-based therapy does share similarities with more traditional approaches such as CBT in that it has theoretical approaches and applications as well as a body of evidence-based research that supports it. However, what makes strength-based approaches different is that they often incorporate more creativity and flexibility into their treatment interventions and outcomes. 
Strength-based therapy often focuses on more unique outcomes, and treatment is tailored to each client and their situation and does not follow one formularized plan or approach. 
Benefits of Strength-Based Therapy
Strength-based therapy has numerous benefits for the client and has a significant body of empirical research that supports it as a theory. Some of the benefits of engaging in strength-based therapy include but are not limited to: 
Each of these elements can have a tremendous positive effect on one's well-being and levels of satisfaction with their life. Strength-based therapy is an excellent resource for improving an individual's outlook on life, their belief in themselves, and their ability to achieve the life they want.
Want to talk to a therapist?
Start working with one of our top-rated providers. We have availability now and accept most major insurances.
Experience Thriveworks' Strength-Based Therapy
If you want to improve your self-worth and quality of life, consider speaking to a Thriveworks provider. They can guide you through strength-based therapy and any number of other approaches that will help you grow and move toward the life you want. 
Our Dedicated Strength-Based Therapists
Our expert therapists will help you set therapeutic goals and create a treatment plan based on your unique needs and concerns. Booking your first session with a Thriveworks therapist is quick and easy: either use our online booking tool or call one of our offices to speak with our friendly scheduling specialists. Stop waiting for change — book a session with a Thriveworks therapist and start your journey today.