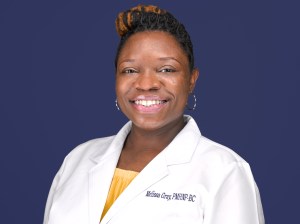 Accepting:
Aetna
Anthem BlueCross BlueShield
Cigna
Humana
Magellan
Medicare
Optum
Sonder Health Plans
Tri-Care East
United Behavioral Health
Melissa Gray, PMHNP-BC
Melissa Gray is a Board Certified, Psychiatric Mental Health Nurse Practitioner (PMHNP-BC) treating client's across the Full Lifespan. Her education and clinical training focused on treatment and prevention of Mental, Emotional and Behavioral health disorders.
"I have adopted a holistic and innovative approach to evaluation, diagnosing and developing treatment plan to include medication management in a wide range of mental and behavioral health disorders. I believe that though various forms of psychotherapy, medications and/or psychosocial interventions every person can achieve safer, better, optimal mental health".
She has extensive training in both hospital and outpatient clinical setting, specializing in acute stabilization of prominent mental and behavioral health disorders to include put not limited to ADD/ADHD, Depressive disorders, Anxiety disorders, Mood disorders, Psychotic disorders, PTSD and Cognitive disorders (Dementia) with or without behavioral disturbance.
Melissa is dedicated to serving and helping those most in need. Her clinical focus is on teaching patients about maintaining a balance for optimal mental health. She recognizes that their mental health is just as important as their physical health. Melissa is dedicated to providing the highest level of personalized, evidence based, and compassionate care to psychiatric patients throughout the great state of Georgia. Her approach is patient centered, she will listen to you and your needs and together will develop a plan to facilitate you being the best you!
Areas of Expertise include but not limited to:
ADD/ADHD
Anxiety Disorder (s)
Bipolar/Mood Disorder(s)
Depressive Disorder(s)
PTSD
Schizophrenia
Schizoaffective Disorder
Psychotic Disorder
Personality Disorder
Eating Disorder
Grief and Loss
Stress Management
Mood Disorders
Smoking Cessation
Populations Served
Adolescents
Adults
Geriatric