Teen counseling is a form of therapy that helps adolescents deal with tough emotions and situations, mental health conditions, trauma, or concerns related to future, present, or past experiences. Teen counseling is designed to address and treat the specific needs of clients who are going through adolescence, an important developmental phase. 
The teenage years can be an exciting time, characterized by newfound exploration, healthy risk-taking, and critical-thinking skills. However, it's also a time when adolescents face an increased risk of experiencing depression, anxiety, and other chronic conditions, alongside a wide variety of difficult life transitions as they journey through middle and high school. 
Alongside your efforts as a parent, teen counseling can offer support to these young individuals—and just as importantly—teach them to understand themselves better, while learning how to express their emotions, make healthy decisions, and accomplish their goals. However, you probably have some questions, whether you're a teen or a teen's parent. Therefore, our goal here is two-fold: to answer all of the questions you may have about this important mental health service and to provide the opportunity to schedule with an expert, compassionate teen counselor here at Thriveworks.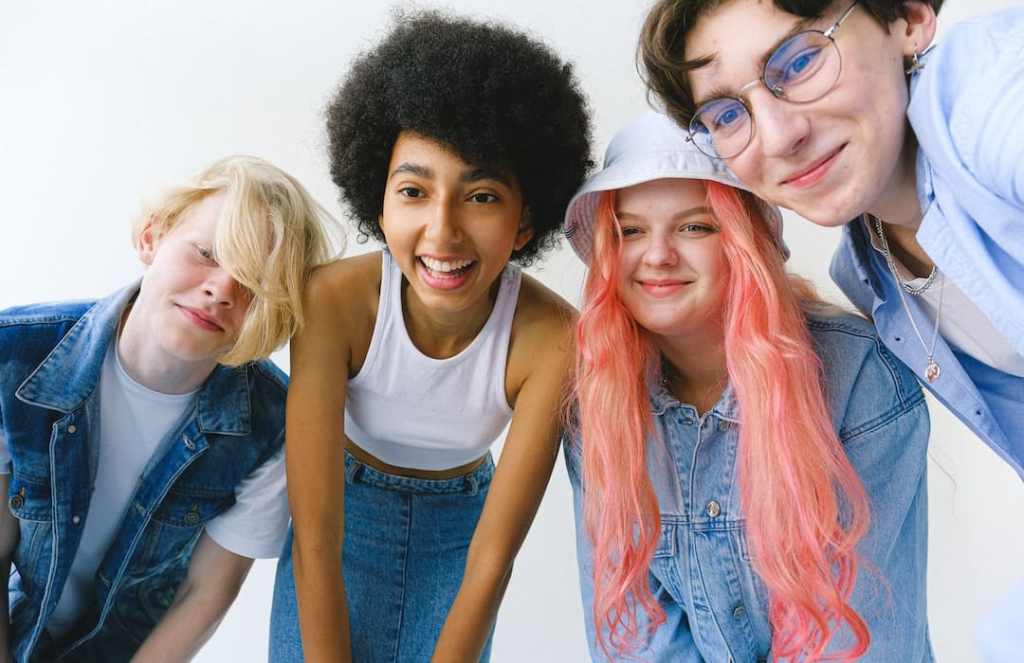 Want to book a session with a therapist?
Start working with one of our top-rated providers. We have availability now and accept most major insurances.
What Do Adolescent Counselors Do?
At Thriveworks, our teen counselors are licensed therapists who specialize in providing mental health services to adolescents and often younger children, as well. Each teen has a unique background and set of needs, so teen counselors adapt their approaches to fit the needs of the client. 
In general, teen counseling clients can expect a counselor to work with them to: 
Assess symptoms and screen for any undetected mental health conditions

such as depression or anxiety that may be influencing a teenager's choices and actions

Develop a comprehensive, personalized treatment plan

that can help improve a teen's coping skills and hone their decision-making process

Assist clients with implementing healthier coping mechanisms

that help them manage their emotions during all types of situations

Conduct behavioral assessments

for teens who are displaying emotional and/or behavioral challenges
In some cases, highly-specialized teen counselors can offer career or vocational counseling and life coaching for adolescents who are seeking employment or continuing their education. 
Adolescence is a turbulent time period, and teen counselors can be an invaluable tool to teenagers struggling with academic-related stress, bullying, peer pressure, family conflict, and more. 
Teen counselors can also dive deeper, providing helpful insights into past traumas, parenting styles, breakups, family dynamics, and other factors that all weigh in on a teenager's mental health and worldview. When an adolescent can identify who they are and what motivates them to pursue their goals, they may enjoy greater academic success, experience less conflict with parental figures, and develop their ability to resist peer pressure and unhealthy risk-taking. 
What Age Is Appropriate for Therapy?
People of all ages can benefit from attending therapy or counseling, and children and teens are no exception. Data collected by the National Institute of Mental Health (NIMH) highlights the need for teen counseling, noting that nearly one out of three adolescents between the ages of 13 and 18 will develop anxiety. Additionally, teens that identify as female, mixed race, or of color face an increased risk of developing depression.  
Teenagers face new challenges academically, socially, developmentally, and physically, too, as their bodies and hormone levels adjust. Teen counseling can help them gain the tools they need to cope, while boosting their self-esteem and increasing their sense of autonomy, preparing them for adulthood and life after middle school or high school.
What Are the Benefits of Teen Counseling?
The newfound awareness and positive coping skills offered by teen counseling may last a lifetime, but the relief that comes from a teen counselor's empathy and constructive guidance is just as important. Many teens simply want to feel heard and understood—teen counseling offers the perfect outlet. 
Teen counseling services like ours offer a host of benefits, helping young adults to gain the tools they need to live healthier lives, starting with learning how to successfully manage their mental health. But therapy for teens may also: 
Help boost a teenager's ability to make healthy choices

. In addition, teenagers learn positive coping skills and better understand themselves and what they want in life. A therapist can also provide helpful insights into parenting style,

family dynamics

, and other challenges related to learning to be independent. 

Improve their academic performance. With the right therapist's assistance, teen counseling may help to increase a teen's desire to do better in school. They might learn to see their education as a stepping stone toward greater goals and achievements later in life—and a teen counselor can help them identify what passions and interests drive them.
Teach teens to cultivate healthier relationships at home, at school, and in their community. An adolescent counselor can help teens to develop and establish more positive relationships with others. Teen counseling might offer them the confidence and experience needed to navigate tricky social situations, or to avoid risky situations.
Offer greater emotional awareness

. Teen counseling can help young adults to gain a greater sense of who they are, and how their past experiences have shaped their reality. 
Thriveworks' teen counselors are highly trained and experienced mental health professionals with the skills, patience, and understanding needed to assist adolescents with the age-related challenges they face.
By working together with a teen counselor, adolescents can also learn to maintain and respect personal boundaries, communicate their needs effectively, and develop more positive relationships with their relatives, classmates, teachers, friends, and peers. And as their interpersonal skills continue to improve, they'll learn how to address and steer clear of unhealthy or dysfunctional dynamics, an invaluable tool for ensuring meaningful relationships in adulthood.
Want to book a session with a therapist?
Start working with one of our top-rated providers. We have availability now and accept most major insurances.
How Do I Know If My Child Needs Counseling?
As a family member, parent, or legal guardian, you probably know your child better than anyone—which means you know that teens can experience mood swings, most of which are temporary and entirely normal. 
But sometimes a teen's unhappy emotional states aren't temporary; nor should they be dismissed simply as "growing pains." Long-term shifts in behavior and mood are a cause for concern in adults, and the same consideration should be applied to children and teens. 
Your adolescent may benefit from teen counseling if they are: 
Constantly sad, distant, angry, anxious, antisocial, or otherwise disturbed

Becoming socially withdrawn, limiting interactions with friends and family

Demonstrating an inability to concentrate or make decisions

Abusing alcohol or drugs

Experiencing poor academic performance or even a sudden drop in their grades

Displaying a lack of interest in the activities/hobbies they once enjoyed

Oversleeping, unable to fall/stay asleep, overeating, or experiencing a lack of appetite

Feeling restless or lethargic 

Expressing suicidal thoughts

Expressing a desire to harm themselves or someone else
What Therapy Techniques Are Used in Teen Counseling?
As previously mentioned, there are many different situations or emotional states a teen may experience, and licensed therapists need to be able to respond effectively. As a result, there are a wide variety of therapeutic approaches that a Thriveworks teen counselor may utilize, each designed to accomplish specific goals.
A teen therapist may recommend a specific type that best suits an adolescent client's needs, but sometimes, teens and/or their parents may have done preliminary research and have their preferences for a certain method. 
Here are a few traditional, tried-and-true therapeutic techniques with proven results:
Group processing

Dialectical behavior therapy

Acceptance and commitment therapy (ACT)
In instances where it's necessary, one of our teen counselors may work together with a larger team to address an adolescent client's needs or develop a personalized treatment plan that works in conjunction with a psychiatric provider's services.
When Should a Teenager See a Therapist?
Impactful life transitions can have a huge impact on a teen's mental health. Counseling for teens can help adolescents to better cope with: 
The

grieving process

after a major loss, such as death of a parent or family member

Divorce

Financial stress at home

Bullying

at school, at home, or in extracurricular activities and clubs

Depression 

Anxiety

Anger-related issues

Chronic health conditions or complications

Relocating to a new school, home, or town 
If you think that your teen could benefit from a counselor's support, the conversation should be broached with some sensitivity. You should highlight the benefits of going to counseling, perhaps mentioning that a counselor can help your teen to develop positive coping skills or offer a safe space to vent privately. But avoid framing teen counseling as a punishment or something necessary because "you've given up" on helping your teen.
Never shame your child for their symptoms or frame therapy as a negative experience. Privacy may also be an important factor for some teens. You can reassure your young adult that their therapy sessions are confidential. 
As a parent or legal guardian, you can request that your teen's counselor only share with you what your teen wishes to have disclosed, except in instances of immediate danger or risk to the well-being of others. Examples include expressing plans related to self-harm or suicide, or expressing the desire or plan to harm someone else.
How Do I Tell My Parents I Need Teen Counseling?
Talking to your parents about starting counseling can be nerve-racking. If your parents haven't suggested teen counseling, but you're ready to take the next step and talk to them about receiving treatment, you might be wondering when, where, and how to start the conversation. 
What if they aren't supportive? What if they overreact and start worrying? What if they insist on a form of treatment that you don't want, or demand that the counselor tells them everything? 
These are all valid concerns and questions, especially if your parents don't "believe" in therapy, or have expressed their doubts in the past. 
Here are some tips you can follow: 
Don't mention therapy or counseling on the way out the door

, or without a follow-up conversation. It's best to find a time when your household is calm and neither you nor your parents are busy and can talk together about the subject. 

Remind your parents that helping you attend counseling sessions is a very real, tangible way for them to help you

—it isn't a way of shutting them out of your life. They may feel that they've failed you somehow, but you can assure them this isn't the case.

Don't get angry if they have follow-up questions

about your mental health. It's normal, and as your caretakers, they're concerned and want to make sure they're informed about your emotional state.

Consider offering to let them attend at least some counseling sessions

with you if you feel comfortable with doing so.  
Just as important, you can discuss the benefits of teen counseling with them. This can help parents to understand how a therapist might be able to offer their child the professional support you need.
How Can I Get Counseling As a Teen Without My Parents Finding Out?
Start by using the tips outlined in the section above to open up a conversation with your parents about starting teen counseling. With the right approach, it's likely they'll respond positively to your desire to talk with a teen counselor.
In some states and specific laws, minors can consent to receiving inpatient and outpatient mental health services without their parents being involved. But for the most part, it can be difficult for minors to receive elective mental health services on their own. 
If possible, it's better to talk with your parents about teen therapy. But this might not be possible in circumstances that involve abuse, neglect, or other forms of mistreatment. Teens who are experiencing abuse or neglect should safely report their situation to a trusted adult. Teachers, guidance counselors, law enforcement, or a 24/7 crisis line may be able to offer immediate guidance toward the resources that can help them get to safety. 
How Can I Prepare for Counseling As a Teen?
You might be nervous, excited, or indifferent about attending teen counseling with a therapist. But you probably will be curious before your first session, especially if it's your first time meeting with a mental health professional. 
Some initial ways to prepare for counseling as a teen are to:  
Make time to find the right teen counselor

. Many mental health professionals specialize in treating certain conditions, such as ADHD, anger-related issues, behavioral problems, school-related anxiety, gender identity issues, and much more. With a little patience, you'll have a better chance of finding the right counselor. 

Determine whether you want to meet your provider online or in person

—some teen counselors offer both options. Some teens prefer the convenience of online therapy, while others like the personal touch offered by meeting in person; the choice is yours. 

Write down your thoughts to bring with you into the session

. Feel free to jot down any specific topics or goals you can think of that you'd like to discuss with your teen counselor. There's also nothing wrong with writing down questions to ask about your mental health professional's background or the various counseling techniques they use. 

If you're able to, involve your parents in the decision-making process

. You'll need their help in the beginning with filling out paperwork and checking insurance coverage before the therapeutic process begins. Parents and teens should give themselves a little time and patience with this process. 
Beyond these steps, it's most important to remain emotionally open. The initial session is only the beginning—don't be discouraged if it feels odd, awkward, or unproductive. The first couple of sessions between an adolescent and their provider is an opportunity for parents and teens to determine whether or not the therapist is right for them. 
During the first therapy session, some introductory information that a teen counselor will want to collect might include:
A description of the teenager's

childhood

Their recent emotional state

Their hobbies, passions, extracurricular activities, and related subjects

Their relationships with parents, siblings, friends, teachers, and classmates

What they hope to achieve in the therapeutic process (it's okay if they don't know, yet!)
Today's teens face more challenges and obstacles than ever before, but with a mental health professional's steady hand and experience, they can learn how to successfully cope.
Is There Teen Counseling Near Me?
If you're searching for exceptional teen counseling services, find your nearest Thriveworks office to schedule an appointment. We have hundreds of brick-and-mortar offices across the country, with more locations on the way. As part of our continuing efforts to improve mental health care accessibility, Thriveworks also offers online counseling sessions in addition to in-person therapy. 
Many people enjoy the comfort and convenience of virtual therapy sessions that take place over secure, HIPAA-compliant video conferencing. Thriveworks understands the importance of finding a counselor who has availability. For this reason, we do not operate with a waitlist. 
Additionally, our new clients often meet their provider in person or via online therapy within 3-5 days. We offer benefits that can't be beaten — here's how we stack up against other counseling services:
No Waitlists

: Average wait times for mental health care can be three weeks or more. Our new clients often have their first session within 3-5 days of scheduling.

Only Top Providers

: The search for an exceptional provider can be discouraging. We hire only the top 4% of providers to join our team and provide the very best care to our clients.

Full 50-60 Minute Sessions

: Others hide how long your counseling session is, and it's often only 20-30 minutes. We offer full 50-60 minute sessions. 

Affordable Rates

: Most counseling practices don't take health insurance and have expensive rates, starting at $250 a session. We accept hundreds of insurance plans and offer affordable out-of-pocket rates as low as $99 a session.

Evening and Weekend Appointments

: Finding a convenient time to get mental health care is a challenge. We offer options that work with busy schedules like evening and weekend appointments.

High-Touch Support

: On-the-spot support is hard to come by. Our support team is available 7 days a week, and your provider is available between sessions by phone or email.

Real, Lasting Relationships

: Many counseling services aren't practices but loosely affiliated directories of therapists. We have a full-time, dedicated team who build long-standing careers here and lasting relationships with clients.
Whether you're a teen seeking someone who understands, or a parent looking to equip their child for a brighter future, a therapist's guidance could offer the lasting solutions you're looking for. If you're searching for the right teen counseling options, Thriveworks is here to help.