Thriveworks Charlotte Providers
447 S Sharon Amity Rd #250, Charlotte, NC 28211
---
Blair Hamel, PsyD, Director of Psychological Services
Blair Hamel is a Licensed psychologist and a Clinical Director at Thriveworks in Asheville and Charlotte. She earned her doctorate in psychology from Pacific University (Portland, OR) and her bachelor's degree from University of Portland (Portland, OR). She has completed a multitude of trainings since her schooling in the interest of better helping her clients, including SPACE training, ACT therapy training, and Gottman training.
With a decade of experience helping children, adolescents, adults, and couples, Blair strives to help her clients grow through the challenges life throws at us. Blair's therapeutic approach is entirely client-centered and tailored to what will be most effective for each person. This means she is flexible in her approach and adapts to the style that is best for the client. This can include utilizing a variety of therapy models including cognitive-behavioral therapy, attachment-focused therapy, and psychoanalytic therapy. Blair's primary goal in treatment is for clients to feel empowered and to become better versions of themselves. Blair is aware that therapy is effective only when clients feel comfortable and safe, thus she aims to provide a warm environment that facilitates growth.
Blair offers both individual and couples therapy. She has a multitude of experience helping with a variety of difficulties including: anxiety disorders, depressive disorders, behavioral disorders, life transitions, postpartum issues, intellectual disabilities, autism spectrum disorders, attention-deficit hyperactivity disorder, parent-child relationship issues, and relationship struggles. That said, Blair is a strong believer in the idea that therapy can be helpful for anyone, no matter the reason for engaging in treatment. She has experience helping families with very young children and adults alike. This experience across the lifespan allows Blair to connect with a variety of clients on a genuine level. Blair is also pleased to offer the ability to conduct psychological assessments, including intelligence and achievement testing, or differential diagnosis testing, for all ages. Additionally, Blair has specialized training in the infant mental health population (ages 0 to 6). Blair understands that simply beginning treatment can be a challenge when life feels hard, and she is ready to assist you and join in your personal journey of growth.
Vanessa Hosein, LCMHC, LCAS, Director of Counseling Services
Vanessa is a highly skilled, ethical and passionate Licensed Clinical Mental Health Counselor (LCMHC) and Licensed Clinical Addiction Specialist (LCAS) at Thriveworks Charlotte. She earned her master's degree in Clinical Counseling from The University of North Carolina Charlotte and her Bachelor's degree in Biology and Psychology from Queens University Charlotte.
Vanessa joined Thriveworks Charlotte as the Director of Counseling Services in April 2019 and she continues to serve clients as a relapse prevention specialist at our Cotswold office. She has worked extensively in the field of addiction for the past 13 years serving the Charlotte community. Her work has been focused on providing addiction education and relapse prevention therapy to adult clients. She is invested in goal clarification and strategy development to assist clients with a personalized plan for long term sobriety. She has also dedicated her time throughout her career to the development of a personalized plan of care for family members to learn how to cope and recover from the negative effects associated with addiction.
Vanessa's other areas of expertise are *substance abuse assessments, *individualized treatment for clients with co-occurring disorders, * codependency, *emotional sobriety, *medication assisted treatment, and *family member education.  Vanessa conducts substance abuse assessments and offers treatment recommendations for all levels of care. Being well connected with treatment resources across the United States allows Vanessa to assist clients and families with coordination of care.  She also enjoys developing focused and client-centered treatment plans for recovery utilizing a team approach with other providers to optimize success with her clients.
Vanessa integrates Cognitive Behavioral Therapy and Reality Choice Therapy in her work with clients. She also has extensive knowledge of the 12-step program and supports clients who wish to include this component into their journey of wellness.
Outside of work, Vanessa enjoys spending time doing outdoor activities and exploring our region's attractions.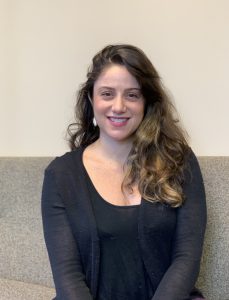 Adriana Blanco, LCSW
"Adriana is a bilingual and bi-cultural, clinically licensed social worker with 5 years experience in the field trained in evidenced based mental health interventions including Trauma Focused Cognitive Behavioral Therapy. She possess 13 years of work in the arts and wellness community and is committed to providing compassionate, and solution-oriented mental health treatment for children, adolescents, adults and families. Social justice is an important theme in Adriana's work and she believes that exploring and discussing it is vital in the path toward healing, self-care, self-love and creating a kinder and more just society.
Adriana is highly committed to helping individuals, families, and the overall community toward recovery and wellness via her expertise in clinical social work and in wellness via the practice of yoga, dance and martial arts".
Angela Chop, PsyD
Angela Chop is a licensed psychologist at Thriveworks Charlotte holding active licenses in both North Carolina and Florida. She earned her doctorate degree in clinical psychology from Alliant International University (Sacramento, CA), her masters degree in mental health counseling from Rollins College (Winter Park, FL), and bachelor of arts in psychology from Elon University (Elon, NC).
Angela has worked in a variety of settings including university counseling centers. She specializes in providing treatment for trauma/PTSD, anxiety, depression, academic concerns, life transitions, family of origin issues, gaming and social media addictions, relationship struggles, eating concerns, LGBTQ+ related issues, and social anxiety. She utilizes an integrative, holistic approach that tailors to the specific needs of each individual. Angela believes it is important to consider clients' cultural backgrounds, areas of strength, and values when working together to achieve emotional health and well being. She offers both therapy and psychological assessment services.
Life can be challenging and messy. Angela wants to help you find the fulfillment and happiness you deserve in your life. It takes a lot of courage to enter into therapy, and she would love to be a part of your journey.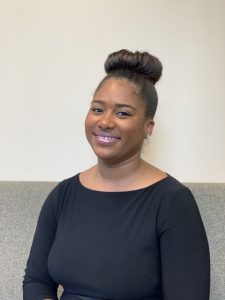 Carmen Edwards, PhD
Carmen is a Licensed Psychologist at Thriveworks Charlotte. She received a bachelor's degree in Psychology from South Carolina State University and earned her master's and doctorate degrees in Clinical Psychology from The University of Florida. She also completed a postdoctoral fellowship in the Child and Family Therapy Clinic at the Kennedy Krieger Institute/Johns Hopkins School of Medicine.
Carmen has assessed and treated a variety of clinical disorders across the lifespan; however, she is most enthusiastic about her work with children, adolescents, and their families. Carmen takes a client-centered, values-based approach to treatment and is well-versed in a variety of treatment modalities including, but not limited to, Cognitive Behavioral Therapy (CBT), Functional Family Therapy (FFT), Dialectical Behavior Therapy (DBT), Acceptance and Commitment Therapy (ACT), and Parent-Child Interaction Therapy (PCIT). Carmen uses these and other empirically-supported strategies to address concerns regarding anxiety, depression, anger and behavior management, executive dysfunction, and interpersonal discord.
Carmen is passionate about her work as a psychologist and is genuinely invested into her clients, their families, and the larger communities in which they exist. She believes that therapy is a collaborative process as evidenced by the value that she places on encouraging clients to be an active and integral element of their therapeutic journey.
Heather Fangman, MS Ed., NCC, LCMHCA
Heather Fangman is a Licensed Clinical Mental Health Counselor and Nationally Certified Counselor. She graduated from Miami University with a BA in psychology and completed her masters degree in community counseling at Youngstown State University. Heather has experience providing individual and group counseling services to children, adolescents, and adults around issues including abuse and neglect, depression and anxiety, postpartum depression, high conflict divorce and reunification therapy, difficult relationships and parenting concerns. Heather has a special interest in play therapy, perinatal mood disorders, perinatal trauma, and high conflict divorce and reunification therapy.
Heather's orientation is primarily cognitive behavioral and person centered, but she integrates mindfulness and expressive arts techniques into her work. Heather's background also includes several years in community social work, therapeutic foster care case management, academic coaching, and childbirth education and labor support.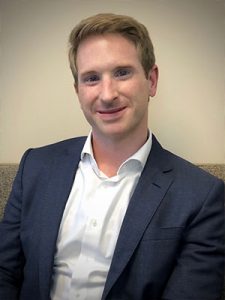 Mike Lee, PsyD
Mike studied at the University of Southern California before obtaining a master's degree in psychology from Pepperdine University.  He then attended Azusa Pacific University, earning his doctorate in clinical psychology with emphases in Couple and Family Psychology, Consulting Psychology, and the integration of faith and spirituality into clinical practice (interdisciplinary integration).  Mike subsequently taught graduate students/future therapists in areas of interdisciplinary integration and the facilitation of psychotherapy clients' identity formation while also pursuing his own clinical practice.  
As a clinical psychologist with Thriveworks Charlotte, Mike provides psychotherapy and psychological assessment services.  In therapy, Mike provides an environment of respect, focus, and collaboration. Drawing upon rich and proven psychotherapeutic traditions in tandem with current psychological knowledge, he partners with clients in the endeavor to enrich daily living, alleviate suffering, deepen connections with others, and open new paths of meaningful life pursuit.  Mike is pleased to provide psychotherapeutic services to individuals, couples, and families.  
Deanna Lenker, LCSWA
Deanna is a Licensed Clinical Social Worker Associate (LCSWA) and therapist at Thriveworks Charlotte. She is a long time Charlotte resident and earned her Bachelor's degree in Social Work from the University of North Carolina at Charlotte in 2016 then returned to complete her Master's in Social Work in 2019.
Deanna has experience providing services for children, families, and individuals in a variety of settings including case management, the foster care system, early childhood education, and clinical mental health. Deanna specializes in working with children, adolescents, and adults dealing with anxiety, depression, self-esteem issues, adjustment difficulties, life stressors, and trauma.
Utilizing techniques such as play therapy, motivational interviewing, cognitive behavioral therapy and a variety of other elements, Deanna is able to provide the support and tools individuals need to grow and thrive. She believes in a person-centered approach that focuses on an individual's strengths and internal abilities of self-healing and personal growth.
Chelsea Matson, LCMHCA
Chelsea is a Licensed Clinical Mental Health Counselor Associate at Thriveworks Charlotte. She is originally from Charlotte where she earned her BA in Sociology and BS in Psychology at UNCC. She earned her Master's and Specialist degrees in Mental Health Counseling from the University of Florida.
Chelsea has received training in counseling adolescents, adults, couples, and families. Chelsea has worked primarily with adolescents and young adults with presenting issues such as grief, anxiety disorders, depression, relationship stress, self-exploration, career development, and existential concerns. Chelsea is sensitive to multicultural factors and is excited to broaden her experience by working with individuals of diverse backgrounds.
Chelsea integrates several theories in her counseling work, including cognitive behavioral therapy, gestalt therapy, existential therapy, person-centered therapy, and dialectical behavioral therapy. Chelsea believes that forming an empathic, accepting connection with others is most essential to fostering growth, healing, and change. She considers it a privilege to have the opportunity to create this environment with clients.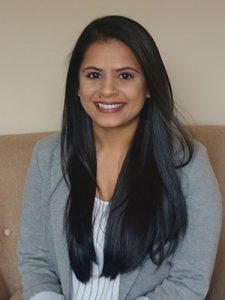 Ami Patel, LCMHC, NCC
Ami is a Licensed Clinical Mental Health Counselor in North Carolina. She received a Masters of Science in Clinical Mental Health Counseling from Lipscomb University in Nashville, Tennessee. Ami has been working in the mental health field for almost 5 years and uses a client-centered approach. Ami is a "one size rarely fits all" clinician who believes everyone deserves a personalized experience in therapy. She treats mental health through the lens of the whole person: emotional, relational, physical, and spiritual.
Ami provides individual, couples, and family therapy to children, adolescents and adults. She has experience working with depression, anxiety, codependency, trauma, life transitions and stressors, marital and premarital counseling, women's issues, grief, and more. Ami is also certified in EMDR (Eye Movement Desensitization Reprocessing) for clients with trauma.
In her free time, Ami enjoys exploring Charlotte, traveling, and spending time with her husband and her dog.
Katie Pesch, Ph.D.
Dr. Pesch is a licensed psychologist in both North Carolina and Minnesota. Originally from Wisconsin, she earned her bachelor's degree in psychology from the University of Minnesota-Twin Cities. She pursued her Ph.D. in Counseling Psychology at Iowa State University and completed her predoctoral internship in Health Service Psychology at the University of North Carolina – Charlotte. She spent time in Minneapolis, Minnesota doing consulting work before returning to Charlotte to join Thriveworks Charlotte in 2018.
Dr. Pesch takes a person-centered approach to psychotherapy and psychological assessment. She works to understand the world from her clients' perspectives, adapting to the unique backgrounds and needs each client brings. She believes in creating a collaborative therapeutic relationship to achieve long-term healing. She has experience working with individuals experiencing problems related to depression, anxiety, trauma and posttraumatic stress, adjustment and life transitions, grief and loss, family of origin, relationships and attachment, and career development. She draws from humanistic, psychodynamic, and trauma-informed theories in her therapeutic style, while incorporating influences from mindfulness and cognitive-behavioral approaches. She is trained in the psychological assessment of children, adolescents, and adults experiencing achievement, attention-deficit/hyperactivity, learning, personality, emotional, and trauma-related concerns.
Jessica Swanson, PHD
Jessica is a psychologist at Thriveworks Charlotte. She earned her doctorate in Clinical Psychology from Alliant International University (San Diego, CA) and both her Masters in Marriage and Family Therapy and Bachelor's degree in Psychology from the University of Southern California (Los Angeles, CA).
Jessica has training with all ages and across multiple settings, including schools, hospitals, and substance abuse rehabilitation centers. She has experience with an array of issues including depression, anxiety, substance abuse, and a variety of childhood issues. In addition to therapy, Jessica is able to conduct psychological assessments for both children and adults. Areas of special interest to Jessica include substance use/abuse, trauma, and personality assessment.
While Jessica gravitates toward both a Client Centered and Cognitive Behavioral therapeutic approach to treatment she understands the importance of incorporating a variety of treatment modalities to fit the needs of her clients. Jessica believes in therapist/client collaboration to help foster growth and help the client reach his or her goals.  She provides an unconditional, supportive environment and strongly believes in the healing power of the therapeutic relationship.
Outside of work, Jessica enjoys spending time with her two young sons, traveling the world, and running.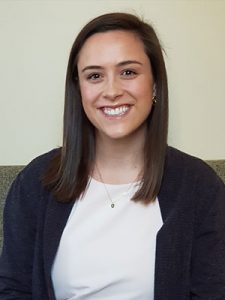 Anna Usher, LCSWA
Anna is a Licensed Clinical Social Worker Associate (LCSWA) and therapist at Thriveworks Charlotte. She received her Bachelor's degree in Psychology from Wofford College in 2017 and moved to Charlotte to complete a Master's degree in Social Work at the University of North Carolina at Charlotte in 2019.
Anna has experience working with children, adolescents and young adults experiencing anxiety, depression, self-harming behaviors, anger management, self-esteem issues, and adjustment to life stressors. Anna utilizes an eclectic approach in therapy, using techniques from person-centered therapy, mindfulness, cognitive-behavioral therapy and motivational interviewing. Anna believes that therapy should be a partnership, as each client has the tools for self- healing. Anna desires to establish a welcoming, therapeutic environment for clients so that they can experience compassion, empathy and healing.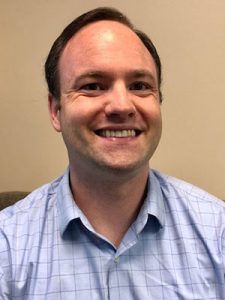 Stephen Frazer, Intern
Stephen is the counseling intern at Thriveworks. He is currently a graduate student at Montreat College pursuing his Master of Arts in Clinical Mental Health Counseling (2021).  He earned his bachelor's degree in Zoology from Miami University in Oxford, OH with a minor in Psychopathology, then worked as a Certified Personal Trainer before moving from the Chicago suburbs to North Carolina.  Prior to beginning graduate school, Stephen became an International Coach Federation Certified Professional Coach (ICF-CPC), assisting a wide variety of adults to overcome obstacles and move toward greater potentials.
He began to pursue counseling graduate programs after coaching left him seeking a greater ability to dive deeper and help with client struggles.  Through his graduate program so far, Stephen has gravitated toward psychoanalytical, psychodynamic, and Adlerian methods, and brings a positive, motivating, person-centered presence to therapy.  He is excited to learn and grow both personally and professionally during his time with Thriveworks!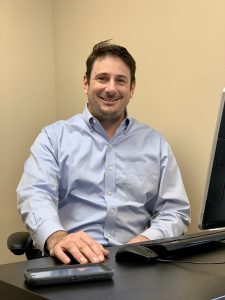 Matt Matone, Owner and Office Manager
Matt Matone is co-owner of Thriveworks Counseling. His primary responsibilities are administrative in nature which include finance, scheduling, and general business operations. Matt also maintains relationships in the community through partnerships with local medical providers, treatment facilities, law firms, and insurance payers. Matt is passionate about helping individuals have access to quality counseling.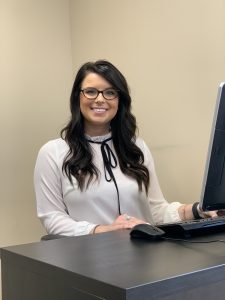 Megan Metcalf, MA
Megan Metcalf is the Assistant Office Manager at Thriveworks Charlotte. She received her master's degree in Marriage and Family Counseling & her bachelor's degree in Psychology both from Liberty University.
Megan assists with general business operations, helping both clients and the clinicians at Thriveworks Charlotte. She believes that making the first phone call is often the most difficult step to counseling & is happy to be one of the first points of contact that our clients will speak to. Her goal is to make the counseling process as smooth as possible from the beginning. She will carefully listen to your needs & concerns so that she appropriately schedules you with the clinician who is the best fit for you.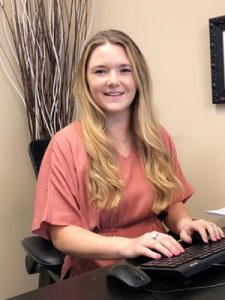 Courtney Kelly, BS
Courtney Kelly received her bachelor's degree in Psychology with a specialization in Counseling and Human Development from Liberty University.
Courtney is the Administrative Assistant at Thriveworks Charlotte, and is passionate about helping people begin the process of healing. Her primary roles are scheduling, billing, and assisting the clinicians with day to day tasks.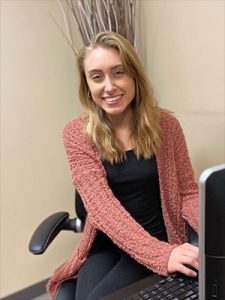 Sydney Shelton, Administrative Assistant
Sydney Shelton is the Administrative Assistant at Thriveworks. She is in her third year of study at UNC Charlotte with a concentration on Child and Family Development and Psychology.
Through administrative tasks, Sydney is happy to help you in your steps toward improving mental health and well-being. She works to make your experience at Thriveworks enjoyable by helping clinicians stay organized, listening to clients needs, and meeting those needs through scheduling and billing.