Electronic Health Records (EHR) and in Today's Private Counseling Practice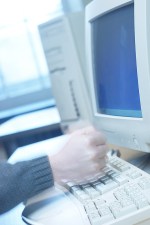 While some counselors today are reaching for their pens and notepads, others are reaching for their laptops. With the help of Electronic Health Record (EHR) and Practice Management (PM) software, counselors are trashing their metal filing cabinets and announcing that they're "going green!" Eco-friendship aside, a good EHR-PM program can help a practice to organize files, improve treatment planning, measure client sessions and attrition, monitor client balances and accounts receivable, track authorizations, file insurance claims, schedule appointments, and more…or at least that's what it says on the box!
The technological learning curve aside, counselors today face numerous roadblocks implementing EHR-PM software into their practices. This column will address those roadblocks, and share the experiences of several counselors' journey into the paperless.
Roadblock One: The Cost

"Go paperless and earn up to $44,000 in incentives." This is the sales pitch of many EHR software companies today. And it's true. In 2009, President Obama signed into law the Health Information Technology for Economic and Clinical Health Act (HITECH). Under HITECH, qualified providers can receive up to $44,000 in Medicare bonus incentives if they demonstrate the "meaningful use" of an EHR system.

But wait…did you catch that? Medicare. Counselors can't accept Medicare! In fact, even if they could, a "qualified provider" is a physician—not an LPC. Unfortunately, the HITECH stimulus package doesn't account for mental health professionals trying to turn the electronic corner. Worse yet, the generous incentives have served to inflate the price of EHR programs across the board. This makes sense when considering that even if an EHR-PM software suite costs $50,000, a group practice of four MDs will still turn a 6-figure bonus for implementing the EHR-PM software.

Journey into the Paperless

Wendy Molinaroli, a counselor in Charleston SC, is no stranger to EHR. In fact, she's been looking for suitable software for her solo private practice since 2000, and has logged hundreds of hours in the search. One of her findings: most EHR-PM programs are priced too high for counselors. For example:

Amazing Charts: $1999 per year for the first provider, $995 for each additional provider.
All Scripts: $699 per month per doctoral-level provider, $474 for masters level.
Soapware: $3000.00 per year, per provider.
Praxis: $6995.00 per year for the first provider, $2995.00 for each additional provider.
AdvancedMD: Nearly $1000 per month, per provider.

What's notable is that many programs aren't just expensive; the prices are incompatible with counseling practices of any size. Specifically, the rates are so high on a per-user basis, that even if a group counseling practice made infinity dollars, the practice still would not be able to afford the per-user cost because masters-level clinicians don't bill enough to justify a software fee of several hundred (or thousand) dollars a month (this is particularly true for practices that include part-time clinicians).

Roadblock Two: Software Problems

Fred Porter*, owner of a New England psychiatry practice paid thousands to get started with his web based EHR-PM program. But when he loaded his patient list of several thousand into the system, it slowed to a crawl. Fred explains, "We would watch the appointment calendar load, one line of text at a time. It could take 10 minutes to check a patient in." In addition, there were state specific regulations for filing insurance claims that the out of state software vendor wasn't used to—so claims were getting denied. And so began a ritual for Fred, of finding bugs and calling the software company to try and get them fixed. Fred explains, "If you deal with a larger company like Siemens you won't have delays, and they have experience with practices nationwide; but a small practice can't afford that. So I'd call them and say 'this or that doesn't work' and they'd say they'd look into it—it felt to me like I was teaching the vendor." A month into his implementation, Fred received an unexpected bill in the mail for customer support! "I couldn't believe it—I'm helping them fix their software. But what are you going to do? Once you've committed to a program, had it installed, trained your staff—it's a nightmare to switch. They not only have all your data, all your insurance claims are in their software!"

It's hard to believe the lack of viable programs when an Internet search will turn up pages of results. In the last year, Wendy and I have both test-driven dozens of programs, sharing our notes (and disappointments) about each. Names have been removed to protect the guilty, but the problems are numerous, pervasive, and render many EHR-PM software options on the market unusable. Here are some of the problems we encountered:

Help tickets go unanswered
Software has downtime
Software is cripplingly slow
Broken features
Basic features missing
A difficult to use interface
Billing claims sent improperly, or not at all
Billing claims sent repeatedly (in error)
Reports are faulty, or altogether unavailable.

Wendy explains, "Some software is okay on the notes [EHR] side, but the practice management and billing side is poor. Some software is the other way around. No one seems to have a complete usable package."

Making it Work

Ryan Neace, a Central VA based counselor, has gone paperless without the use of EHR software. In his practice, every therapy office is assigned its own iPad, on which is loaded a simple note-taking program called "smartNote," available in the iTunes app store, for $2.99. Ryan explains, "The client files are password protected. Besides that, the application couldn't be more basic. It can't run reports, such as sessions booked, and it has no billing capabilities whatsoever. The program works for us because we don't need much in the realm of reporting, and because we're a cash-only practice."

Counselor Wendy is on her fourth software suite in as many years. Her first software had "updating and synching" problems, the second company went out of business, the third software never ran properly (according to Wendy, "they blamed Bill Gates for their software being crappy"), and as for the fourth program, the note-taking side works well, but the PM side has so many serious billing problems that Wendy is being forced to switch software vendors again. Wendy laments, "Even after all my searching, I haven't found a single software program I could recommend to counselors!"

Fred has stuck it out with his software provider through what he describes as "a year and a half of struggles." The PM side of the software is working, but he has yet to begin using the EHR. Fred explains, "because the financials weren't working, I wasn't going to tie myself to the EHR. I'm already paying for it—I've just been reluctant to use it." He says he feels fortunate that his software developer 'got it' and was able to make adjustments to the software. He plans to begin using the EHR soon, and is excited about some other features, such as automated reminder calls. Fred says "Reminder calls keep the no show rates down to 5%, but it takes an enormous amount of resources for receptionists to manually make each call." As a final issue for Fred, even choosing a small EHR-PM vendor, one ad-on feature is still out of his budget. Fred says, "The electronic prescription writing is a bit expensive. It's $60 a month per provider. I have 12 prescribers, but some only work one day a week, so I can't justify the cost." Still, Fred is positive about the prognosis, saying, "Were getting there. Slower than I had hoped but we're getting there…"

As for my practice, we began using EHR-PM software in 2009. We thought that an EHR system would help us to better organize records, and would make records easier to retrieve when clients request them. As director, I also saw value in having a solution that combines note taking with insurance billing.

In choosing an EHR-PM platform, our team sorted through what features would be most helpful for our practice. We wanted to find a web-based program that didn't need installation on every office computer. This eliminated many options. Price eliminated others. Trying demo-versions of various suites eliminated even more, as many look like a flashback to DOS. In the end, we found a low cost program called "Office Ally" (Cost for EHR is $29.95, plus $15 per provider, per month. The PM software is basically free). 

The team was excited about the program. However, once implementation began, the excitement waned. The software was not nearly as user friendly as we had hoped, and the learning curve was brutal. There is a lot of dialogue during the training process that sounds like: "you need to click here, then here, then click the drop down menu here, and ignore those sections there because those features don't apply to us." 

Today, several years into our Office Ally subscription, our staff still dislikes it, as does our in-house billing department, who warns that the software will become decreasingly able to meet our needs as the practice grows. Also, it only works well on Internet Explorer, and it has regular bugs, crashes, and downtime.

In an attempt to phase out Office Ally, in 2011 we tested a new software program with a handful of staff. While the notes side worked well, the PM side was wrought with problems. We are now in the process of implementing a third software program. This time, the practice purchased a higher-priced solution, with hopes that it will lead to better outcomes. In the next year we will be spending north of $10,000 on EHR-PM software (we'll let you know how it goes).

Despite the troubles, overall EHR-PM software has helped the practice. Note taking has improved, as has the organization of client files. We can view a history of sessions at a glance, and how much has been paid to each clinician from insurance and co-pays. It's also a nice perk not to have a growing mountain of filing cabinets crowd the office.

No One's Missing the Boat

Sometimes it's not worth being at early adopter. As someone who has spent hundreds of hours searching for and testing EHR-PM programs, it's infuriating to know that at some point in the future—perhaps even soon—there will be a clear industry leader. Choosing software will be quick, easy, and maybe even affordable. So, if you feel like you're missing the boat on EHR–PM software, you're not. The boat isn't even in the water yet!
*name changed