You are a counselor in private practice. You work 5 days a week, booking yourself 6 clients a day. You could schedule more, but you feel that 30 sessions is a good full time caseload. However, at the end of each week you review your caseload and notice that, again, you had only 25 sessions. What gives? You need a counseling cancellation policy.
If you're like many counselors, you are no stranger to last-minute client cancellations and no-shows. These events hurt your practice, worsen clients' treatment outcomes, and put a monkey wrench in your schedule.
But Wait, you Have a Counseling Cancellation Policy!
Almost all counselors have a no-show policy. Still, counselors are often reluctant to enforce their policies—in part because their clients haven't fully bought into them. Do the following counselor statements resonate with you? "Jane, she's a good client, and this is the first time she's cancelled late." "Rob, he gave 23 hours notice, even though I didn't fill the gap in my schedule, that's really close to my 24 hour policy." "Erin, she says she has a fever of 102 degrees. She's seriously sick!" "Dave has no excuse for missing his appointment, but he swears that I never told him my policy, and he'll quit therapy and slam me online if I charge him."
A New Approach to your No-show Policy
Every counseling student learns that there is a difference between signed consent and informed consent; a client might sign a consent form but if he or she never read it, there is no informed consent. Hence, counselors regularly read through their consent forms with clients.
However, I think that consent needs to be taken a step further. In addition to informed consent, counselors need to obtain client agreement and buy in.
The Typical No-Show / Counseling Cancellation Policy
Counselors typically rush through the informed consent process. There is a lot of incentive to do this: Clients, during a first appointment, are typically not in their best emotional place, and counselors want to deliver value in the first appointment, not legalese. Hence, a no-show policy review might sound like this:
"Now that we've spoken about confidentiality, let's talk cancellation policy: I have a 24-hour cancellation policy. I will need to charge you for an appointment if you don't give me at least 24 hours notice. Now let's talk about my duty to report…"
Is this clear? Maybe. But it's not memorable. It doesn't address whether there are any exceptions to the rule. It doesn't emphasize how serious you are about enforcing the policy. It doesn't provide a rationale as to why you have a cancellation policy. A client will hear your policy and she might even remember it, but she will perhaps never truly buy into it. To keep the session moving forward, the client will sign your form and hand it back to you. Then, the day you try and enforce your cancellation policy will be the day you'll learn how little consent you really obtained from your client. As one client recently said "…it is unfair and unjust. I understand policies, but I work for a living, so when am told I must work, then I MUST WORK!"[i] For many practices, client retaliation to cancellation fees is the norm, not the exception. Something needs to change!
The Over-the-top No-show / Cancellation Policy Review
In the title, I described the cancellation policy procedure below as "over-the-top," "legalistic," and even "unforgiving," but it is really none of the three. Below is simply a sample model on how to clearly and thoroughly communicate your policy to clients and make sure you obtain the essential client buy-in you need. Here it goes:
"Karen, before we get started, I need to talk with you about my cancellation and no-show policy. I want to make sure that there's no miscommunication about it, and that you understand it and agree to it 100%.
My cancellation policy is this: Clients can cancel or reschedule an appointment anytime, as long as they provide 24 hours notice. If you cancel an appointment with less than 24 hours notice, or fail to show up, you will be charged for the appointment.
Some practices have a 48-hour policy. Some even have a 72-hour policy. Mine is 24 hours, and I am firm at 24 hours.
This cancellation policy is really important for my counseling practice because, while a medical doctor can see 35 patients in a day, a therapist like me generally sees a maximum of 6 or 7. I reserve for you, and all my clients, a full hour of my time for the session and clinical notes. If a client cancels with less than a full 24-hour notice, I won't be able to fill that time slot, and I'll lose an entire hour from my work schedule.
I want you to know that my cancellation policy in not a penalty or a punishment. Ninety-nine point nine percent of my clients understand this. Very rarely, I'll have a client who will feel that he or she is being punished when I charge them a late cancellation fee. I want to make sure that you don't feel this way, if someday you miss an appointment. Truth be told, if you are in counseling long enough, at some point you might forget about an appointment, or something will come up in your schedule that will result in you missing an appointment. Maybe you'll need to work late. Maybe you'll get a sudden onset of the flu. Maybe your kids will have doctor appointments, or your car will break down, or something unavoidable will come up.
I'm never upset with clients when they miss an appointment. I know that's life. In return, my clients understand that scheduling an appointment with me is like buying tickets to an event. If you miss the event, it doesn't matter why you missed it, or even if it was your first time, you can't turn in your tickets for a refund.
Also, our late cancellation and no-show fee is $99. It's important to remember that insurance will not pay for missed appointments, so you will be responsible for the full $99, not just a co-pay.
The fact that I'm spending so much time talking about this might seem like overkill—thanks for bearing with me! I am fortunate in that my clients are fully on board with this policy, and this makes life so much easier for my clients and me.
So, Karen, in order to move forward, I need from you, not just your consent but also your enthusiastic agreement and promise, that if or when the day comes that you miss an appointment, for any reason, you will gladly pay for the missed appointment, just like you pay for the sessions you attend.  Do I have your agreement and promise?"
After giving this—or a similar—explanation of your cancellation policy, and after ending it with a request for "enthusiastic agreement," pause and wait for the client to answer. If the client agrees verbally at this point, it is likely that he/she has truly agreed to your policy, and that you will never need to worry about problems charging for missed appointments or late cancellations.
Some clients will not agree. A client might say, "That seems a little too inflexible to me. If I have to stay at work late, or my kids get sick, I can't control that and I don't have the finances to pay for sessions I'm not attending." In these instances, kindly reply, "I completely understand. The value of the consent process is that both you and I can see if my services are going to be a good fit. I cannot move forward, but I do have a list of other providers who might be a better fit for you at this time." Then, let the would-be client leave.
While such a policy may on the surface sound over-the-top, extreme, legalistic or even unforgiving, in actuality, sharing expectations from the first session will ultimately go a long way to build trust and a solid therapeutic relationship with your clients.
---
[i] A slightly modified direct quote for an anonymous client.
[schema type="organization" orgtype="LocalBusiness" url="www.thriveworks.com" name="Thriveworks" street="872 Massachusetts Ave " city="Cambridge" state="MA" phone="1-855-2-THRIVE" ]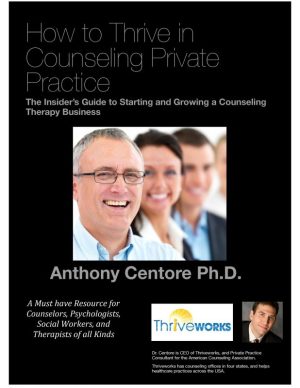 Dr. Anthony Centore is CEO of Thriveworks is Private Practice Consultant for the American Counseling Association, and Author of "How to Thrive In Counseling Private Practice." Learn more at https://thriveworks.com/counseling-private-practice-book/
Looking for help starting or growing a private practice? We can help! Learn more at https://thriveworks.com/private-practice