Intern Counselor Question: This is a question we are asked at Thriveworks ALL THE TIME, so we thought we would finally write a quick blog post, and make a video, to answer the question. 🙂
The answer is usually, in 99% of cases, no.  We're sorry, really. It would make life so much easier for interns, and for the companies and practices that hire/employ them. It would be good for patients and clients. It would probably even mean more business for our medical billing service! But, alas, in most cases, interns cannot bill insurance.
However, there are a few exceptions. First, if you have special permission from an insurance company. An insurance company may let you enroll on their insurance panel, if you are under supervision, and if they have a dire (dire) need for providers. So, if your in one of the most under-served and blighted areas in the country, it might be worth making some calls to your local insurance companies 🙂
Also, if you work for a larger organization, such as a hospital, or a community mental health center, you may be able to accept some kinds of state-sanctioned insurance plans. This is your most likely option! In the video below, Dr. Anthony Centore and medical credentialing specialist Whitney Bade Explain:
To reach our credentialing specialists, call us anytime at 1-855-664-5154.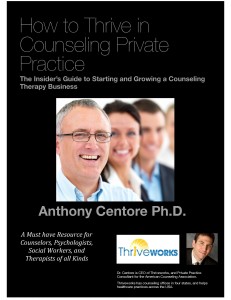 Dr. Anthony Centore is CEO of Thriveworks, is Private Practice Consultant for the American Counseling Association, and Author of "How to Thrive In Counseling Private Practice." Learn more at https://thriveworks.com/counseling-private-practice-book/
Looking for help starting or growing a private practice? We can help! Learn more at https://thriveworks.com/private-practice