2013 CPT Code Revisions: The mental health community is abuzz about the 2013 Current Procedural Terminology (CPT) code changes. Don't worry; CPT codes are still boring! This article will explain the changes, and what you need to know to prepare for them.
**Thriveworks provides professional, full-service, medical billing. We offer electronic insurance billing, full-service patient billing, authorization obtaining and checking, insurance carrier follow-up, and much more. We are fully committed to providing our clients with low cost, accurate services, no matter how large or small your needs. Call us today at 1-855-664-5154.
Starting January 1, 2013, a number of CPT codes for psychiatry and psychotherapy services will be revised. For instance, if you bill a "90806" to a third party payer after December 31st, the claim will be denied. And if you talk about having a "90806 appointment" with colleagues in 2013, they will roll their eyes at you because "Gosh Judy, you're so last year!"
CPT codes are set by the American Medical Association (AMA), and are revised on an annual basis. This year, the revisions are substantial. Fortunately for counselors, many of the changes concern psychiatry, and not psychotherapy.
Major Psychiatric Revisions
The CPT revisions that effect psychiatrists are more complicated than those that effect counselors and psychologists. For those who run group practices, here are five major psychiatric CPT revisions:
Evaluation and management (E&M) plus psychotherapy codes will be retired (including "90805" and "90807")
Codes for psychotherapy and E&M services are now differentiated
The code "90801" will be replaced by "90792" for "a diagnostic evaluation with medical services"
Pharmacologic management codes will be retired (providers are to use an E&M code)
2013 introduces "add-on" codes for psychiatry, which are services in addition to a primary service (not a stand-alone service)[i]
…and several other changes.
Major Psychotherapy Revisions
The CPT code revisions that effect counselors are simple and straightforward. Here is a list of psychotherapy CPT codes that will be retired, and their 2013 comparables:
90801 –> 90791 (diagnostic evaluation without medical services)
90804 –> 90832 (was 20-30 minutes psychotherapy, now 30 minutes)
90806 –> 90834 (was 45-50 minutes psychotherapy, now 45 minutes)
90808 –> 90837 (was 75-80 minutes psychotherapy, now 60 minutes)
Family therapy codes (90847 and 90846) will remain unchanged, as will codes for psychological testing.
A Note on Service Duration Changes:
As seen above, unlike existing codes that provide a service time range (i.e., 45-50 minutes), 2013 code descriptions list fixed times (i.e., 45 minutes). However, according to the 2013 CPT manual, providers still have flexibility. Respectively, 16-37 minutes for code "90832," 38-52 minutes for code "90834," and 53 minutes or more for code "90837." When reporting a service, a provider should choose the code closest to the actual duration.[ii]
Will Reimbursement Rates Change?
It is unlikely that the 2013 CPT code revisions will affect reimbursement rates for counselors. That said, several large third party payers (including Medicare and Medicaid) are expected to announce their 2013 service rates in November.
Preparation
An experienced medical biller should be able to adjust to the 2013 CPT codes without much difficulty. Similarly, quality practice management software companies are already prepared for the code revisions, and are ready to apply them on 1/1/13. For most psychologists, social workers, and professional counselors, adopting the new CPT codes will be a simple administrative change that won't affect their clinical workflows.
Need more? Continue reading about CPT Code Add-Ons For 2013
Author: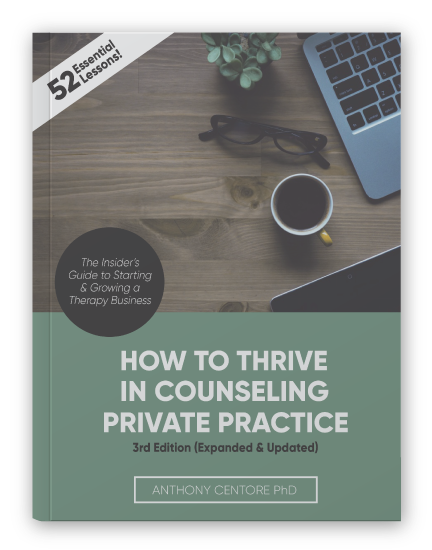 Dr. Anthony Centore is CEO of Thriveworks, is Private Practice Consultant for the American Counseling Association, and Author of "How to Thrive In Counseling Private Practice." Learn more at https://thriveworks.com/counseling-private-practice-book/
Looking for help starting or growing a private practice? We can help! Learn more at https://thriveworks.com/private-practice
---
[i] Source: National Council for Community Behavioral Healthcare at www.TheNationalCouncil.org
[ii] www.apapracticecentral.org/update/2012/09-27/psychotherapy-codes.aspx. The 2013 AMA CPT Professional Edition Manual can be purchased on Amazon.com: www.amazon.com/Professional-Edition-Current-Procedural-Terminology/dp/1603596844