Get Your Relationship back on Track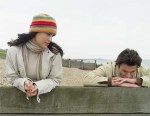 When you met, everyone said you were a match made in heaven. You were never seen without each other, and every day you spent together was a new adventure, just because you were together.
These days, however, you argue constantly. The long term plans you made in the beginning never come up in conversation anymore, because you don't know how long things are going to hold together.
But it's not too late.
Cambridge Couples Counseling at Thriveworks
If you and your partner live in the Cambridge area and you're ready for a fresh start, Thriveworks Cambridge Couples Counseling is here to make that start with you.
It doesn't have to end just because things get tough.
You've probably heard it said often that anything good you have in your life is something you'll probably have to fight for – and it's true.  People walk away from good relationships everyday for the simple fact that they don't have the tools to fix what has been broken. That's where Thriveworks Cambridge comes in.
One of our caring professionals can teach you valuable relationship skills, such as:
Building good communication skills
How to trust
How to be honest
How to recover from a crisis, such as cheating or financial difficulties
We aren't here to just put a patch over your problems and keep going.  Thriveworks Cambridge wants to get to the root of the problem and teach you skills that you'll use for a lifetime. Start the healing today!
Thank you for saving my marriage. Thank you for saving me!
If your relationship needs some major TLC, or maybe you just want to strengthen the solid bond you and your partner already have, call us today.  There are no waiting lists, so if you call today you can see one of our counselors this week, possibly even the same day that you call.
Stop worrying about whether the two of you will make it.  Let's start putting it back together today.  So call us today at 617-395-5806 to begin the process together.
Warmly,
Your Friends at Thriveworks Cambridge Couples Counseling