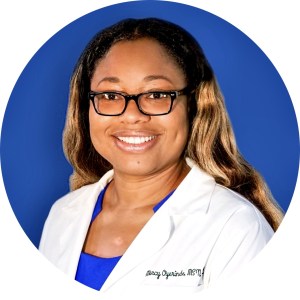 Accepting:
Anthem
Cigna
Aetna
Magellan
Multiplan
Tricare
Optum
Medicare
Self Pay Rate: $199: First Session $149: Follow Up Session
Schedules: Online Only
Mercy Oyerinde, PMHNP-BC
**Accepting New Clients** 
Mercy Oyerinde is a Board Certified Psychiatric-Mental Health Nurse Practitioner (PMHNP-BC) in the great state of Georgia. Without a doubt, she has many years of experience delivering high quality patient care to those throughout the state. Mercy's medical training provides excellent care and support to patients with chronic mental illnesses, cognitive impairment, and functional loss due to mental health issues. She can assess and prescribe medication to treat psychiatric disorders. Mercy strives to provide client-centered care and she believes that transparency is at the cornerstone of her care. Mercy truly believes that mental health is the ultimate part of our wellbeing, and that a sound mind yields a happy life. Her personal philosophy to mental health care is having a good quality of life like the popular quote.
"Your mental health is everything – prioritize it. Make the time like your life depends on it because it does." — Mel Robbins.
Areas of Expertise include but are not limited to:
ADD/ADHD
Anxiety Disorder(s)
Bipolar/ Mood Disorder(s)
Depression Disorder (s)
Grief and Loss
Insomnia
Personality Disorder
Psychotic Disorders including Delusional Disorder, Schizophrenia Disorder, and Schizoaffective Disorders
PTSD
Stress Management
Smoking Cessation
Trauma Responsive Treatment
Populations Served
Adolescents 13-17
Adults 18-64
Geriatric 65+