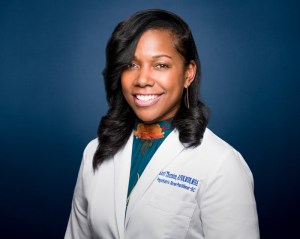 Accepting:
Aetna
Anthem BlueCross BlueShield
Cigna
Humana
Magellan
Medicare
Optum
United Behavioral Health
Tricare East
Pending:
Self Pay Rate: $$200 medication intake/$100 medication follow up
Lori Thornton, APRN, PMHNP-BC, MBA
Lori Thornton is a Board Certified, Psychiatric Mental Health Nurse Practitioner (PMHNP-BC) who prides herself in having an authentic approach to mental health. Her extensive education and psychiatric clinical training focused on treatment of clients across the lifespan, who suffered from mental illness and other comorbidities. Lori's clinical focus is treating children, adolescents, and adults. Her services and expertise include assessing/evaluation, diagnosing, developing a comprehensive treatment plan, psychopharmacology, psychotherapy, and therapeutic mentoring. Her practice specialties also include but are not limited to: childhood/adult trauma, PTSD, depression, anxiety, addictions, personality disorders, and psychotic disorders.
Lori has over 19 years of working in the healthcare industry as a Registered Nurse, a Healthcare Executive, and now a Psychiatric Mental Health Nurse Practitioner. She is known by many to have a natural and genuine ability to connect with her clients; while providing a calm to their chaos – no matter who they are or what they are going through. Lori's passion and commitment is assisting the client to become the best version of themselves, by providing client-centered and competent-quality care.
"Each person is unique. My passion is to help people become healthy and whole. There is no such thing as a "one size fits all" when it comes to developing a treatment plan for mental health disorders. The only way to go about treating mental health disorders is to treat the client from the inside-out – by actively listening to the client's goals and desires for optimal health, incorporating mindfulness, and finding out what the best version of themselves look like to them. Tailoring a treatment plan which is evidence-based, sustainable and realistic not only contributes to compliance, but the client is more likely to experience an improved quality of life."
Lori's areas of expertise include but are not limited to:
Childhood Trauma
Adult Trauma
Post-Traumatic Stress Disorders
Stressor Related Disorders
Mood Disorders: Depressive Disorders, Bipolar, Disruptive Mood Dysregulation
Anxiety Disorders: Phobias, Panic Disorders
Psychotic Disorders: Schizophrenia, Schizoaffective Disorder, Delusional Disorder
Obsessive Compulsive and Related Disorders
Personality Disorders
Addictions
Psychiatric Disorders in Children: ADHD, Oppositional Defiant Disorders, Elimination Disorders
Eating Disorders
Impulse Control Disorders