Reading, PA Counselors – Thriveworks Reading Counseling, Therapy and Coaching
Thank you for your interest in our counselors at Thriveworks Counseling Reading. Our team is here to help. Find out more about each of our trained providers below.
---
Sarah Walter, MA, LPC, Ordained Pastor of AOG
Sarah is a Licensed Professional Counselor as well as an Ordained Pastor of the Assemblies of God. She utilizes a variety of therapeutic approaches to best fit clients, including cognitive behavioral, psychodynamic and person-centered therapies. Sarah also incorporates therapeutic art activities to assist in client expression.
Sarah offers Christian counseling and is passionate about seeing lives changed through the power of Christ. Trained in psychology and theology, Sarah's integrative approach aims to help clients address emotional or relational challenges within the context of spirituality.
Sarah obtained her Master's degree in Marriage and Family Counseling from Capital Seminary and Graduate School (Lancaster Bible College). Her professional experiences include family-based therapy, pre-marital counseling, equine-assisted therapy, and four years of providing school-based outpatient therapy to adolescents. Sarah has experience working with clients who struggle with depression, anxiety, relational and self-esteem issues.
She also serves as the Associate Pastor and leads the discipleship program and young adult ministry at a local church. Her background includes preaching, discipleship, dance and art ministry, overseas missions and outreach. Sarah felt called into the ministry in 2009 and pursued and received her undergraduate degree in intercultural studies and youth ministry from the University of Valley Forge.
Sarah is available to help you overcome emotional challenges, assist in preparing for and/or strengthening your marriage, walk through parenting difficulties, assist in stress management strategies and plan for your future. She works with teenagers, families and groups of all ages and backgrounds.
One of Sarah's long-held beliefs is that individuals and families hold immense untapped potential and growth, and she is passionate about helping others be catalysts for generational change. Believing that people are resilient, able to heal and hope again, Sarah is confident that change is possible for even the most discouraged.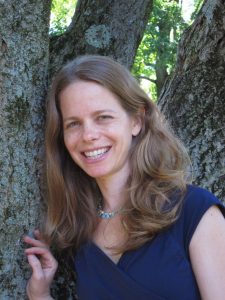 Julie Gabriel, MSW, LSW, RYT
Julie is a Licensed Social Worker who has worked in various capacities practicing an empathetic therapeutic style. Julie utilizes a client-centric therapeutic approach tailored to the personal needs of each individual. Julie works with people of all ages and believes in the process of self-improvement and working together with clients to clarify and reach their goals.
Julie has a Bachelor Degree in Elementary Education and a Master's Degree in Social Work from Kutztown University. Julie is a Registered Yoga Teacher and is certified in teaching meditation and mindfulness practices and is also trained in Dialectical Behavioral Therapy. Julie's professional experiences are varied and she has worked as a kindergarten teacher in the past as well as with veterans and caregivers on issues of grief and loss. She has also created and taught self-care workshops for medical staff. Julie believes in the power of the mind-body connection as integral part of the healing process for crisis, transition, and life enrichment.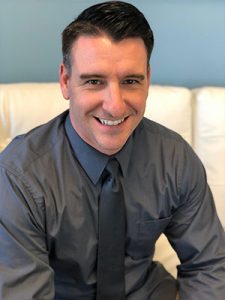 Bill Hartranft, MA, LPC
Do stress and worry prevent you from living a full and satisfying life? Do your thoughts of the past or future distract you from the present moment? Both trauma and everyday stress can negatively change the way we think, feel, and behave. That is why Bill Hartranft, Licensed Professional Counselor and Sports Consultant, utilizes a person-centered, evidenced based approach to therapy that allows his clients the freedom to create their own path towards a successful and fulfilling life. His goal is to provide a safe, trustworthy, and judgement-free environment that is essential to helping people focus on their individual needs, and to begin moving towards a life full of purpose. Bill works with people of all ages, and has a decade of experience working cognitively and behaviorally with individuals on issues such as depression, anxiety, trauma, drug and alcohol addiction, self-esteem, mood/personality disorders, and family dynamics. If you find yourself spending more time trying to avoid discomfort rather than chasing meaning, then you are probably exhausted. Bill would consider it an honor to help you unlock your inner strengths and walk with you on your journey towards healing and a life well lived.
Bill is also a coach and former college athlete with a passion for the psychology of sports and peak performance. He enjoys using his experiences and research to help athletes increase their confidence and mental toughness, and to help coaches learn how to get the most out of their teams. Whether you are trying to bust out of a slump, or are looking to take your game to the next level, Bill would be glad to work with you.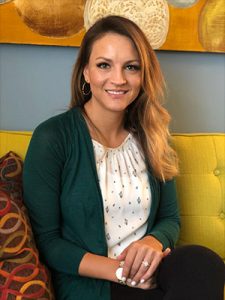 Caitlin Herb, MA, LPC
Caitlin is a Licensed Professional Counselor with over eight years of experience working with children, adolescents, young adults, and families. She has experience in various levels of care including outpatient, wraparound/BHRS, school-based, and acute inpatient partial hospitalization. Caitlin earned her Bachelor's degree in Psychology with a minor in Criminal Justice from Shippensburg University. She then went on to receive her Master's degree in Community Counseling from Alvernia University. She is a member of both the American Counseling Association and Pennsylvania Counseling Association.
Caitlin has experience working with depression, anxiety, adjustment disorders, behavioral disorders, and autism spectrum disorders. She has also helped clients navigate family issues, relationships issues, social difficulties, low self-esteem, and life transitions. In addition, Caitlin has provided therapy to individuals struggling with suicidal ideation and self-injurious behaviors. Caitlin integrates elements of CBT, DBT, and mindfulness in her approach. She also believes in taking a person-centered approach with each client and taking into account unique individual needs.
A special area of clinical interest to Caitlin is maternal mental health, pregnancy, and postpartum depression and anxiety. Due to her own life experiences, she has an acute understanding of these issues and how to treat them. Caitlin would love to help you navigate the magical, often messy, transition to motherhood. Caitlin realizes it can be difficult to find someone that you trust to work with. That is why she strives to be supportive, empathetic, and non-judgmental. She also welcomes humor in the therapeutic environment. Caitlin will provide you with a safe space to unpack difficult emotions, explore patterns of thinking, expand awareness, and develop healthier coping mechanisms.
Outside of work Caitlin loves to spend time with her friends and family, especially her spunky toddler. She loves scrapbooking, jogging outside, reading, and the beach. She also has a soft spot for all animals and loves to be surrounded by pets! If you feel like you and Caitlin would be a good fit, please don't hesitate to reach out and call. She looks forward to meeting with you!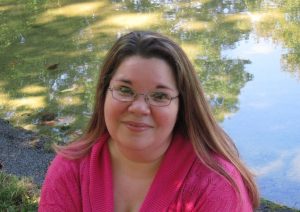 Tonia Knight, M.Ed, MA, LPC, CAADC
Tonia Knight is a Licensed Professional Counselor and Certified Advanced Alcohol and Drug Counselor who has spent over 20 years working with children, adolescents and adults. Whether it was teaching special education classes, working as a Mobile Therapist/Behavior Specialist, managing cases in therapeutic foster care, or counseling in the mental health or drug and alcohol field, her heart has always been in helping her clients to achieve the healthiest version of themselves possible.
Tonia has experience working with individuals in recovery and their loved ones as well. Tonia has empathy and compassion for the struggles that are encountered on the road to healing for all those involved. She has knowledge in codependency, enabling, and fostering healthy relationships. Tonia also has experience in working through grief, anxiety, depression, PTSD, anger management, and building positive self-esteem. Tonia has worked with individuals in the LGBT community as well as with individuals under the Autism Spectrum.
Tonia focuses on cognitive behavioral therapy and strength based approaches that nurture a client centered environment. By utilizing characteristics that are already present and channeling them in healthy ways, Tonia believes that anyone can learn new ways to perceive their lives without the need to change who they are at the core.
Tonia believes that everyone can learn from one another and that we should always remain teachable. She has earned a Bachelor's degree in Psychology as well as a Masters degree in Education and Teaching Certification in Special Education from the University of Pittsburgh. Tonia also has a Masters degree In the Art of Community Counseling from Alvernia University.
"When you change the way you look at things, the things you look at change"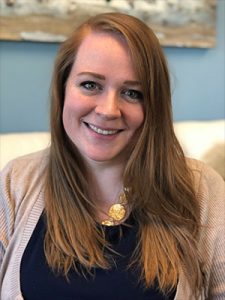 Diane Lillington, MSW, LSW
Diane is a Licensed Social Worker who has a Bachelor's Degree in Addiction Studies from Alvernia University and a Master's Degree in Social Work from Kutztown University. Diane is also trained in Acceptance Commitment Therapy, Motivational Interviewing, and Cognitive Behavioral Therapy and is a certified Dialectical Behavioral Therapist.
Diane's professional experiences are varied as she has worked in the areas of prevention, intervention, and treatment of addiction/mental health. Diane has worked in inpatient and outpatient facilities, as well as providing support and treatment in a college setting. Diane believes in the power of human connection as an integral part of the healing process and hopes to have an opportunity to work together and discover what recovery looks like for you.
Helping clients to gain better self-awareness in a holistic and non-judgmental atmosphere is what Diane does best.  Diane has worked in various capacities within the mental health and addiction field. Diane enjoys working with people to improve their quality of life through building insight, motivation, and increasing feelings of self-worth. Diane utilizes a person-centered therapeutic approach to help clients recognize long-standing, unproductive patterns of thinking and behavior and works together with clients to find ways to replace more effective strategies. Diane works with people of all ages and believes in the intrinsic value of having a supportive and compassionate environment to explore the most effective ways to process feelings and emotions. Diane places an emphasis on understanding and utilizing assertive communication skills in order to get needs met in a way that is conducive to building self-respect.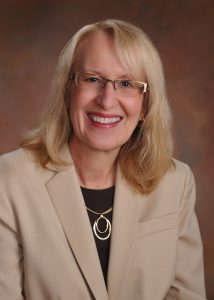 Justine Liptock, MSW, LCSW, ACSW
Justine Liptock is a licensed clinical social worker with over thirty years of experience in the field of social work. She has worked in a variety of settings including mental health, addiction and most recently hospice. She has her clinical license in Pennsylvania and Florida and has practiced in California. As a psychotherapist, Justine has worked with individuals, couples and groups. She received Bachelors degrees in Spanish and Social Welfare from Penn State University, and a Masters in Social Work degree from San Jose State University in California. In 2012 Justine completed fifty hours of trauma-informed continuing education for Post Traumatic Stress Disorders with Drexel University College of Medicine and Behavioral Health.
Justine is a member of the National Association of Social Workers and American Association of Christian Counselors. She also holds the distinction of being in the Academy of Certified Social Workers. Justine assists other social workers in achieving their professional best by providing them with clinical supervision in order to obtain their clinical license.
Justine 's focus is to help those who struggle with anxiety and depression, grief and loss, and the aging process. She uses cognitive behavioral and strengths-based approaches. Justine believes in the power of faith and the use of spirituality and humor to cope with life's challenges.
Justine's interests include hiking, biking, kayaking, traveling, visiting the beaches of southwest Florida, writing, and reading. She believes her own life experiences such as dealing with her husband's death from cancer have made her a more effective and empathic clinician. Her most rewarding and challenging job has been being a mother to her two sons.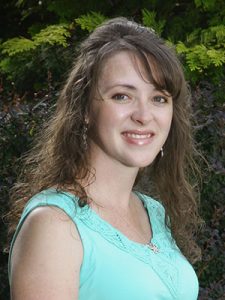 Crystal Witmer, PsyD
Dr. Crystal Witmer graduated from the American School of Professional Psychology at Argosy University, Washington, DC in 2014 with her doctorate in Clinical Psychology. She completed her doctoral internship at the MidAtlantic Internship Consortium: Catholic Charities Child and Family Services.  She then went on to complete her Postdoctoral residency at Cognitive Health Solutions. She has worked with children, adolescents, and families in a variety of treatment settings including private practice, hospitals, and community mental health.  Dr. Witmer specializes in the treatment of depression, anxiety, AD/HD, parenting techniques, behavioral concerns, developmental concerns, anger management, psychological and diagnostic assessment, and has training beyond these areas as well.  Dr. Witmer utilizes integrative, cognitive behavioral, and play therapy approaches when working with children, adolescents, and families.   Dr. Witmer is currently working under the supervision of Dr. Chaundy while she completes the final steps for licensure in Pennsylvania. She is available for psychotherapy and psychological assessments for self pay only.
Dr. Witmer believes that anything is possible with hard work and determination.  She recognizes that the therapeutic process is not a one size fits all process and therefore works alongside with her clients to formulate a therapeutic plan for each client based on their individual needs.  Dr. Witmer enjoys assisting children, adolescents, and their families on a journey to better themselves while teaching healthy coping skills and promote personal and familial growth.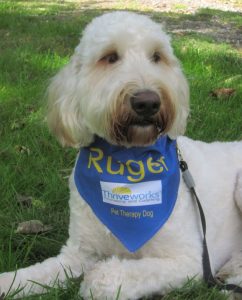 Ruger, Pet Therapy Dog – Coming Soon!
Ruger "aka Roogie Pie" will be Thriveworks-Reading official pet therapy dog in the near future. Ruger is a Goldendoodle (part golden retriever and part poodle), which is a breed known for being friendly, affectionate, and intelligent, as well as having a good temperament. They are also hypoallergenic. Although this big meat head is only a year old, Roogie is working on becoming a certified pet therapy dog. Ruger has graduated from Puppy Kindergarten for basic obedience and is currently enrolled at Whoodles Times Squared where he has the opportunity to get experience and time in the community with other animals and people. Ruger has completed his AKC Canine Good Citizenship Certification and is currently working on his skills in the community so he can take the Community Canine Good Citizen Test and hopefully be a member of Therapy Dogs International (TDI) one day. TDI is a volunteer organization dedicated to the regulation, testing, and registration of therapy dogs and their handlers for the purpose of visiting nursing homes, hospitals, schools, and other institutions where therapy dogs are needed. Ruger will be available in the future on a limited basis or during special "pet therapy nights." He will be busy volunteering with his family out in the community to get service experience under his belt. Ruger loves people of all ages and especially children and is loved for his comical actions and for being a "gentle giant."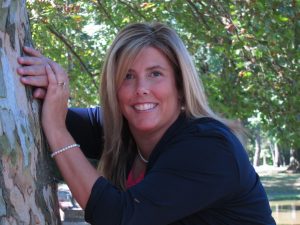 Leslie M. Chaundy, Psy.D, LCSW, NCSP, ABSNP
Owner, CEO & Clinical Director
Dr. Chaundy is a Pennsylvania Licensed Psychologist and Licensed Clinical Social Worker, as well as a Nationally Certified School Psychologist who holds a Diplomate in School Neuropsychology. She has over twenty years of experience working in the mental health field with children, adolescents, families, and adults of all ages and has worked in a variety of settings such as agencies, hospitals, and schools. Dr. Chaundy is also currently an Assistant Professor at Kutztown University and teaches in the Department of Social Work.
Dr. Chaundy earned her Bachelor's degree in Psychology from Wesley College, Masters of Social Work degree from Marywood University, and Educational Specialist and Doctorate degree in School Psychology from the Philadelphia College of Osteopathic Medicine. Dr. Chaundy also has additional training in family therapy from the Philadelphia Child Guidance Center as well as additional training in cognitive behavioral therapy, play therapy, and biblical counseling. Dr. Chaundy has presented at several national conferences in Pennsylvania, New Orleans, and California and has been a guest speaker on Berks TV "Talking Mental Health" and at Penn State University. Her doctoral dissertation topic "Religious Beliefs, Emotional Attachment, and Behavioral Commitment: It's Relationship with the Self-Regulation of Adolescents" was published into a book by Scholar's Press in 2014. Dr. Chaundy is a member of the American Psychological Association, National Association of Social Workers, National Association of School Psychologists, American Board of School Neuropsychologists, and the American Association of Christian Counselors.
Dr. Chaundy's interests outside of work include spending time with her family and friends, traveling, reading, and writing. She would like to find more time to go on mission trips. She lives at home with her husband, two teenage daughters, and their two dogs; one of which is Ruger, a soon to be certified pet therapy dog.
Dr. Chaundy believes that dreams really do come true with a lot of hard work. One of her life time goals since 7th grade was to one day open a practice to help others dealing with difficulty in their lives. Dr. Chaundy's story began after experiencing the loss of her father at a very young age due to cancer. She had the opportunity to be helped by a hospice worker and it was from there she decided that she wanted to help others as well. Although she was a work in progress for over 30 years and traveled a long rough road, her vision of finally opening a practice became a reality. Dr. Chaundy now likes helping others achieve their own personal and professional life goals and believes in the power of dreams, visions, and planning to help attain them. She also believes in the power of faith in healing, forgiveness, and in making lemonade out of life when life hands you lemons.
Dr. Chaundy's true passion is psychological and educational assessment and she enjoys completing comprehensive evaluations to get people the help that they need in school or within the community. She enjoys assisting people in their life journey and guiding them on the path toward healing. She loves hearing other's stories of hope and inspiration. Overall, Dr. Chaundy's gentle style and strength based perspective helps her easily build a rapport with others which leads to positive and productive changes in their lives