Meet our Providers
Alina Lis, PMHNP
Philosophy of Care
Alina Lis is a board-certified Psychiatric Mental Health Nurse Practitioner with over five years of experience working as a nurse, with the majority of that time spent in inpatient medical oncology/hospice and substance abuse treatment.
Alina earned her Master of Science degree from Walden University after receiving an undergraduate nursing degree from Rasmussen College. Her approach to care is collaborative and client-centered. Her treatment model involves a holistic approach that, besides psychopharmacology, includes spiritual support, dietary recommendations, exercise, and other evidence-based interventions.
Alina creates a non-judgmental, accepting, and empathetic environment where patients feel listened to and understood. Alina believes in treating the whole individual; she strives to create an individualized treatment plan tailored to each unique individual and their life goals.
Education
Master of Science in Nursing
Walden University
Specialties
Anxiety

Depression

ADHD

Anger

Obsessive Compulsive Disorder (OCD)
April Mizell, Resident in Counseling
Philosophy of Care
"How are you really doing?" Does this question make you nervous? Does this sound familiar to you? "I'm so overwhelmed. I'm too busy to even take a breath. It's so hard to stay patient and calm because I have too much in my head." So often our lives are crowded, overfull and overwhelming, and in turn block us from being able to find fulfillment. Are you stressed, worried, feeling depressed? Facing a difficult situation? Concerned about yourself, your relationships, your family? Life stressors can be overwhelming. They can also be opportunities for discovery, change and growth. The decision to seek counseling can be the first step to learn new ways to approach and overcome problems. You are not "crazy" if you are seeking therapy; everyone needs it sometime in their lives.  Maybe you just need help establishing boundaries?
There are different types of psychotherapy, such as cognitive behavior therapy (CBT), Rational-Emotive Behavior Therapy, and Client-Centered Therapy. My approach to counseling is "eclectic" - meeting the unique needs of clients - providing a supportive wholistic approach to resolve problems and foster growth.
My goal as your therapist is to assist you in slowing things down and seeing them from a different perspective.  Then helping you to see what is more meaningful for you and establish healthy boundaries. Finding someone to truly see and hear us is often where we find healing. In doing this, we can restore hope in the future, realign with the values and desires we hold most dear, and connect more deeply and more meaningfully with those around us. It's my hope to help you along the way to feeling restored to yourself, your family, and your life. Let's talk.
Education
Master's in Clinical Mental Health Counseling
Liberty University
Specialties
Anxiety
Depression
Trauma/PTSD
Self-Harm
Grief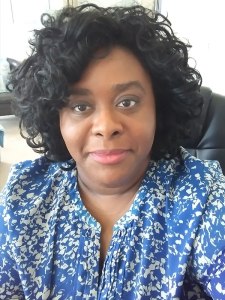 Self Pay Rate: $99
Carmen J. Reynolds, LCMHC
Philosophy of Care
Carmen J. Reynolds is a North Carolina Licensed Clinical Mental Health Counselor. She has over 20 years of counseling and human services experience. Carmen offers assistance with mood disorders, social issues, relationship concerns, divorce recovery, personal growth issues, self-esteem, trauma, parenting issues, diversity/multicultural issues, women's issues, adjustment challenges, and family of origin issues. She has a special interest in supporting parents of children who were born prematurely (or who are medically fragile) as well as those who have experienced challenging pregnancies.
Carmen is a double graduate of Wake Forest University earning a Bachelor's degree in Sociology and a Master's degree in Counseling. She uses a variety of techniques and works from an eclectic theoretical system. Her therapeutic focus includes family system work; personal responsibility; exploring how values and beliefs impact goal setting; developing coping skills; and understanding how emotions and thoughts impact behavior and change.
Carmen's mission is to motivate people to create more balanced, authentic lives. She believes therapy is cooperative and collaborative — a mixture of expression, encouragement, enlightenment, empowerment, and action. The therapeutic process identifies, emphasizes, and utilizes personal resources.
Education
Master's in Counseling
Wake Forest University
Specialties
Individual, couple, family therapy

Mood Disorders (depression, anxiety)

Women's Issues

Christian/faith based

Adjustment Disorders

Ethnic/Cultural Concerns

Life management

Parenting Issues

Stress Management
Self Pay Rate: $99
Jessica Russell, LCMHC
Philosophy of Care
Jessica Russell is a Licensed Clinical Mental Health Counselor (LCHMC) with more than 8 years of experience providing therapeutic services to children and adolescents ranging from five to 18 years old who are seeking assistance with depression, anxiety, trauma, and family therapy.
She completed her Bachelor's degree in Psychology from the University of Virginia-Charlottesville and earned her Master's degree in Clinical Mental Health Counseling from the University of Lynchburg. Jessica focuses on developing a therapeutic rapport with each individual.
Jessica utilizes cognitive behavioral (CBT) and strengths-based approaches to meet each client's distinctive needs. Jessica seeks to develop a safe, therapeutic relationship with a foundation of non-judgment. She'll assist in building the strengths that already reside within you and will collaboratively work to help you achieve your goals.
Education
University of Lynchburg
Master of Education in Clinical Mental Health Counseling
Specialties
Children and Adolescents
Depression
Anxiety
Trauma and Stress Related Disorders
Family Therapy
Self-Esteem
Cognitive Behavioral Therapy (CBT)
Grief/Loss/Bereavement
Nadia Haughton, LCMHC
Philosophy of Care
Nadia Haughton is a Licensed Clinical Mental Health Clinician (LCMHC) with 7 years of experience partnering with individuals and couples from all walks of life who face challenges such as anxiety, depression, trauma, anger, change of life, and psychosis. Nadia has worked with individuals in private practice, community organizations, and inpatient and institutional settings, and has provided enhanced service to individuals in their homes and communities.
Nadia completed both her Bachelor of Science (BS) and her Master of Arts (MA) in Psychology at Fayetteville State University. She utilizes collaborative, cognitive behavioral, mindfulness-based, reality-based, strengths-based, solution focused, and emotionally focused approaches to therapy while always maintaining the creativity, adaptability, and responsiveness necessary to best meet the needs of every unique individual and couple.
Nadia works to build a collaborative, supportive, and inclusive relationship to assist you in working toward more effective coping by working to gain practical skills and establish boundaries with the goal of helping you have a healthier and more meaningful life experience.
Education
Fayetteville State University
Master's in Psychology
Specialties
Academic/Occupational/Work Issues/Career
Anger Management
Anxiety
Couples/Relationship
Depression
Grief/Loss/Bereavement
Schizophrenia Spectrum and Psychotic Disorders
Trauma and Stress Related Disorders
Cognitive Behavioral Therapy (CBT)
Mindfulness/Meditation
Sherri Osborne, PMHNP-BC, GNP-BC
Philosophy of Care
Sherri Osborne is a board certified Psychiatric Mental Health Nurse Practitioner (PMHNP-BC) and a board certified Gerontological Nurse Practitioner (GNP-BC) who has 12 years of experience in working with adults seeking help with medication management for mental health conditions.
As a provider who has personally experienced trauma, domestic violence, and the effects of being the child of an alcoholic parent and a military family, Sherri understand the issues surrounding these and the importance of resiliency. She also has a crisis-based background and sees the effects that mental health and substance abuse have on the individual and their families. Sherri believes that faith, in whatever manner you choose to practice, helps give one strength to become a survivor and not a victim.
Sherri completed her Associate Degree in Nursing (ADN) at Guilford Technical Community College, her Bachelor of Science in Nursing (BSN) at Winston-Salem State University, and both her Master of Science in Nursing (MSN) and her PMHNP at the University of South Alabama. Sherri utilizes a holistic approach to mental health conditions. The goal is to ensure that one's physical health has been ruled out as a contributing factor. Medication is only a piece of providing care and in combination with counseling can be effective in improving a person's quality of life. Sherri's goal is never to "dumb and numb" someone, but to have the least amount of medicine needed to help manage symptoms.
Sherri seeks to establish a relationship with you that is based on warmth, trust, caring, and integrity in order to promote mental wellness and recovery for you which in turn improves your quality of life. Everyday life can be hard and stressful and having someone there to support you in that journey can mean a lot. The goal is for each day to be the best it can be fo
Education
University of South Alabama
Master's Degree in Nursing
Specialties
 Depression

Anxiety

Post-Traumatic Stress Disorder

Grief, Loss, and Bereavement

Substance Use

Pharmacology/Medication Management

Sleep disorders

Stress management

Geriatric psychiatry

Military/Veterans Treatment