Reading, PA Counselors – Thriveworks Reading Counseling, Therapy and Coaching
Thank you for your interest in our counselors at Thriveworks Counseling Reading. Our team is here to help. Find out more about each of our trained providers below.
---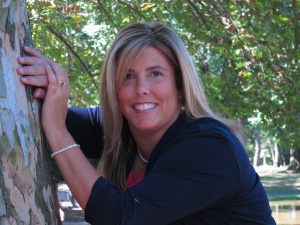 Leslie M. Chaundy, Psy.D, LCSW, NCSP, ABSNP
Owner, CEO & Clinical Director
Dr. Chaundy is a Pennsylvania Licensed Psychologist and Licensed Clinical Social Worker, as well as a Nationally Certified School Psychologist who holds a Diplomate in School Neuropsychology. She has over twenty years of experience working in the mental health field with children, adolescents, families, and adults of all ages and has worked in a variety of settings such as agencies, hospitals, and schools. Dr. Chaundy is also currently an Assistant Professor at Kutztown University and teaches in the Department of Social Work.
Dr. Chaundy earned her Bachelor's degree in Psychology from Wesley College, Masters of Social Work degree from Marywood University, and Educational Specialist and Doctorate degree in School Psychology from the Philadelphia College of Osteopathic Medicine. Dr. Chaundy also has additional training in family therapy from the Philadelphia Child Guidance Center as well as additional training in cognitive behavioral therapy, play therapy, and biblical counseling. Dr. Chaundy has presented at several national conferences in Pennsylvania, New Orleans, and California and has been a guest speaker on Berks TV "Talking Mental Health" and at Penn State University. Her doctoral dissertation topic "Religious Beliefs, Emotional Attachment, and Behavioral Commitment: It's Relationship with the Self-Regulation of Adolescents" was published into a book by Scholar's Press in 2014. Dr. Chaundy is a member of the American Psychological Association, National Association of Social Workers, National Association of School Psychologists, American Board of School Neuropsychologists, and the American Association of Christian Counselors.
Dr. Chaundy's interests outside of work include spending time with her family and friends, traveling, reading, and writing. She would like to find more time to go on mission trips. She lives at home with her husband, two teenage daughters, and their two dogs; one of which is Ruger, a soon to be certified pet therapy dog.
Dr. Chaundy believes that dreams really do come true with a lot of hard work. One of her life time goals since 7th grade was to one day open a practice to help others dealing with difficulty in their lives. Dr. Chaundy's story began after experiencing the loss of her father at a very young age due to cancer. She had the opportunity to be helped by a hospice worker and it was from there she decided that she wanted to help others as well. Although she was a work in progress for over 30 years and traveled a long rough road, her vision of finally opening a practice became a reality. Dr. Chaundy now likes helping others achieve their own personal and professional life goals and believes in the power of dreams, visions, and planning to help attain them. She also believes in the power of faith in healing, forgiveness, and in making lemonade out of life when life hands you lemons.
As the owner of the practice, Dr. Chaundy isn't as involved as much in the direct counseling as she once was, but she enjoys working as clinical director to the team in addition to teaching. Her true passion is psychological and educational assessment and she enjoys completing comprehensive evaluations to get people the help that they need in school or within the community. She enjoys assisting people in their life journey and guiding them on the path toward healing. She loves hearing other's stories of hope and inspiration. Overall, Dr. Chaundy's gentle style and strength based perspective helps her easily build a rapport with others which leads to positive and productive changes in their lives
---
Julie Gabriel, MSW, LSW, RYT
Julie is a Licensed Social Worker who has worked in various capacities practicing an empathetic therapeutic style. Julie utilizes a client-centric therapeutic approach tailored to the personal needs of each individual. Julie works with people of all ages and believes in the process of self-improvement and working together with clients to clarify and reach their goals.
Julie has a Bachelor Degree in Elementary Education and a Master's Degree in Social Work from Kutztown University. Julie is a Registered Yoga Teacher and is certified in teaching meditation and mindfulness practices and is also trained in Dialectical Behavioral Therapy. Julie's professional experiences are varied and she has worked as a kindergarten teacher in the past as well as with veterans and caregivers on issues of grief and loss. She has also created and taught self-care workshops for medical staff. Julie believes in the power of the mind-body connection as integral part of the healing process for crisis, transition, and life enrichment.
---
Heather O'Donnell, MA, LPC
Heather O'Donnell is a Licensed Professional Counselor. She earned both her undergraduate degree in Psychology and her master's degree in Professional Counseling from Liberty University. Heather has a passion for working with youth and families involved with the child welfare system. She has over 10 years' experience involved in the child welfare and juvenile justice systems. Heather enjoys working with individuals of all ages; however, her primary experience has been with children, adolescents and families.
Heather has a warm and friendly demeanor and easily builds a positive connection with her clients. Her approach to counseling is client centered, meaning that she meets clients where they are at. Heather understands the unique needs of foster children and adopted children and their families. The traumas of abuse, neglect, homelessness, medical trauma, disruption of caregiving, and broken attachments affect each child and family differently. Heather understands the impact of trauma on the developing brain and works diligently with families to facilitate an understanding of trauma, ultimately bringing healing for the individual and family. Heather has been trained in Trauma Focused Cognitive Behavioral Therapy which she has used with success with traumatized children. Heather also incorporates Narrative Therapy, Attachment Therapy and Play Therapy techniques with her clients. Heather believes that a solid family commitment to therapy is essential to healing and enjoys bringing families together during counseling sessions.
---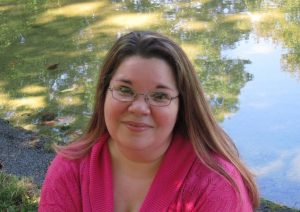 Tonia Knight, M.Ed, MA, LPC, CAADC
Tonia Knight is a Licensed Professional Counselor and Certified Advanced Alcohol and Drug Counselor who has spent over 20 years working with children, adolescents and adults. Whether it was teaching special education classes, working as a Mobile Therapist/Behavior Specialist, managing cases in therapeutic foster care, or counseling in the mental health or drug and alcohol field, her heart has always been in helping her clients to achieve the healthiest version of themselves possible.
Tonia has experience working with individuals in recovery and their loved ones as well. Tonia has empathy and compassion for the struggles that are encountered on the road to healing for all those involved. She has knowledge in codependency, enabling, and fostering healthy relationships. Tonia also has experience in working through grief, anxiety, depression, PTSD, anger management, and building positive self-esteem. Tonia has worked with individuals in the LGBT community as well as with individuals under the Autism Spectrum.
Tonia focuses on cognitive behavioral therapy and strength based approaches that nurture a client centered environment. By utilizing characteristics that are already present and channeling them in healthy ways, Tonia believes that anyone can learn new ways to perceive their lives without the need to change who they are at the core.
Tonia believes that everyone can learn from one another and that we should always remain teachable. She has earned a Bachelor's degree in Psychology as well as a Masters degree in Education and Teaching Certification in Special Education from the University of Pittsburgh. Tonia also has a Masters degree In the Art of Community Counseling from Alvernia University.
"When you change the way you look at things, the things you look at change"
---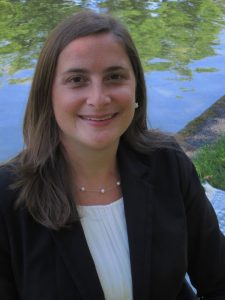 Chelsea Toth, DSW, MSW, LSW
Dr. Chelsea Toth is a Coach, Consultant, and Licensed Social Worker passionate about assisting individuals, groups and organizations to achieve their goals while maintaining balance in their lives. Dr. Toth obtained her Doctorate in Clinical Social Work from the University of Pennsylvania. She earned her Master of Social Work degree with a concentration in International and Community Development from Monmouth University School of Social Work. Dr. Toth completed her Bachelor of Social Work degree from Cedar Crest College.
Dr. Toth is currently an Assistant Professor at Kutztown University in the Department of Social Work. Dr. Toth's experience includes years as a generalist social work practitioner working with children, adolescents and their families. She has provided case management, worked in community development and as a community organizer in a legislative setting. Dr. Toth recently worked as a pediatric social worker at the Pediatric Specialty Center at Lehigh Valley Children's Hospital. She is an active member of the local cystic fibrosis community and attends the yearly North American Cystic Fibrosis Conference as a speaker and moderator. Dr. Toth's doctoral dissertation focused on the impact of connection and social isolation among young adults living with cystic fibrosis.
Dr. Toth was the Assistant Director of the Forensic Speech Team and an Adjunct Professor for the Theater Department at Cedar Crest College. Dr. Toth taught individuals how to research material, write, edit, and present various forms of speeches. She has experience teaching individuals how to master oral communication and on the basic foundation of public speaking. Dr. Toth has experience working to enhance the critical thinking skills of individuals through the formulation and presentation of persuasive and informative speeches. She embraces technology coaching individuals in person and via video conferencing software. Dr. Toth has experience coaching individuals on public speaking events for local and national competitions.
Dr. Toth believes that each individual has a passion for living their truth. Though coaching, consulting, guidance and mentorship it is possible to achieve your individual dreams while finding the balance in your daily lives. Dr. Toth is excited to work with individuals, groups and organizations to strengthen their foundation and enhance their skills. She understands the importance of strong leadership, public speaking, professional presentations, and overall well-being. Dr. Toth will utilize a holistic perspective to tailor a program to best suit your needs, achieve your goals and accomplish future success.
---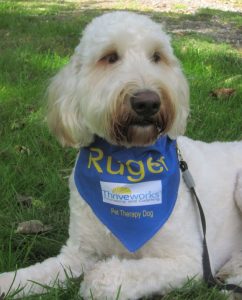 Meet Ruger-Coming Soon!, Pet Therapy Dog
Ruger "aka Roogie Pie" will be Thriveworks-Reading official pet therapy dog in the near future. Ruger is a Goldendoodle (part golden retriever and part poodle), which is a breed known for being friendly, affectionate, and intelligent, as well as having a good temperament. They are also hypoallergenic. Although this big meat head is only a year old, Roogie is working on becoming a certified pet therapy dog. Ruger has graduated from Puppy Kindergarten for basic obedience and is currently enrolled at Whoodles Times Squared where he has the opportunity to get experience and time in the community with other animals and people. Ruger has completed his AKC Canine Good Citizenship Certification and is currently working on his skills in the community so he can take the Community Canine Good Citizen Test and hopefully be a member of Therapy Dogs International (TDI) one day. TDI is a volunteer organization dedicated to the regulation, testing, and registration of therapy dogs and their handlers for the purpose of visiting nursing homes, hospitals, schools, and other institutions where therapy dogs are needed. Ruger will be available in the future on a limited basis or during special "pet therapy nights." He will be busy volunteering with his family out in the community to get service experience under his belt. Ruger loves people of all ages and especially children and is loved for his comical actions and for being a "gentle giant."
---
Robin Selig, MSW, LCSW
Robin Selig is a Pennsylvania and New York State Licensed Clinical Social Worker. Robin earned her Bachelors Degree in Human Development from Binghamton University, and her Masters Degree in Social Work from Columbia University. For over ten years, Robin has worked closely with children, youth, and families providing intensive therapeutic services. Robin has a wide range of experience and knowledge working with children and families impacted by chronic illness, disability, complex social stressors, trauma, and the child welfare system. Through this work, Robin has developed her skills in play therapy, grief counseling, crisis intervention, work with children and adolescents, and women's issues. Robin has also spent several years facilitating a therapeutic music group for children.
In addition to direct practice, Robin has extensive experience in providing clinical supervision to agency social work staff, as well as MSW Interns. Through her role as a supervisor, Robin has provided clinical training, guidance, and professional development to new social workers. She has also worked as a field instructor at Columbia University School of Social Work.
Robin's interests include cooking, literature, and world travel. She is also passionate about protecting and expanding the rights of immigrants, women and children, and the LGBTQ community. Robin enjoys expanding her knowledge and understanding of cultures different from her own and firmly believes in promoting dignity and respect of all individuals.
---