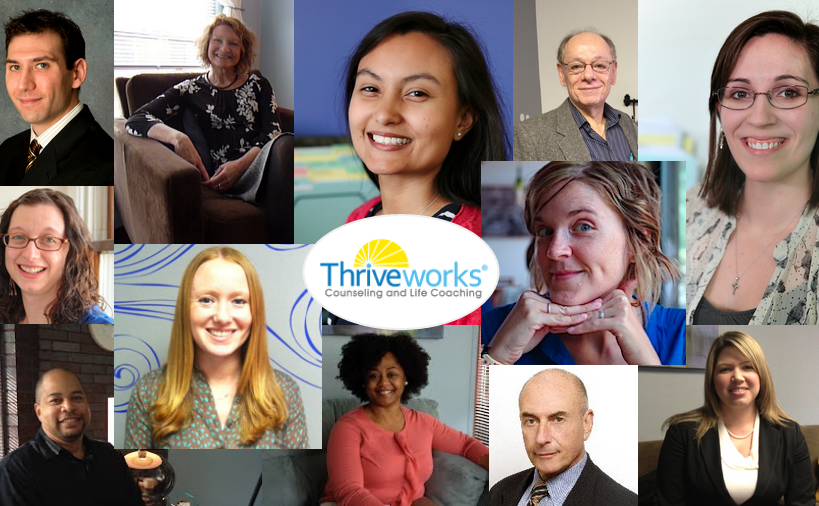 At Thriveworks, we believe that everyone has the potential to grow–to thrive. Our practices offer premium-level counseling and life coaching services, including help for depression, anxiety, relationships and other life challenges.
In addition, many of our clients are high-achieving individuals and couples who find their lives and personal success to be dramatically enhanced through their sessions at Thriveworks.
Our Counselor / Life Coach Teams
Services are provided by highly-trained and licensed mental health professionals, many of whom have been published extensively on The Boston Globe, CNN, ABC & NBC news, The Psychiatric Times, Counseling Today, Newsday, Prevention, and others. Additionally, we hire counselors who have graduated from prestigious academic institutions, such as Harvard, Yale and Princeton.
Premium Care
At Thriveworks, it's our goal to provide the most client-centric counseling and life coaching care in the U.S. Staying true to this mission, Thriveworks counselors and life coaches have built strong reputations for providing expert, caring and compassionate services to their clients.
In addition to learning tools and skills for personal and career success, clients continually comment on the value they experience through the strong personal relationships they build with their Thriveworks therapists and life coaches.
To ensure a gold standard of service and care, we have developed 10 unique benchmarks of service, detailed in our quality code. These include:
Appointments within 24 hours (no waiting lists)
Prompt session times (appointments begin on time or early)
24-hour telephone and email access to one's counselor or coach
A new, empowering philosophy of counseling and life coaching
We believe that anyone can benefit from counseling and life coaching. We exist to offer positive, empowering and life-enriching experiences for our clients, and we're setting new standards in the field.
Thriveworks Counseling — More Information
You will find hundreds of counseling and life coaching articles on this website, and the number is growing every week. Please feel free to browse around. If you are looking for more information about counseling therapy services with a Thriveworks provider, call us at 1-855-2-THRIVE, anytime 24 hours a day.
We want you to find the help, care, motivation, or information you're looking for.
We look forward to meeting you!