Our Counselors
Shayna Agosta, LMSW, CAADC, CTP-C
Philosophy of Care
Shayna Agosta is a Licensed Master Social Worker (LMSW), Certified Advanced Alcohol and Drug Counselor (CAADC), and Certified Clinical Trauma Practitioner (CCTP) in the state of Michigan. She works primarily with adults that are seeking help with depression, anxiety, life transitions, addiction, trauma, self-esteem, and relationship issues.
She completed her Bachelor's degree in Social Work from Oakland University and received her Master's in Social Work from Michigan State University. Shayna is currently in the process of working toward her Ph.D. at the Institute of Clinical Social Work. Shayna utilizes an eclectic approach to therapy to meet the unique needs of each of her clients. Her approaches to therapy include but are not limited to relational, strengths-based, cognitive behavioral (CBT), mindfulness-based, motivational interviewing, and person-centered methods.
Shayna is passionate about the collaborative work she does with her clients. Establishing a warm, trusting, and safe relationship with you is what she strives for, as she understands the work that is done in therapy is life-changing but can be challenging. She is dedicated to working with you to reach your goals, and help you achieve the life you desire and are worthy of. Shayna also offers virtual therapy sessions.
Education
Michigan State University
Master's in Social Work
Specialties
Ages 18+
Depression
Anxiety
Stress Management
Self-Esteem
Substance Abuse
Life Transitions
Addiction
Relationship Issues
Trauma & PTSD
Codependency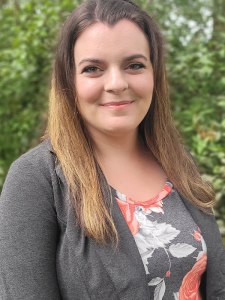 Self Pay Rate: $99
Shelby Molloseau, LMSW-C
Philosophy of Care
Shelby Molloseau is a fully Licensed Masters Social Worker (MSW) with 5 years of experience providing intervention, support, and therapeutic services to individuals in the LGBTQIA+ community, individuals with severe and persistent mental illness, people in crisis and/or with significant trauma history, and people living with HIV. She enjoys working with individuals, couples, and families struggling with identity concerns, navigating trauma history, sex and sexuality concerns, managing depression and anxiety, and coping with life transitions - including career changes, parenthood, and grief and loss. She has worked as a case manager and therapist for people living with HIV, provided therapy and support services to individuals who identify on the LBGTQIA+ spectrum, and worked for many years with individuals, couples, and families as a psychiatric social worker in inpatient mental health units.
Shelby completed her Bachelors in Clinical/Community Psychology from the University of Michigan-Flint and her Master of Social Work (MSW) from Michigan State University. With years of experience in acute, crisis settings, she utilizes an ability to quickly establish a warm and open connection with clients and employs a number of techniques, focusing on what will best meet that person's individual needs. Shelby's approach is both solution-focused and emotion-focused, pulling on techniques that are strengths-based and rooted in elements of mindfulness, cognitive behavioral therapy (CBT), acceptance and commitment therapy (ACT), and dialectical behavioral therapy (DBT). Shelby's practice is informed by the concept that therapy is a meeting between experts - the therapist brings the expertise of techniques in therapeutic practice, but the client (or clients) bring the expertise of their own experience and what will best work for them. The most effective therapy, in Shelby's opinion, focuses on meeting the client where they want to start and working together to better understand where we are, where we want to go, and how we are going to get there.
The reality of living is that while all humans experience lovely, beautiful moments - tough times are just as common (and at times can seem to far outweigh the good). Shelby welcomes clients at any stage in life, and recognizes each client may have different reasons for engaging in therapy. Whether seeking to understand themselves, their emotions, and their actions better, or trying to make sense of the world around them and the difficult paths we all must walk at times, or reaching out for support in furthering their goals and enriching their lives, clients can expect kindness, empathy, and compassion in their relationship with Shelby.
Education
Master of Social Work - Clinical Specialty
Michigan State University
Specialties
Personality disorders
Anxiety
LGBTQIA+ identity and issues
Prepartum/postpartum
Depression
Trauma
Life transitions
Rosemary Carroll, LPC
Philosophy of Care
Rosemary is a Licensed Professional Counselor (LPC) in the State of Michigan. Rosemary has worked as a counselor for over ten years with clients across a broad spectrum, who are dealing with anxiety, anger, depression, mood disorders, low self-esteem, eating disorders, relationship issues, procrastination, domestic violence, career/vocational exploration, and sexual abuse.
Primarily, Rosemary uses cognitive behavioral therapy (CBT), psycho-educational, and person-centered modes of therapy when she interacts with clients. Together, the client and Rosemary, select goals and then work to bring these to fruition.
Rosemary is passionate about the mental health field. She wholeheartedly believes that empowering clients with tools and strategies to manage life's obstacles are essential to their continued success. Clients will know that they have been successful when they have achieved their personal goals.
Education
Master of Arts in Guidance and Counseling
Wayne State University
Specialties
Trauma
Depression
Anxiety
Social skills development
Anger management
Teen issues
Difficult relationships
Self esteem
Women's issues
Career counseling
Priscilla Jimenez, PMHNP
Philosophy of Care
Priscilla Jimenez is a board certified Psychiatric Mental Health Nurse Practitioner (PMHNP) with experience treating adults seeking help with depression and anxiety. Priscilla completed her Master of Science in Nursing (MSN) in Nursing Education at Oakland University and her PMHNP at Maryville University. Prior to working in the field of psychiatry, her background included 7 years of Medical Surgical Nursing and 4 years of ICU Registered Nurse experience. From those years, Priscilla came to understand that one's emotional, psychological, and spiritual wellbeing are just as important as one's physical wellbeing.
Priscilla's personal philosophy is that all of her clients should, and will be treated equally, and with respect. Her mission is to aid clients along their individual journey of mental health, by mutually setting goals based on the clients' needs. Priscilla aims to maximize pharmacologic efficacy, in order to achieve higher functioning and symptom relief for her clients.
Priscilla is a strong advocate for mental health care and has a passion for treating mental illness. She is dedicated to providing the best care possible by listening to her clients, employing motivational interviewing techniques, and providing evidence-based treatment options.
Education
Oakland University
Master of Nursing Education
Specialties