Broward County Christian Counseling—Counselors and Therapists in Fort Lauderdale, FL
Sometimes, practicing strong Christian values can be hard. It seems like a strange statement doesn't it? Think about it: You work so hard on growing your relationship with God and those around you, that sometimes you forget to focus on your internal relationship with yourself. Life can get so busy that finding time for yourself seems impossible. It's easy to lose sight of yourself in today's busy society.
"Faith is unseen but felt, faith is strength when we feel we have none, faith is hope when all seems lost." –Catherine Pulsifer
At Thriveworks Fort Lauderdale in Broward County, our Christian counselors can work with you to help guide you to lean on your faith through hard times. When times get tough, it can be hard to seek help. Our Christian counselors understand that it may be a harsh reality when you feel like you've failed, and they have the tools and skills needed to help make your session as comfortable and stress-free as possible. Seeking help shows your strength and a Christian counselor can help reveal that inner strength.
If you live in or near the Broward County area and you want to learn more about Christian counseling, call Thriveworks Fort Lauderdale today at (754) 400-5514.
Could I Benefit from Christian Counseling?
When seeking help, it's common to feel uneasy and nervous to face judgment or shame. However, it's important to recognize that counseling is a safe, judgement-free zone to come and talk through your issues. Asking for help does not mean your relationship with God has failed; in fact, it has the ability to bring you even closer to Him. It shows your dedication to your faith, and that's something to be proud of.
At Thriveworks Fort Lauderdale, our Christian counselors are prepared to help you with many different areas of life. Whether it's your personal life, your career, or your relationships, our Christian counselors have you covered. They can assist with…
Relationship issues
Couples therapy
Marital or premarital counseling
Learning disabilities
Life transitions
Anxiety or depression therapy
Trauma or PTSD therapy
Substance use counseling
Whatever is causing you trouble, the Christian counselors at Thriveworks Fort Lauderdale can provide you the guidance you long for.
What Should I Expect from a Christian Counseling Session?
Christian counseling is similar to a normal counseling session. Where it differs is with a Christian counselor; they understand your desire to walk with Christ and your longing to draw near to Him when times get rough. When speaking with a fellow Christian, you can find relief in your similarities and life choices. During a Christian counseling session, you can expect your therapist to combine Christian practices with the principles of psychology to create the ideal treatment plan for you. In Christian counseling, scripture, prayer, and biblical lessons will help you on your journey to finding relief.
It's important to note that the goal of Christian counseling is not to condemn you for your wrongdoings or sins you aren't proud of. The goal is to work through these obstacles to create a greater sense of fulfilment, improve your relationships, and overall become a better version of you.
Call Thriveworks Fort Lauderdale today to Schedule Christian Counseling Appointment
Are you struggling with maintaining healthy relationships, your job, a big move, addiction…? Whatever it may be, a partnership with a Christian counselor could be the answer to your prayers. It's important to take time to better yourself. If you're struggling to find the time to do so, consider working with a Christian counselor at Thriveworks Fort Lauderdale in Broward County. When you work on your overall wellbeing, it gives you the ability to serve the Lord in a greater capacity. You begin to develop better relationships, the ability to forgive yourself and others grows, and your faith becomes stronger.
Are you ready to take the next step on your walk with Christ? If so, call Thriveworks Fort Lauderdale today. A scheduling specialist will answer, ready to pair you with your Christian counselor. At Thriveworks, we provide flexible scheduling options with evening and weekend availability.
We are excited to have the opportunity to help you grow. Call us today at (754) 400-5514 to schedule your first appointment or to ask any questions you may have.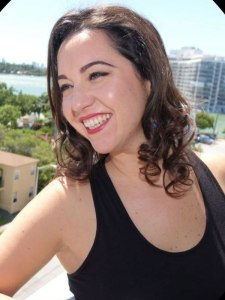 Self Pay Rate: $99
Gladys Amador, LMHC, NCC
** Services are offered in English and Spanish
Philosophy of Care
Gladys Amador is a Licensed Mental Health Counselor (LMHC) and National Certified Counselor (NCC) in Florida with over 7 years of professional experience. Gladys speaks both English and Spanish fluently; her expertise includes addressing a broad spectrum of mental health conditions and concerns in teens and adults, from paranoid schizophrenia to adjustment disorders, grief, anxiety, depression, and family separation.
She has worked with indigent clients, the homeless, professionals, the elderly, college students, relapse prevention/substance misuse clients among others. One of Gladys' passions includes group facilitation where she led anger management and life skills sessions at forensic alternative and women's rehabilitation treatment centers. She is a 200-hour certified yoga instructor with Yoga Alliance and believes wholeheartedly that connection is the cure. In therapy, Gladys utilizes an eclectic approach.
A true professional in the mental health field, Gladys invests countless hours polishing and practicing the human/healing arts to support people find and refine their passions. She'll partner together with you to address the roadblocks in your personal life so that you can begin to experience life anew.
Specialties
Mood disorders
Dual diagnosis
Women's issues
Couples/Relationship/Family therapy
Trauma-informed care
Addictions
Anxiety/Stress
Depression
Cognitive Behavioral Therapy
Motivational Interviewing
Narrative Therapy
Self Pay Rate: $99
Pedro Sam, LMHC
** Services are offered in English and Spanish
Pedro graduated from Nova Southeastern University in 2006 with a Masters in Mental Health Counseling. He is a licensed therapist who has been practicing counseling for nearly 14 years. He is also a Qualified Supervisor for Mental Health Counseling Interns seeking licensure. Pedro has served as a therapist and as the Clinical Director at various mental health and recovery centers through out the years. Pedro dedicates his practice to improve the lives of individuals who have lost hope and need direction. Pedro has experience counseling individuals, couples, and also facilitating psychotherapy groups. Pedro's treatment modalities are cognitive behavioral, motivational interviewing, and solution focused therapy among others.
Specialties:
Depression
Anxiety
Bipolar
Marriage and couples counseling
Substance Abuse and Addiction Issues
Issues of teenager and student age individuals
Behavioral Issues, Self Harm, and Anger Management
Trauma and PTSD
Life Transition and Adjustment Issues
Stress Management
12 Step NA/AA Step Fellowship Guidance