Dunwoody Anxiety Counseling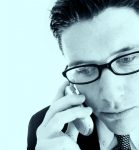 Anxiety goes beyond the butterflies in your stomach before performing on stage or going into an important interview. Anxiety at its core is overwhelming and can negatively affect both your personal and professional life.
Thriveworks Dunwood (Atlanta) Anxiety Counselors are here to help our friends and neighbors in the Dunwoody, GA area. If you're sick and tired of being controlled by the anxiety in your life, we are here to help you gain control of your life once again.
It doesn't have to be this way forever.
Whether your anxiety affects you once a year or every single day, there are skills that you can learn to deal with your condition. Your Thriveworks Atlanta (near Dunwoody) counselor will help you identify what triggers your anxiety and how to deal with it once it arrives.
You don't have to suffer alone ever again. We're here to help you stop hiding from the world because of your anxiety and start enjoying life again. You deserve it.
Thriveworks Atlanta: Dunwoody Anxiety Counseling
There are no waiting lines at Thriveworks Atlanta (Dunwoody Area). That's because we believe your new way of life should start as soon as possible. Call us at 404 719-4233 and see one of our caring professionals within 72 hours, possibly even today.