Team Thriveworks Richmond
---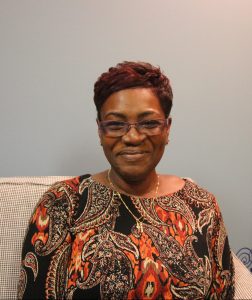 Mary Woods, LCSW
Mary Woods is a Clinical Social Worker with over a decade of experience in the practice of mental health services. She is available to listen and help develop positive outcomes for concerns one may have in their daily lives. Some focuses are relationship problems, transitioning in high school/college, self-awareness, and loss. She provides services to adults and adolescents (14-19) who experience anxiety, depression, bipolar, PTSD, domestic violence, sexual assault, marital conflict, and grief. Mary utilizes cognitive behavior therapy with empowerment and strengths perspectives to bring about meaningful changes that are lasting.
She earned her BA in Psychology and Sociology from the Augusta State University and continued to graduate school where she obtained her MSW from the University of South Carolina. She has worked as a social worker in many areas, including: military settings, hospice, domestic violence/sexual assault, teaching college students, and private practice experience.
Mary is married to a wonderful husband, has four children, and five grandchildren. She is an avid Pittsburgh Steelers fan and loves to relax by meditation and yoga, reading, or just hanging out with her family.
Mary helps with:
Depression
Trauma & PTSD
Anxiety
ADHD
Anger Management
Behavior Issues
Bipolar Disorders
Coping Skills
Domestic Abuse
Domestic Violence
Grief
Life Transitions
Marital
Peer Relationships
Relationship Issues
Self Esteem
Sexual Abuse
Social Anxiety
Stress
Couples
---
Anita Stoudmire, LPC
Anita Stoudmire is a Licensed Professional Counselor. She earned a Bachelor of Science Degree in Sociology from Virginia Commonwealth University and a Master of Arts in Professional Counseling from Liberty University. She is passionate about helping people discover their potential for unlimited joy and happiness regardless of their life circumstances. Anita creates a safe, non-judgmental environment for clients to express themselves completely. She is skilled at building a therapeutic rapport based on mutual trust and respect and uses innovative ways to cope with problems and issues as they arise.
Anita utilizes Cognitive Behavioral Therapy and Solution-Focused Brief Therapy with clients. She seeks to empower clients to be able to make informed decisions. She believes that we all have the power to make good decisions.
Change is something that many people either fear or embrace. Everyone will experience some form of change at one point in life. Whether you are getting married, becoming a new parent, going through a divorce, retiring from our job, sending kids off to college, or experiencing the death of a loved one or spouse - everyone will experience some form of transition in life. Anita assists people in making sense of these transitions in a healthy and productive way.
I am a single mother to three wonderful teenage children, and an avid animal lover and world traveler. I have a background in Christian Counseling and if desired can apply biblical principles within therapy. I also love to utilize art therapy, music therapy, journaling, affirmations and bibliotherapy with my clients. I look forward to helping you to become the best version of yourself that you can be.
Anita helps with:
Adults
Couples
Families
Pre-Marital Counseling
Marriage Counseling
Divorce Recovery
Anxiety Disorders
Women's Issues
Self-Esteem
Working Mother
Body Image
Relationship Concerns
---
Ashley Crouch, LPC
Ashley Crouch is a Licensed Professional Counselor who is nationally certified. She earned her Bachelors Degree at Randolph-Macon College. Ashley continued her education at Ashland Theological Seminary, where she received a Master's degree in Mental Health Clinical Counseling.
Ashley is a strengths-based counselor; she uses Cognitive Behavioral Therapy, Dialectical Behavioral Therapy, and Person Centered approaches.
"Life's journey can be overwhelming and frustrating. There is no shame in reaching out for support to cope with various life stressors. My goal is to provide a comfortable, non-judgmental environment, with 100% confidentiality. I have an extensive multi-cultural background and have experience working with couples, adolescents ages 11-17, and adults. It would be my pleasure to be a source of support and guidance for you."
Ashley helps with:
Anxiety disorders
Depression
ADHD
Anger management
Adolescent sexual offending
Family dynamics
LGBTQ
Marriage
Parenting Problems
Oppositional defiance
Phase of life problems
Pre-Marital counseling
Self Esteem
Spirituality
Sex disorder/dysfunction
Women's Issues
Conduct disorder
---
Ellen Morgan, LPC, CSAC, SAP
Ellen Morgan is a Licensed Professional Counselor who is nationally certified. She earned her Bachelor's of Arts degree in Psychology from Wake Forest University prior to graduating with a Master's in Pastoral Counseling from Marymount University.
Ellen has also earned her certification as a Nationally Certified Counselor, Certified Substance Abuse Counselor, and Certified Advanced Alcohol and Drug Counselor.
"I strive to treat the whole person. I work towards this by fostering an open therapeutic environment that supports the discussion of the life stressors and changes. By encouraging self-exploration through the therapeutic process, confidence in your abilities to use healthy coping skills in various situations grows."
Ellen helps with:
Substance Abuse
Anxiety
Depression
Dual Diagnosis
Coping Skills
Life Transitions
Divorce
Relationships
Women's Issues
Self-Harming
Throughout her career, Ellen has worked with individuals to empower them to enact positive changes in their lives. She has gained experiences working with various issues, including substance abuse, women's issues, and grief and loss
throughout the lifespan. Ellen has worked primarily with adults and utilizes cognitive behavioral therapy, as well as holistic therapy.
---
Connect with a Richmond Counselor today at 804-554-0356, to set up your first session and start the process to change.