Amygrace Araki, LMHC
Philosophy of Care
Amygrace Araki is a Licensed Mental Health Counselor and a Marriage and Family Therapist Candidate (LMHC, MFTC) in the state of Hawaii with more than 8 years of experience partnering with adolescents, teenagers, young adults, and Military Service members seeking help with substance use, anger management, depression, anxiety, life transitions, career transitions, women's issues, and relationship issues.
She completed her Bachelor's degree in Psychology from the University of Hawaii at Hilo and received her Master's degree in Counseling Psychology with an emphasis in Marriage and Family Therapy from Chaminade University of Honolulu, Hawaii. Amygrace applies a collaborative approach utilizing motivational interviewing, cognitive behavioral (CBT), dialectic behavioral (DBT), mindfulness-based, person-centered, and solutions-focused practices to therapy while always maintaining awareness, flexibility, and empathy necessary to best meet the needs of every individual.
Amygrace seeks to establish an individualized, caring, and welcoming relationship with you in order to assist you in achieving your goals, fostering your strengths, and creating a life that you seek.
Education
Chaminade University of Honolulu, Hawaii
Master of Science in Counseling Psychology
Specialties
Life Transitions
Career Counseling
Stress Management
Anger Management
Relationship Issues
Women's Issues
Anxiety
Depression
Arikka Johnson, LMFT
Philosophy of Care
Arikka Johnson is a Licensed Marriage and Family Therapist (LMFT) in Honolulu, Hawaii with almost 6 years of experience working with adults who are suffering from trauma, depression, anxiety, low self-worth, life transitions/organization, relationships, and attachment-based issues.
Arikka earned her Master's degree in Counseling Psychology from Chaminade University and utilizes cognitive behavioral therapy (CBT) and dialectical behavioral therapy (DBT) to weave mindfully-based interventions with her knowledge of working with trauma and the body. Arikka is highly skilled in her ability to integrate her experience with cognitive and somatic philosophies to create meaning from suffering, honor the past, and welcome the future, through carefully applied evidence-based and trauma-informed care.
Arikka is genuinely curious, warm, and relational in her approach. Clients have shared they feel safe and supported even in the midst of their most challenging and vulnerable moments. She is knowledgeable in her field of psychotherapy and delivers this experience in a sequenced, sound, and effective way. Validating your experience, she will collaborate with you to find meaning in the life you have and expand your reach for the life you want.
Education
Chaminade University
Master of Science in Counseling Psychology
Specialties
Grief/Loss
Anxiety
Depression
Stress
Mood Disorders
Personality Disorders
Cognitive Behavioral Therapy (CBT)
Dialectic Behavioral Therapy (DBT)
Mindfulness/Meditation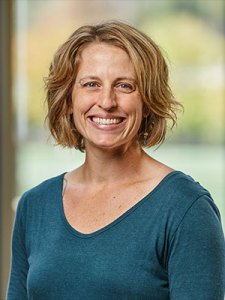 Self Pay Rate: $149
Kelly Myers, LCSW
Philosophy of Care
Kelly Myers is a Licensed Clinical Social Worker (LCSW) with more than 15 years of experience specializing in women's issues, addiction, anxiety, depression, and trauma, particularly with women and LGBTQIA+ communities.
Kelly completed her Master's degree in Social Work from the Catholic University of America and completed her Master's degree in Irish Studies from University College Cork. She has a graduate certificate in Gender, Race, and Nations from Portland State University, where she is currently a Ph.D. candidate. She has worked in a variety of clinical settings that include substance misuse treatment programs, culturally integrated treatment, and community health settings.
Kelly believes strongly in the tenets of social justice and works from a strengths-based, harm reduction, empowerment, and relational approach. She believes that healing occurs in our relationships with ourselves, each other, and our world. Kelly's goals are to empower and support her clients to make positive changes in their lives, as they see fit, and to promote the values and best practices of the social work profession.
Education
Catholic University of America
Master of Social Work
University College Cork
Master of Arts in Irish Studies
Specialties
Trauma & Stressor-related Disorders
Substance misuse and addictions
Anxiety & Depression
Personality Disorders
LGBTQIA2S+
Woman's issues
Healthy Lifestyle
Sarah Adams, LMHC
Philosophy of Care
Sarah Adams is a nationally certified Licensed Professional Counselor and Licensed Mental Health Counselor (LPC, LMHC-NCC). She has more than 7 years of experience working with teens, adults, and seniors who are grappling with depression, anxiety, trauma, low self-esteem, women's issues, relationship dysfunction, grief, loss, LGBTQIA+ issues, and more.
After completing her Bachelor's degree in Communications at Michigan State University and her Master's degree in Professional Counseling at Central Michigan University, Sarah has been working with clients in private practice settings, in-person and remotely. Sarah utilizes strengths-based, cognitive behavioral (CBT), mindfulness-based, and solutions-focused approaches to help clients identify values and strengths.
Sarah focuses on holistic wellness and the mind/body connection that is the foundation of physical and mental health. She seeks to create a non-judgmental, supportive, motivational collaboration with her clients to nurture personal growth. The expectation is to work toward optimal self-care and self-compassion, and while this is challenging, the rewards are great.
Education
Central Michigan University
Master of Professional Counseling
Specialties
Integrative Mental Health
Depression
Anxiety
Trauma
Self esteem
Life Transitions
Women's Issues
Relationship Issues
LGBTQI Issues
Grief and Loss
Chronic Illness/Pain