Highlights


Infertility is often experienced as a crisis, and women tend to carry more of its physical and emotional burden.
Some coping strategies are more compatible with fertility treatment and infertility depression than others.
Though psychologists usually discourage avoidant and escapist strategies, active distraction can reduce stress.
More people benefit from problem-focused coping strategies like time and money management than emotion-focused coping strategies.
People should seek the best mental health information as well as the best medical information when exploring their reproductive options.
Even scientific literature has described infertility as "the most upsetting experience" of a person's life. This seems to be more true for women than men, since their minds and bodies usually bear the greater burden of infertility treatment. It's pretty clear how culture, biology, and identity can all align to make infertile couples feel crushed when children don't come easily. If you're reading this, maybe you've felt the weight of those expectations. 
Infertility can be experienced as grief, trauma, a life crisis, and a stress equivalent to having cancer. Recent data suggests that the prevalence of depression among infertile women may be as high as 52% (the global rate for adults is 5%). A woman with depression is half as likely to initiate fertility treatment, and couples with a depressed female partner are five times more likely to end treatment. But the mental agony of infertility and pregnancy loss can be addressed without letting go of hope for successful reproduction. Where there's acute stress, there are coping strategies. Here are the ones that work best—and worst—for infertility.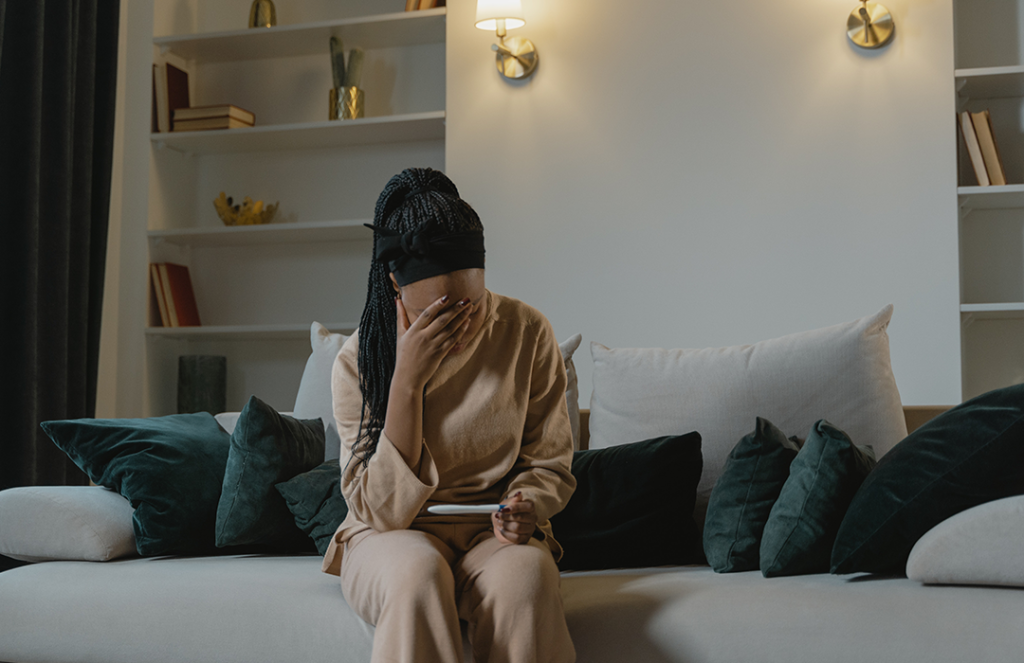 Emotion-Focused Strategies
Emotion-focused coping strategies take a direct route to tackling negative feelings like stress, depression, and anxiety. They face the feeling itself, not what's causing it. When someone is struggling with infertility, the effects of these inside-out coping strategies can be broad, from life-saving to profoundly unhelpful. 
First, the helpful:
The emotion-focused strategies that tend to be unhelpful are denial (associated with higher stress levels in people experiencing infertility), substance abuse (women are more likely than men to drink as a maladaptive coping strategy), self-blame (don't contribute to the robust historical tradition of stereotyping, blaming, and micro-managing women who don't produce biological children), and venting (recognizing your negative emotions is healthy, but passively dwelling in the negativity might make you feel helpless and anxious). 
Problem-Focused Strategies
In reproductive psychology studies, women undergoing fertility treatment tend to benefit more from problem-focused coping strategies than emotion-focused strategies. Problem-focused coping aims to remove or reduce the cause of distress, not the feeling itself. These outside-in strategies are associated with a more pronounced feeling of control and lower stress levels. 
In general, engagement strategies tend to have a more positive impact on well-being than disengagement strategies (like passivity, avoidance, numbness, or "wallowing"). That may be because avoidance coping is associated with a perception of low controllability. 
Here are some measures you can take to exert more agency over the infertility treatment process and your individual experience of infertility:
You're Not Alone in Feeling Sad
Infertility can feel like the loss of the future you always anticipated. It might be the hardest thing you ever go through, and the pain may never go away. There should be an inspiring "but" here, but there's really not. There is only the marvel of your own existence and what you make of it. It's incredible that you're here on Earth after 3.5 million years of evolution, disease, war, famine, and giant meteors. Remember that you were also someone's beautiful baby, and you deserve to be happy whether there are biological children in your future or not.