Therapists strive to guide patients in reaching their full potential during their course of treatment. For many patients, the valuable techniques utilized during therapy sessions provide significant benefits and improve their quality of life in ways they never even imagined. The successes gained through the therapeutic process are often immeasurable. While therapy has been proven to be beneficial for many patients struggling with everyday stressors, it has also been proven that a combination of therapy and medication is often necessary for more positive outcomes in some patients. This is the reason Thriveworks Tucson offers medication management services from a qualified Psychiatric Nurse Practitioner.
The Psychiatric Nurse Practitioner at Thriveworks Tucson works with the therapist to identify patients that may benefit from medication management. The Nurse Practitioner can determine which type of medication may be appropriate. Examples may include: antidepressants, mood stabilizers, antipsychotics, anxiolytics, and ADHD medications, to name a few. The Nurse Practitioner and Therapist will coordinate to ensure that the care provided is holistic and patient-centered.
Who Can Benefit from Medication Management?
Unfortunately, there has been a negative stigma surrounding the use of medication for common illnesses such as anxiety or depression in the past. However, many people with these mental health concerns find great benefit from medication management. Medication for anxiety, depression, and mood disorders can assist people in everyday tasks, including maintaining employment, taking care of their families, attending social functions, or simply getting a good night's sleep. So, in actuality, any patient dealing with everyday stressors that they cannot control with non-medication treatments could potentially benefit from medication management.
Meeting with the Nurse Practitioner
If it is determined that a meeting with the Psychiatric Nurse Practitioner would be beneficial to your care, you will be in good hands. Our Psychiatric Nurse Practitioner is Board Certified and ready to help you along in your wellness journey.  By spending time getting to know the patients during the initial intake, the Psychiatric Nurse Practitioner can determine which type of medication, if any, would work best. After initiating medication services, patients can expect personalized follow-up contact. You will also get care that is:
Confidential
Compassionate
Personalized
Supportive
Take the Next Step – It's Easy!
We encourage you to move forward, if you think that medication services would be beneficial for you at this time, especially if it works in adjunct with our therapeutic services. It's easy to set up a time to meet with our Nurse Practitioner by following these steps:
Call our office directly at 520-357-0042 Ext. #1 and our Support Team will get you scheduled and set up the documents needed before the appointment. If you would prefer to email our team to inquire about this service, scheduling or costs, email them at tucson.support@thriveworks.com
Complete the documents needed: We invite our clients/patients to join our Portal where all documents can be completed & signed virtually before the appointment
If you are an existing client, you can let your therapist know that you are interested in medication services and you or your therapist can contact the team to set up the appointment. There is much less paperwork to do since we already have a patient profile on you.
Show up and meet, virtually or in person (currently limited times for in person) , with our Nurse Practitioner and take the step that may propel your healing progress forward.
If you would like to learn more about medication management or the work that can be accomplished with our Psychiatric Nurse Practitioner, please do not hesitate to reach out to Thriveworks Tucson, AZ. We look forward to it.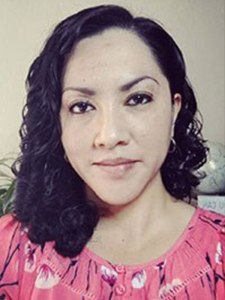 Accepting:
Blue Cross Blue Shield
Cigna/Evernorth
Tricare
United Healthcare
UMR
Paulina Zapata, PMHNP
Hello, I am Paulina Zapata, a board certified Psychiatric Mental Health Nurse Practitioner. I earned my Bachelor of Science in Nursing from Grand Canyon University and my Doctorate of Nursing Practice from the University of Arizona. I have worked in various behavioral health settings including outpatient community mental health, an inpatient adolescent hospital, and an inpatient drug and alcohol rehabilitation facility. Throughout my nursing career, I have also worked in long-term care and home health. My diverse nursing experience has taught me to be empathetic and mindful to each person's human experience and to be open-minded about their individualized recovery process.
My approach to care is listening with an open heart and open mind, being aware that life happens, and progress is nonlinear. I practice collaborative care, encouraging my patients to practice autonomy in their treatment and be vocal about what they feel is most important to them. While my primary focus is to find pharmacological (medication) interventions to help you, I can also offer many other useful tools to help you achieve mental and physical wellness. I do this by taking the time to listen to you and understand underlying causes to your stressors and utilizing my diverse nursing experience to make a proper assessment.
I work with ages 6 and up and I treat a variety of mental health concerns including:
Depression
Anxiety
ADHD
Insomnia
PTSD
Mood disorders
Substance use disorders
Personality disorders
Psychosis
Impulse/Conduct disorders
I look forward to meeting you and helping you on your journey to overall well-being. Be assured that you will be heard without judgment and will always be welcomed by me with a warm heart and open mind throughout your treatment.