Journaling is a powerful tool. It serves as an outlet, allowing us to express our emotions and process our thoughts without fear of judgment — there is no need or temptation to censor ourselves when we're writing to and for nobody but ourselves. What a gift.
And yet, for some, journaling doesn't come so easy. Instead of putting pen to paper, we sit there and stare at the blank page before us. Some call it anxiety, while some say their mind is just too busy to wrangle. Others are merely inexperienced. In any case, a journal prompt can help.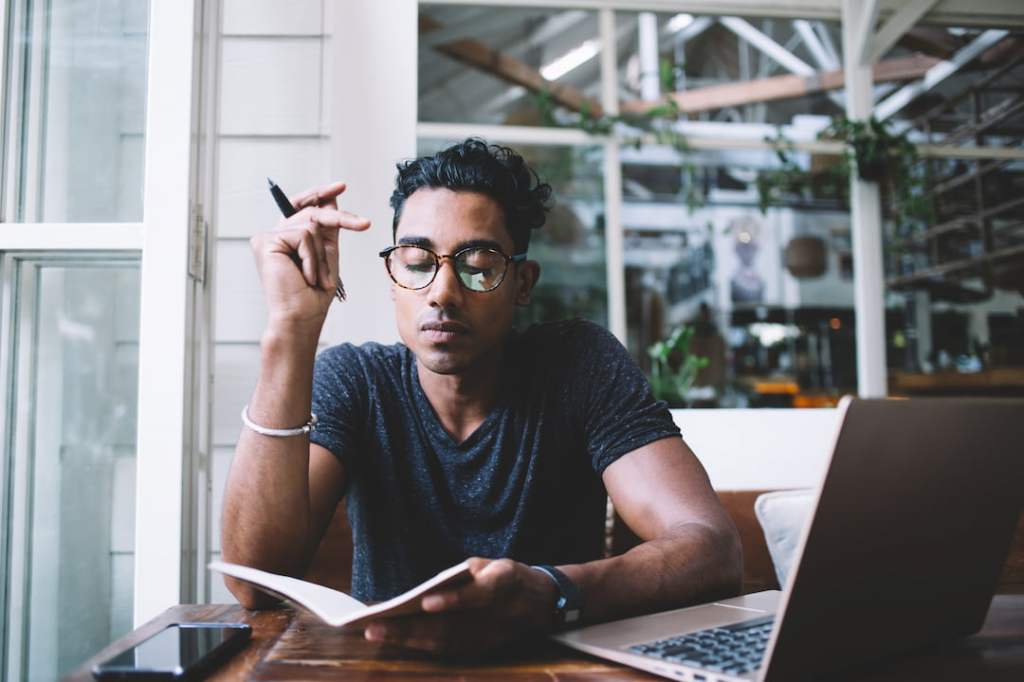 Does Writing in a Journal Help Anxiety? How Do I Journal for Mental Health and Anxiety?
Journal prompts provide direction. They give anxious and busy minds a focal point, and they offer the inexperienced a place to start. Even devout journalers can benefit, as certain prompts can, well, prompt new thoughts and unexplored feelings. Prompts for mental health journaling specifically can serve to… 
Trigger positive emotions (like

gratitude

)

Set you up for short- or long-term success

Shine a light on your accomplishments and abilities
Journaling can act as a release for negative thoughts and emotions, and express feelings like worry, sadness, stress, and fear in a nonjudgmental and safe space. By writing out your problems, you can reduce your stress, calm anxiety, help with depression, increase insight, identify patterns in thinking (like what your anxiety triggers might be), and even improve your immune function!
What Can I Write About Anxiety?
You can write absolutely anything you want about anxiety, which can feel both freeing and daunting depending on who you are. However, if you're having trouble putting your feelings about anxiety into words, you can start with simple statements about or word associations for anxiety.
Other practices you can do when you're feeling anxious include: 
Make a "T Chart" on a piece of paper.

Mark the column on the left-hand side as "Lies" and the one on the right side as "Truth." Then, write a list in the "Lies" column, filling it with your anxious thoughts and overthinking patterns. Then, on the corresponding right hand side write down the "truth." Example:

Lie: Nobody wants to hang out with me.

Truth: I had three friends text me today, I spent time with a friend this weekend, I have a loving partner, I have supportive coworkers.

Write down 3-5 anxious thoughts and thought patterns that you experience.

Then, try to find as many similarities between these thoughts as possible. Make it a brain dump; find as many themes as you can. You can kick it up a step further by color-coding, highlighting, circling, underlining, adding stickers, etc.

Assign a "worrying time."

Allot a time for worrying during your day or week, and write all your worries down in a notebook without trying to cross them out, make any changes, interpret or analyze the thoughts, and without judgment. Rather, try to practice acceptance and compassion for the worried thoughts. Set a timer for 10 minutes, and when the timer goes off, close the notebook and symbolically close the door on your worries until the next worry time. This helps to compartmentalize your worry so that it's not leaking all areas of your life. 
The key is to be honest. No one is around to judge you, tell you you're wrong, or question your feelings. The only truth that matters in your journal is yours. 
Does Journaling Help with Overthinking? How Do You Journal When Overwhelmed?
Journaling can absolutely help with overthinking. By focusing on and working through what's causing you to feel overwhelmed, it can actually help you calm down and make things feel less daunting. 
While anxiety can sometimes cause nothing to come to mind when trying to journal, when we're overwhelmed or overthinking, too many thoughts might be crowded in our minds. Prompts are a great way to bring focus to a specific point—a question for you to answer. Some people thrive on structure, such as completing a prompted journal, answering questions, and completing questionnaires. However, others thrive with no writing prompts or rules for journaling and allow themselves to write freely. If none of the prompts are striking your fancy, it can also help to start with the very first words that come to mind. Everyone started journaling somewhere, right?
If you can manage to latch onto a single one of your racing thoughts, you officially have a starting point. It can even be as simple as writing, "This feels overwhelming." Write what comes up when you think about that thought, whatever it is. If you are writing, you are journaling—there is no wrong way to write your thoughts.
Whether you know what it is or not, there is something that is causing you to feel that way. Sometimes, if that thought is reflected on, the layers behind it can start to reveal themselves. Even if they don't, perhaps that reflection will lead you to another train of thought to get you moving on your journaling journey.
Want to talk to an anxiety therapist?
Start working with one of our top-rated providers. We have availability now and accept most major insurances.
What Are Some Good Journaling Prompts? What Are Journal Prompts for Emotional Growth?
If you're interested in finding some journaling prompts for mental health issues but don't know where to start, or you'd like to tap into the benefits listed above, give the following mental health prompts a shot. And remember: This is by and for you only; no censorship necessary.  
What are you grateful for?
Journaling about your gratitudes is a sure-fire way to stir up positive emotions, and you'll experience other benefits, too. Research shows that gratitude is associated with greater happiness, can help you deal with adversity, leads to stronger relationships, and can improve your overall health.
As you regular journalers know, there aren't any rules when it comes to journaling — you can make a list of gratitudes if you prefer or write a few paragraphs about what you feel grateful for in this moment. Keep in mind that your list doesn't have to be grandiose. Even small things like your new coffee mug, a book you're reading, or a funny memory from yesterday deserve a mention. 
What do you want to accomplish today?
This prompt is designed to set you up for success today. It encourages you to think about your goals and prioritize accordingly. You might write about what you'd like to accomplish professionally, like putting the finishing touches on an upcoming presentation or simply cleaning out your inbox, and/or personally, like mealprepping for the week ahead or taking out the trash. As with the previous journal prompt, big and small items alike are welcome! Remember, you're journaling for you.
Who do you aspire to be like and why?
This question encourages you to think more about your long-term goals — specifically, who you'd like to be or become. 
There might be one person you hold in a high regard and model your own actions after. Or, there might be several people you look up to and for different reasons. Additionally, you might immediately think of loved ones who you've gotten to know intimately or, on the contrary, celebrities who you've admired from afar. 
In any case, write down what you like about them. These details will help you understand why exactly you idolize these individuals and then how you can become more outgoing, charitable, patient, adventurous, or whatever it might be. 
Write about one of your favorite memories.
Let's take a trip down memory lane. Thinking back on "the good times" can help to improve your mood. Think about a favorite memory and then write down everything you remember about it:
Where were you?

Who were you with?

What were you doing?

What were you wearing?

What was the weather like?

What else do you remember?
If you enjoy this photo album and you want to continue to explore positive memories, pull out the photo albums, call an old friend, look through those old boxes in the basement, or even go revisit that place where your favorite memories took place.
What might you regret not doing?
You've likely pondered the more common, "What are your biggest regrets?" but this prompt asks you to consider what you might regret in the future. More specifically, what you might regret not doing.
American Author Daniel Pink has explored the concept of regret extensively in several of his books. In his most recent, "The Power of Regret: How Looking Backward Moves Us Forward," Pink draws on research as well as his own World Regret Survey — which asked 16,000 people in 105 countries what their greatest regrets are — to determine the most common regrets in the world, may of which begin with, "I regret not…" 
So, what might you regret not doing? If you had a bird's eye view of your life after it was over, what would you wish you'd done? Would you say, "I regret never asking that beautiful man on a date." Or, "I regret not traveling more." Or maybe, "I regret never telling my dad just how much I love him." Once you answer this prompt, make yourself a promise that those would-be regrets don't go any farther.