Tranform your mind and life with a top cognitive behavioral therapist
We accept insurance and offer affordable self-pay rates
Pay as little as $10 a session using your insurance
Don't see your insurance? Contact us! We accept hundreds of insurance plans.
Not using insurance? We have affordable self-pay rates starting as low as $99 a session.
Evidence-based treatment for your mental health challenges
Cognitive behavioral therapy (CBT) is based on the idea that our thoughts control our feelings and behaviors. It is proven to treat many mental health challenges effectively by changing unhelpful thinking patterns, also known as cognitive distortions, like:
All-or-nothing thinking: If you fall short of perfect, you see yourself as a complete failure.
Fortune telling: You expect that things will turn out badly.
Mental filter: You pick out a single defeat and then dwell on it.
Disqualifying the positive: You dismiss positive experiences by insisting they don't count.
Mind reading: You assume that someone is reacting negatively to you.
Your Thriveworks cognitive behavioral therapist will help you identify and correct negative thinking using science-backed CBT techniques like cognitive restructuring, journaling, mindfulness, and fact-checking. In turn, you'll be able to resolve or better manage your depression, anxiety, relationship issues, grief, and more.
Exceptional mental health care designed for your needs

In-Person and Online Care
Most mental health services offer in-person or online care exclusively. We offer both, with 310+ locations across the US and online providers in 36 states.

Only Top Providers
The search for an exceptional provider can be discouraging. We hire only the top 4% of providers* to join our team and provide the very best care to our clients.

High-Touch Support
On-the-spot support is hard to come by. Our support team is available 7 days a week including holidays, and your provider is available between sessions by phone or email.

Full 50-60 Minute Sessions
Others hide how long your counseling session is, and it's often only 20-30 minutes. We provide a full 50-60 minute session every time.

No Waitlists
Average wait times for mental health care can be three weeks or more. We provide same- or next-day sessions to new clients.
Evening and Weekend Appointments
Finding a convenient time to get mental health care is a challenge. We offer options that work with busy schedules like evening and weekend sessions.

Flexible Cancellations
Life happens, we get it. We have a flexible cancellation policy that lets you cancel or reschedule your session for free with just 23.5 hours' notice.

Real, Lasting Relationships
Many online counseling services aren't counseling practices but loosely affiliated directories of therapists. At Thriveworks, we have a full-time, dedicated team who build long-standing careers and lasting relationships with clients.
Living better starts with having an open, honest conversation in therapy
★★★★★
"I give my experience with my therapist 5 stars! I look forward to my appointments with Alberto Figerou. He is very easy to talk to and helps me feel comfortable to share sensitive issues. I trust him to hear my thoughts without judgment."
★★★★★
"I've only had 2 sessions but so far Amber Gilbert is amazing!! I really appreciate her professionalism. I'm amazed at how comfortable I feel opening up my thoughts and feelings to someone that I don't know."
★★★★★
"I am amazed at how impactful therapy has been on me, my therapist is beyond amazing, my experience has been wonderful from the coordinator to my actual sessions and how easy everything was from the comfort of my home."
★★★★★
"I adore my therapist. She has helped me more than any therapist I have ever used. My confidence is growing. Communication with family has changed. For the first time in my life, I see a light out of the darkness."
★★★★★
"My therapist was extremely friendly and took the time to help me create a plan to address my goals. I am grateful for her and Thriveworks."
★★★★★
"This is an amazing practice and I see the very best therapist! I feel listened to, valued, and important. I've gained great insight in my time with Krista and look forward to each visit!"
Getting started with CBT is easy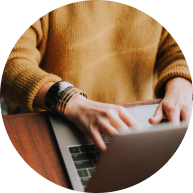 Step 1)
Book online or call us to schedule your first session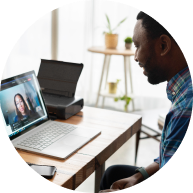 Step 2)
Meet your therapist in person or online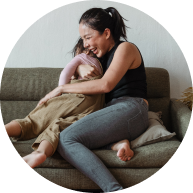 Step 3)
Work toward a happier, more successful life
FAQ about CBT at Thriveworks
*We only hire the top 3.7% of clinical applicants (data as of 07/21)
to View Bios & Book Online