The decision to go to therapy can be a difficult one, but starting therapy with the right mental health professional is one of the best ways to improve your mental health. Whether you struggle with anxiety, depression, ADHD, OCD, trauma, borderline personality disorder, feeling overwhelmed, or are unsure of what may be affecting your mental health, you can find a clinician willing to work with you at your pace and help you on your way to mental wellness.
However, with all of the resources available, it can be hard to know where to start seeking therapy. We have all the information about the decision to start therapy and how to find the right therapist for you.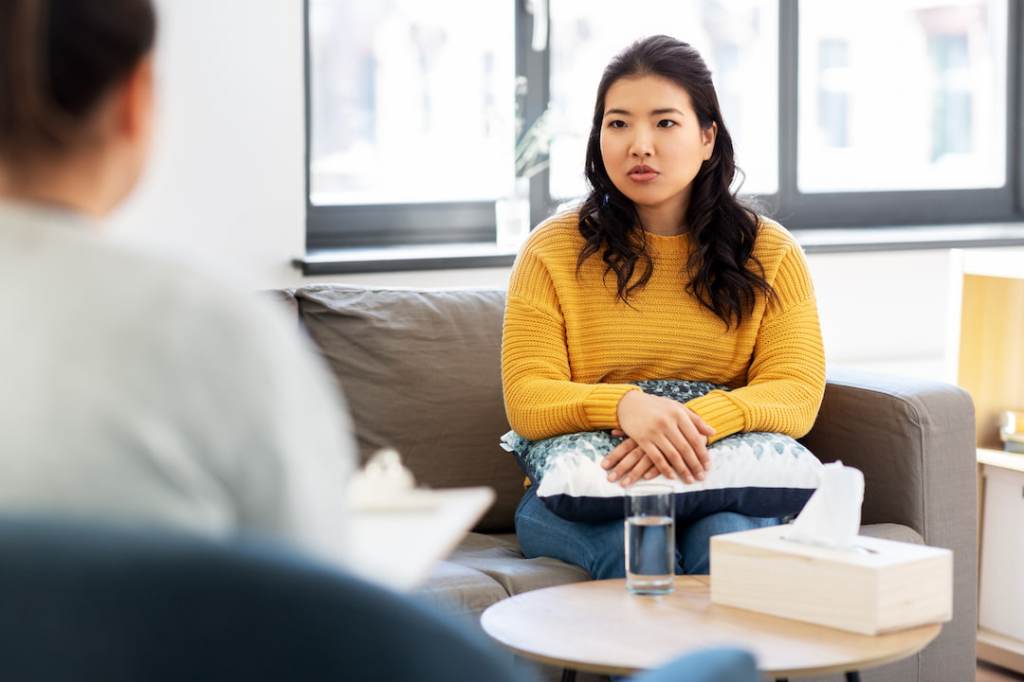 How Do You Decide to Start Therapy? How to Start Going to Therapy
People decide to start psychotherapy for many reasons, but there are a few categories that cover the large majority of reasons behind people's therapy journeys. These categories include:
Traumatic life events

Major life transition

Interest in developing a support system

Self-exploration

Self-improvement

Social skills

Development of coping strategies

Emotional regulation 

Career help

Relaxation/stress reduction

Communication skills

Problem-solving 
Before starting therapy, it can be helpful to identify what is bringing you to therapy or what problem you're facing that you'd like help with. Knowing these points will help you narrow down which providers would be best for you by looking at their specialities.
How to Find the Right Therapist
When choosing a therapist, you may also want to consider whether you would prefer a provider with the same race, gender, or other characteristics, as this can help bridge the gap of understanding and help people feel comfortable with their therapist. For example, if you are a woman, you may prefer a female therapist, or if you are a member of the LGBTQ+ community, you may want a therapist who is as well, and so on. Since there are issues and challenges that specific communities face that others don't, speaking with someone who has also experienced those issues can create a more understanding and safe environment.
All of this information is helpful for identifying the most appropriate provider for you, allowing you to identify what type of person you think you will "gel" with best. Once you decide what you would like to address, it's time to decide what type of therapy might suit you best.
Because there are so many forms of psychotherapy, it might be helpful to describe to the therapist what style of therapist you'd like, i.e. one that provides homework, focuses on developing skills, someone that mostly listens or one that asks many questions, one that assists with self-exploration, someone who tries to relate to you, etc.
It's also important to identify what you can afford. Therapy can get expensive – fortunately, though, Thriveworks makes it affordable by being in network with most major insurances.  Check with your insurance provider directly to confirm that the provider you'd like to schedule with is covered under your plan and to determine your exact financial responsibility.
Want to talk to a therapist?
Start working with one of our top-rated providers. We have availability now and accept most major insurances.
Why Is it So Hard for Me to Start Therapy? How Hard Is it to Start Therapy?
For some people, going to therapy is as much a part of their regular maintenance as going to the hair salon. For others, it's a terrifying prospect.
Some common reasons people find it hard to start therapy include:
Misunderstanding of therapy

, such as feeling fearful or uncertain about the process of therapy and the change it brings, suspicion of therapist's intention, or operating under the assumption that therapy only provides benefits (underestimating the emotional toll)

Stigma,

or worrying what others will think. Struggling with preconceived feelings around therapy or fearing consequences of therapy such as having a mental health diagnosis on file or the social repercussions of attending therapy. This is often a result of cultural and societal beliefs, though these beliefs belong to many cultures and societies

Previous negative experiences or previously ineffective attempts at therapy
Financial burdens

of paying for therapy, whether through insurance or out of pocket

Inadequate support in order to help them get started

, feeling discouraged and not believing they are capable or in the process of therapy itself

Prioritizing substances or other unhealthy coping skills

over therapy

Whatever is holding you back, it's worth talking about your issues with a therapist and address how you might be able to overcome your obstacles.
How Do I Start Looking for a Therapist? How to Find a Therapist for the First Time
As stated above, the best way to start is to identify the reason (or reasons) why you're coming to therapy. From there, you can look online for therapy in your area using our online booking tool and refine your search to the specific treatment and specialties you're looking for. In addition, you can expect to meet with your provider within 7 days of scheduling here at Thriveworks instead of being put on a waiting list, plus you can choose in-person or online therapy.
How to Get a Therapist With Insurance
As we mentioned earlier, Thriveworks is in network with most major insurances. In addition to searching for providers by specialty and other preferences in our online booking tool, you can search for providers who take your insurance, too. That said, you should always contact your insurance to ensure that the provider you'd like to schedule with is covered under your plan and to identify what your financial responsibility is (most often a small copay).
How Do I Start My First Therapy Session? How Do I Start the Process of Therapy?
Most therapists will start the first session by addressing your points of concern and your goals, as well as getting to know you as a person. If you are nervous about your first session and starting therapy for the first time, you might consider notifying your provider about it, if you haven't already. Thriveworks clinicians are welcoming and easy to talk to.
It's important to keep in mind that sometimes the first therapist you work with isn't the right fit – and that's okay. Don't shy away from "breaking up with your therapist" to find the best one for you. Our support team is here and available 7 days a week to help you find that right match if you'd like assistance. 
Starting therapy is a brave and courageous step, and it shows that you care about yourself enough to embark on this hard but gratifying journey. Therapy can be tough at times, but in the end, it is capable of leading you on your way to achieving the mental wellness you deserve.