Receiving an education is an important step in the lives of many — it can be both useful and rewarding. However, school is often a cause of stress and anxiety for a large number of students. While it can seem overwhelming, with the right techniques, the stress caused by school can be manageable.
Is School Stress Normal?
Stress is a normal part of everyday life, both in and outside of school. Some stress is good — it motivates us to do our best and meet the challenges ahead. However, negative stress — known scientifically as distress — is usually felt when it feels like we don't have the means or abilities to face a conflict. This feeling can be overwhelming and hard to work through. 
School stress is normal and experienced by many students. According to a study by NYU, 49% of students experience stress caused by school on a daily basis. 
Below are some of the most common stressors in school:
Navigating social lives

Adjusting to routine changes and transitions

Pressure to be successful

Finding or identifying support systems

Time management
What Is the Most Stressful Year of School?
While school can cause stress across all years, high school is considered by some to be a uniquely stressful period. This is because it is a time of great developmental and social change which, on top of the regular demands of school, can be quite difficult to navigate. Some stress factors that are especially common among high school students are:
Financial difficulties

Relocating or changing schools

Living in an unsafe neighborhood

Low self-esteem

Physical changes

Change in family structure (divorce or death)

Perfectionism or unreasonably high expectations

Chronic illness

Anxiety about future plans

Difficulty with social relationships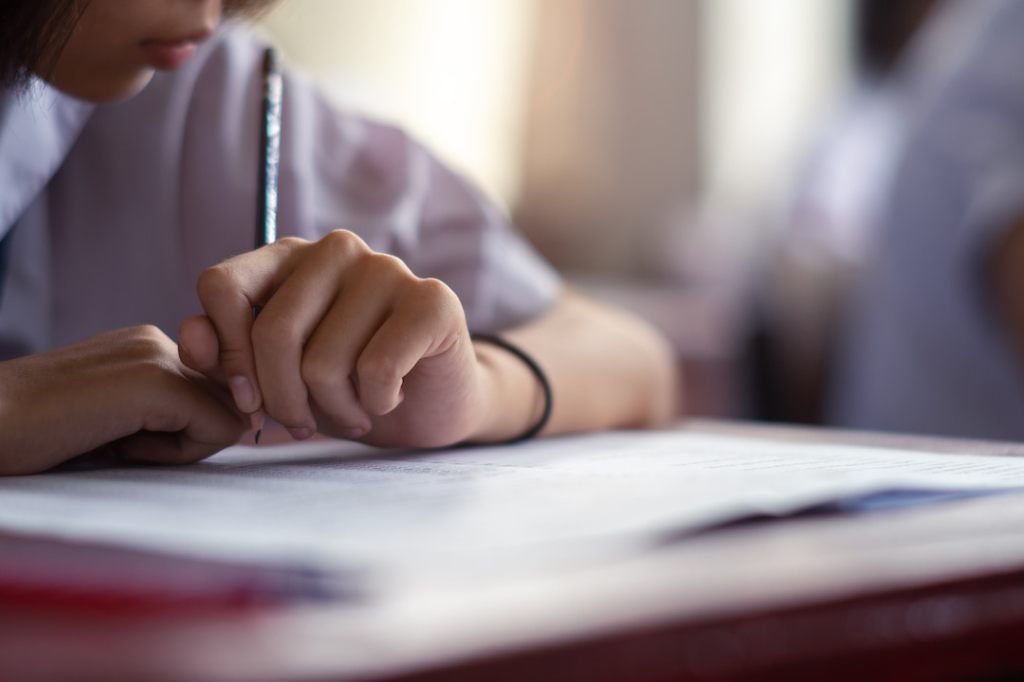 Does School Cause Stress and Anxiety?
School can cause a lot of stress and anxiety as it comes with a host of possible threats. Although many of these are not guaranteed or even likely, just the thought of them can be anxiety-inducing. Commonly anticipated threats include those that threaten our physical and mental or emotional health:
Physical threats:

abuse/mistreatment, shooting/death, and neglect.

Emotional threats:

bullying/teasing, condescending statements, and being retained/held back.
School also presents a variety of demands that can feel difficult to meet. Some possible stress-causing demands are:
Preparing for quizzes and upcoming tests

Forming relationships

Adhering to schedules

Complying to the requests of teachers 

Completing homework assignments

Getting good grades
Is School a Main Cause of Depression?
School could be a contributing factor to depression. A recent study found that an inability to handle stress is linked to depression — so, a stressful environment such as school could lead to depression in this way. 
In addition, social connections are often made at school and while many of these relationships are positive, they can also be the source of discomfort and strife. Bullying, rejection, and social isolation are often related to depression. One study found that low self-esteem, a perceived lack of social support, and inefficient problem-solving skills were prevalent risk factors among high school students.
Additionally, young people feeling pressure to perform well in school can lead to decreased self-esteem, another gateway to depression. All of that said, it's important to remember that depression can be caused by a variety of contributing factors, such as genetics, life circumstances, substance use, and changes to the brain.  
Is School Bad for Your Mental Health?
School can be bad for your mental health. At its most basic level, school is harmless; it is a place where people can acquire skills, knowledge, and values. However, certain conditions in school can contribute to poor mental health. 
Some of the negative impacts school can have on your mental health include:
Vulnerability to stress

Bullying, abuse, or intimidation

Integration of communities of people with various beliefs and values, coupled with poor emotional regulation skills

Being asked to participate in things that go against personal values and beliefs
There is also a variety of aspects of school that are good for your mental health. School can be beneficial to your mental health in the way that it: 
Provides credible knowledge in an organized, easy-to-learn fashion

Prioritizes safety by implementing screening processes and background checks

Employs skilled instructors that guide you through materials

Emphasizes diversity and inclusion

Develop skills like problem-solving, social skills, time management, conflict resolution, assertiveness
If you feel that the negative impacts of school are outweighing the positive, it's important to seek help or try strategies to mitigate them. 
What to Do If School is Too Stressful? How to Deal With School Stress and Anxiety?
There are a variety of ways to cope when you feel stressed because of school. Some responses include: 
Identifying resources.

Reach out to your

parents

, teachers, friends, or a counselor for ongoing support. And if you're ever in a crisis and need immediate help, please call or text the 988 Suicide and Crisis Lifeline.
Using coping skills. There are many ways to adjust to deal with stress. Self-talk, self-soothing touches, and speaking to a trusted loved one are just a few strategies for coping.
Reducing demands. Ask for extensions on stressful assignments, or try to distinguish the tasks you need to complete from those that are less important.
Practicing self-care. Eat regular and balanced meals, engage in physical activity, and get an appropriate amount of sleep to reduce stress symptoms.
Trying relaxation techniques. Guided imagery, progressive muscle relaxation, and diaphragmatic breathing can help moderate feelings of stress.
Focusing on what is within your control. Let go of the things you have no power over, and try to focus on making changes where you can.
While some stress at school is normal, it doesn't have to feel uncontrollable. With the right coping mechanisms, academic stress can become manageable and could even help you succeed in the classroom. If you are struggling to manage your stress alone, please consider reaching out to a mental health professional. They can not only offer a listening ear but also equip you with strategies to handle stressful situations.