Highlights


Bars are often a go-to date spot, which can make it harder for sober curious single people to find their match.
Current dating trends see potential couples moving away from bars and toward alcohol-free activities that might expedite meaningful connection.
Dry dating doesn't have to be awkward–just be upfront about your sobriety and your boundaries.
And if you drink alcohol and your date doesn't, be considerate, keep an open mind, and remember that judgment can go both ways.
In my experience, online dating in NYC was mostly a matter of meeting at the right bar. The bar couldn't be your local. You wanted to keep your local to yourself in case the date went sour. But the bar couldn't be far away either because you didn't want to waste a subway ride if there was no chemistry. You wanted to choose a place that wasn't too hip, but still made you seem cool and in-the-know. Happy hour was good because drinks were cheap and if necessary you could escape early, pleasantly buzzed, saying that you had dinner plans. The bar shouldn't be too crowded, but it shouldn't be too empty either–quiet enough to hear each other but not so quiet that silences were awkward. Enough people around so you could be confident that you wouldn't be murdered. Good music that could serve as a conversation starter. No kitchen, because food could prolong a bad date. 
On all those first dates, with all those calculations, I never once stopped to ask myself, "Why do we always have to meet at a bar?" It's just what was done. Walks in the park didn't seem to be an option. Dating culture was drinking culture. Awkward online dates kept bars in business, and bars provided the social lubricant that people felt they needed to overcome their nerves.
But what if you don't drink, or your date doesn't drink? Suddenly you have to question your default rendezvous. We still live in a drinking culture, but people are slowly becoming more sober curious. It's not only people in recovery from alcohol use disorder (AUD) who might forego booze on first dates. It's also people who see giving up alcohol as another step in the process of personal growth. It may just be a month-long experiment, as in Dry January, or it may be forever. Sobriety might be a deeply held value, or it may be more akin to randomly giving up sugar or coffee to see if you reap any mental and physical health benefits. Whatever the case may be, the barhopping, it's-always-happy-hour-somewhere, online dating world must make room for alcohol-free individuals. So let's look at how to approach dry dating as a sober person. Then I'll touch on a few tips for wooing sober singles when you're not on the wagon.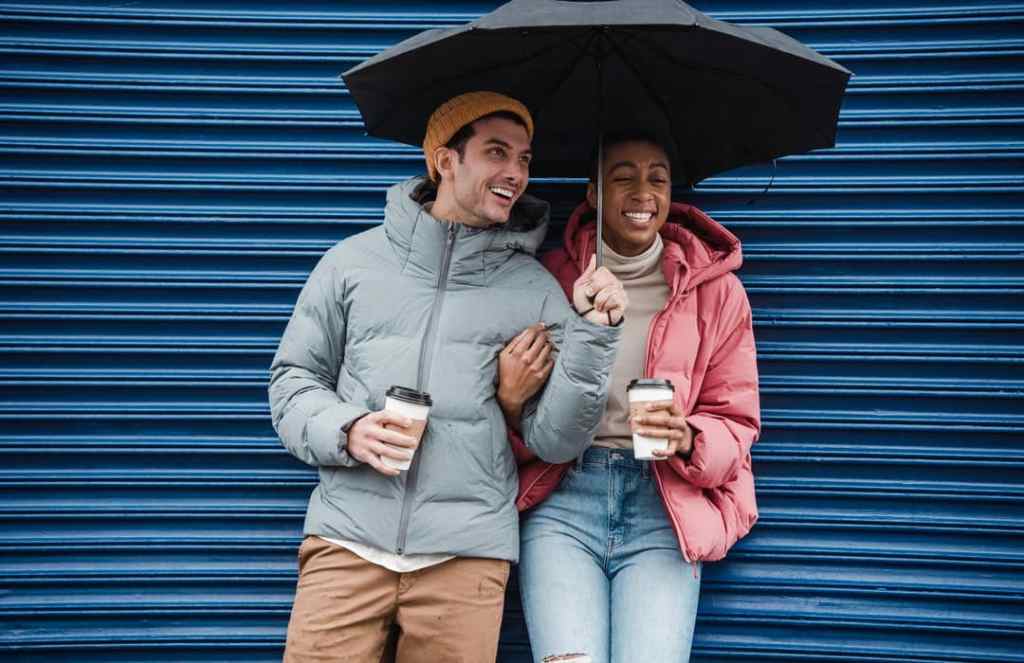 How to Go on a Sober First Date 
The alcohol conversation can feel loaded (pun intended) for sober people who are on the dating scene. They might sense judgment or discomfort from their date. Their date might make assumptions about why they gave up alcohol. Their date might become self-conscious about their own drinking. 
And let's face it–first dates usually contain some element of awkwardness (which is why people tend to overimbibe in the first place). But it would be nice not to have to worry about the alcohol issue. You can do that by being upfront. If you're on an online dating app, mention your current state of sobriety in your profile. For example, you can write, "I'm not drinking right now, but I don't mind if you do," or, "I'm looking for someone who shares my sober lifestyle," or, "We can get a drink, but mine will be a Shirley Temple." You don't have to give your life history or your reasons for being booze-free. Dating apps are made to weed out bad matches. Many of them even let you essentially click a sober box so you'll show up in sober searches. 
When dating, you don't have to lead with sobriety–unless you consider it a core part of your identity–but you should probably mention it early if you want to spare some fumbling later on. It seems that Americans aren't great at talking about religion, politics, or sobriety with people they just met. Decide in advance what you're comfortable with. What are your boundaries? Do you foresee a miserable time meeting someone at a bar? Then say you get bored in bars and suggest a more creative date idea. If you can still enjoy yourself in bars, then have a plan for what you'll order (Perrier? Mocktails?) and how you'll respond to any alcohol-related questions. You don't have to justify your sobriety to anyone, especially to someone you just met, but a confident answer like, "Oh I'm just taking a break… tell me more about your dog," can help neutralize the issue.
Lastly, if you're new to sober dating, you may be feeling that social anxiety that you usually try to douse with booze. Calm your nerves by walking to the date while talking on the phone to a close friend. Or practice your favorite stress-reducing routine beforehand. Maybe you thought you were great at drunk dating, and now you don't have any game. You're inexperienced; you will get better. Stay mindful, stay grounded, and try to pay attention to the other person. One benefit of sober dating is that you might actually make a meaningful connection from the beginning. 
How to Be a Good Date to Someone Sober
If you tell yourself that you can't date someone sober, you are definitely missing out. Someone's relationship to alcohol is probably the least interesting thing about them. You would not want to be judged for your drinking habits, and your date doesn't want to be judged for their clean and sober habits. 
Let's say you're on a date at a restaurant. When the server comes around, your date orders sparkling water. If you want to order a glass of wine, you ask, "Do you mind if I order a glass of wine?" If your drinking puts your date in a bad place, be considerate and order something non-alcoholic. You can decide later if that's a sacrifice you want to continue to make. For now, focus on how it feels to be with this person without relying on liquid confidence. You might be surprised at how much more real your conversation is. And whatever you do, don't grill anyone about their sobriety. Research shows that women especially tend to feel ashamed if they have a problematic relationship with alcohol. They'll tell you their story if they feel like it. 
Dating While Sober Is Just Dating
Being single doesn't mean you have to drink yourself silly. Being single is an opportunity to own exactly who you are through dates both good and bad. When it comes to finding love, it's your authenticity, not your alcohol consumption, that matters most.