Meet Our Providers
Canicia Anyiatem, PMHNP
Philosophy of Care
Canicia Anyiatem is a licensed professional psychiatric nurse practitioner in the state of Maryland, who specialized in treating mental health issues and Alcohol drug problems for adolescents and adults in providing medication management such as assessing and presenting medication options for mental health issues. Also provides prescriptions of psychoactive medications, medication refills and side effects monitoring.
Canicia provides comprehensive initial assessment and evaluation to explore and understand individual patient's mental health needs in order to determine a better plan and ways to recovery. Canicia completed her Bachelor of arts in nursing from Bowie state University Maryland and received her Master's in nursing from Walden University.
Canicia works in collaboration with patients, patients' families, coworkers, friends, physicians, therapists in order to provide the best comprehensive care and integrated treatment for her patients
Education
Walden University
Master's in Nursing
Specialties
Depression
Anxiety/stress/panic/phobias
ADHD/ADD
Medication management
Personality disorders
Trauma stress related disorder (PTSD)
Mood disorders/bipolar disorder
Eating disorder
Ebonique McClinnahan, PMHNP-BC
Philosophy of Care
Ebonique McClinnahan is a board certified Psychiatric Mental Health Nurse Practitioner (PMHNP-BC) and Certified Professional and Development Life Coach. Ebonique's experience includes more than 20 years of behavioral health care provided to both civilian and military service members within the community, acute care, residential treatment, and outpatient settings. Her background specialties include psychotic and mood disorders, depression, anxiety, life skills, substance abuse, addictions, crisis management, and sexual abuse.
Ebonique completed her Bachelor of Science in Nursing (BSN) at Fayetteville State University, her Master of Science in Nursing Education (MSN) at Grand Canyon University, and her PMHNP at Rush University. She is also a National Academy of Sports Medicine (NASM) Personal Trainer. Ebonique has a strong belief in treating the patient holistically and helping clients find their true inner purpose within.
Education
Grand Canyon University
Master's of Science in Nursing Education
Specialties 
Psychotic disorders
Mood disorders
Depression
Anxiety
Substance abuse
Addiction
Crisis management
Sexual abuse
Elena Fairley, LPC
Philosophy of Care
Elena M. Fairley is a Licensed Professional Counselor and Licensed Marriage and Family Therapist in the state of Mississippi and a Licensed Clinical Professional Counselor in the state of Maryland who has 25 years experience partnering with adults, couples, and children seeking help with depression, anxiety, PTSD, life transitions, relationship issues, and children issues. She completed her Bachelor of Arts in Psychology from University of Alabama (Tuscaloosa) and received her Master of Science in Family Counseling from Alabama A&M University.  
Elena utilizes relational, collaborative, strength based, cognitive behavioral, mindfulness-based, solution-focused and emotionally-focused approaches to therapy while always maintaining the creativity, flexibility and awareness necessary to best meet the needs of every unique individual and family.
Elena seeks to establish a warm and caring relationship with you in order to assist in building on your strengths and better collaborate with you towards meeting your goals and living the meaningful life you value and desire.
Education
Alabama A&M University
Master of Science in Family Counseling
Specialties
Depression

Anxiety

Stress management

Self esteem

Life transitions

Anger management

Trauma issues
Joseph Bullock, LCPC
Philosophy of Care
Dr. Joseph Bullock is a Licensed Clinical Professional Counselor (LCPC) who treats a wide range of mental health issues in adults. Dr. Bullock has over 30 years of experience as a professional counselor, clinical supervisor, and administrator. His professional background includes serving as the Director of Substance Abuse Services for the Arlington County Department of Human Services in Arlington, Virginia. He has also worked as a consultant to the United States Navy providing training and clinical supervision services to counselors in the Washington D.C. metropolitan area, and has provided workshops on mental health, substance abuse, and other counseling related topics.
Dr. Bullock completed his Doctor of Education (Ed.D) from Virginia Polytechnic University. He holds the Preceptor of the Year Award 2012 from the Danya Institute. Through counseling, Dr. Bullock assists clients to find their way to emotional freedom so they can begin to experience the life they intended to live with regard to relationships and mental, physical, and spiritual wellness.
Dr. Bullock seeks to counsel, coach, and encourage those who may be struggling to achieve in a particular area of life or feel that their growth has halted. What sets Dr. Bullock apart is his expert use of insight and compassion in conjunction with working with his client to co-create the exact plan to achieve their desired life experience. Dr. Bullock's goal as a counselor is to provide support and practical feedback to help people resolve current problems and gain more satisfaction out of life, both present and future. He works to help people find or reconnect to their own inner spiritual strength and resolve. He is committed to helping people enjoy life more fully.
Education
Virginia Polytechnic University (Virginia Tech)
Doctor of Education - Counseling
Specialties
Stress, Anxiety

Drug/Alcohol Addictions

Anger Management

Grief

Depression


Self-esteem

Codependency

Life Transitions

Spirituality and Life Purpose

Karen Osborne, PMHNP-BC
Philosophy of Care
Karen Osborne is a Psychiatric Mental Health Nurse Practitioner, board certified by the American Nurses Credentialing Center, licensed by the state of Pennsylvania and Maryland to provide mental health care to individuals across the lifespan. She has thirty years of diverse clinical expertise in the profession of nursing.
Her scope of practice encompasses psychopharmacological assessment, diagnosis and treatment for children, adolescents, and adults. She utilizes a collaborative, patient-centered practice philosophy that is flexible, caring, and individualized to meet patients where they are in their journey for mental wellness. In addition to her board certification as a psychiatric nurse practitioner, she also has a Master of Science degree in Nursing Leadership.
Karen specializes in providing medication management and psychotherapy to individuals across the lifespan for many psychiatric disorders. Areas of expertise include mood disorders, depression, anxiety, obsessive compulsive disorder, PTSD, adjustment disorders, and behavioral disturbances in children and adolescents.
Education
Drexel University
Post Master's Certification Psychiatric Mental Health Nurse Practitioner
Wilmington University
Master of Science in Nursing Leadership
Specialties
Adjustment disorder

Anxiety

Behavioral disturbances in children and adolescents

Depression

Mood disorder

Obsessive compulsive disorder

PTSD

Schizophrenia

Schizoaffective disorder

Social anxiety
Kyle Kunkel, LCPC
Philosophy of Care
Kyle Kunkel is a Licensed Clinical Professional Counselor in the States of Maryland and New York with over 7 years of experience providing services with and for kids and families in times of crisis with a focus on rehabilitation. Her goal is to work on improving the quality of life for individuals who have suffered trauma and/or life adjustment rendering clinical assistance. To accomplish this, she focuses on clinical rehabilitation by helping clients create, utilize, and maintain successful coping skills and re-build a healthy sense of self.
Kyle's interest expands to understanding how the impact of social support networks and social skills programs for persons and families living with trauma and/or life adjustment disorders leads toward a healthy and stable re-integration into the community from a developmental psychopathological orientation.
Kyle seeks to develop a strengths-based relationship with clients. She views the client as the expert in their life/history and recognizes through collaboration with a therapists' expertise that a client's true self can be recognized and achieved.
Education
Boston College
Master of Arts Mental Health Counseling
Specialties
Behavioral Issues

Family Conflict

Life Transitions

Self Esteem

Trauma and PTSD
Lisa Fisher, Resident in Counseling
Philosophy of Care
Lisa Fisher is a Licensed Graduate Professional Counselor in the state of Maryland who has 3.5 years of experience working as a mental health clinician specializing in crisis intervention, assessment, and therapy. She has experience working with clients from diverse cultural and economic backgrounds who need assistance with depression, anxiety, stress, and substance abuse issues.
Lisa graduated from McDaniel College in 2017 and obtained her license in 2018. She has experience utilizing psychodynamic therapy, cognitive behavioral therapy, narrative therapy, and motivational interviewing. She takes a person-centered, strengths-based approach to building a therapeutic relationship and tailors sessions to address each client's unique needs.
Lisa believes that clients have the ability to find the answers and solutions they are seeking within them and sometimes need help from a therapist to recognize their potential. She will strive to listen, witness, and validate clients' unique experiences.
Education
McDaniel College
Master of Science in Counseling- Community Mental Health Specialization
Specialties
Depression

Anxiety

Grief

Self- Esteem and Confidence Building

Crisis Intervention

Stress Disorders
Mercy Awokunle, PMHNP
Philosophy of Care
Mercy Awokunle is a board-certified Psychiatric Mental Health Nurse Practitioner (PMHNP-BC) with more than 2 years of experience and dedication in providing compassionate and patient-centered care. She's licensed in the state of Maryland and has an extensive background in the healthcare field, helping clients struggling with mood disorders, anxiety, PTSD, adjustment issues, and ADHD.
Mercy completed her Bachelor's degree in Nursing from Bowie State University in 2009, and received her Master's degree in Nursing from Walden University, specializing in Psychiatric Mental Health Nurse Practitioner. Mercy is guided in her practice by the core values of integrity, trust, transparency, professionalism, and service.
She understands the importance of attentive listening and believes that the provision of quality and therapeutic care is essential to improve each individual's quality of life. Mercy seeks to establish a courteous and trusting relationship with you and work with you to help achieve your goals.
Education
Walden University
Master of Science
Specialties
Depression
Anxiety
ADHD
PTSD
Adjustment Disorders
OCD
Nadine Kakanou, PMHNP
Philosophy of Care
Nadine Kakanou is a Psychiatric Mental Health Nurse Practitioner (PMHNP) who has 5 years of experience in the mental health field. Nadine completed her Master of Science in Nursing (MSN) at Walden University. A PMHNP is tasked with evaluating a patient's mental health status by assessing their relevant medical background, conducting comprehensive psychiatric evaluations, and identifying potential issues that might negatively impact a patient's mental health. The primary concern of individuals suffering from mental health problems is accessing mental health care professionals equipped with the knowledge and skills to provide comprehensive care and offer preventive strategies. Although PMHNPs receive intense training to meet mental health patients' needs, their roles are poorly understood because regulatory barriers have limited the entire scope of the practice.
Due to the complexity of human beings in understanding their lives and illness experience, a PMHNP requires the ability to access situations from different perspectives, not only through a psychological lens but also from a biological and development view, while recognizing the perspective of stakeholders affected. Besides, mental health disorders affect the ability to communicate experiences, and their symptoms may not conform to conventional diagnostic criteria. PMHNPs need to have a high tolerance of uncertainties and a willingness to frequently re-evaluate assessments upon discovering new information.
In addition to diagnosing and treating disease, PMHNPs nurture resilience and growth capacity because of the impact of psychiatric disorders on patients' growth and development abilities. The existing healthcare system may fail to address the complexity of problems suffered by patients completely. Consequently, PMHNPs need to effectively advocate for patients to acquire all the services needed to meet their mental health needs. They also need to push for the development of more effective services. In conclusion, PMHNPs are well prepared and equipped to provide independent and effective psychiatric care and treatment to effectively meet the needs of mental health patients.
Education
Walden University
PMHNP
Specialties
Seth Owusu-Kwarteng, PMHNP
Philosophy of Care
Seth Owusu-Kwarteng is a board-certified Psychiatric Mental Health Nurse Practitioner (PMHNP-BC) with a strong passion for patient and family-centered care. Although he came from a family of teachers, Seth always aspired to be a medical provider. He obtained his first bachelor's degree from Kwame Nkrumah University of Science and Technology (Ghana). After he completed his internship, he worked as a Medical Laboratory Technologist for four years, supervising clinical laboratory services and teaching laboratory technician students. He also established a microbiology unit that allowed effective diagnosis and treatment of infectious diseases in a rural hospital in Ghana. Seth's strong passion for improving health outcomes through direct patient care motivated him to seek a career in nursing after he migrated to the United States. For several years now, Seth has had the opportunity to treat patients with wide-ranging acuity in various settings such as the surgical and trauma, general medicine, oncology, emergency, and psychiatric units.
Seth completed his Master of Science in Nursing (MSN) at George Washington University, where he received the Clinical Excellence for Psychiatric Mental Health Award and the Sigma Theta Tau Award. He has worked as a nurse for over seven years at a level 1 trauma hospital in Washington, DC, providing care for vulnerable patients with various diseases, including patients with mental health issues. While working as a nurse, Seth not only focused on his patients, he also supported family members of patients with mental health disorders. Through this work, he developed a strong sense of compassion to provide quality, individualized, and holistic care for individuals and families with mental health challenges. Being aware of the increased need for mental health practitioners in the country, Seth felt the calling to help combat mental health crises. This motivated him to pursue a degree as a PMHNP.
Seth's holistic approach to providing care for his patients is built on three key principles, which are compassion, quality, and empathy. He is a great listener and very understanding, with genuine concern for his patients. He also believes that patients and their families are key members of the treatment team and that their involvement in decision-making and health therapy is vital to the overall outcome of the patient. He is delighted to provide education, resources, and treatments needed to improve the quality of lives for his patients.
Education
George Washington University
Master of Science in Nursing

Specialties
Medication Management

Anxiety

Depression

Anger

ADHD

Behavioral Issues

Obsessive-Compulsive (OCD)

Sleep or Insomnia

Stress

Trauma and PTSD
Susana Lynn Nwosu, DNP, PMHNP-BC
Philosophy of Care
Dr. Susana Nwosu is a Board-Certified Psychiatric Mental Health Nurse Practitioner (PMHNP-BC) who specializes in treatment-resistant mental illness in children, adolescents, and adults. Dr. Nwosu has worked in the mental health field for 7 years, managing complex and chronic illnesses. She understands the importance of building strong relationships with clients and creating a supportive environment to heal.
Dr. Nwosu completed her Doctor of Nursing Practice (DNP) at Maryville University, graduating with the highest honors. She completed her doctoral studies on improving healthcare providers' cultural competency when caring for people from different backgrounds. Dr. Nwosu proudly serves the LQBTQIA+ community.
Dr. Nwosu is committed to being a compassionate, caring, and diligent provider who understands the importance of communication and of each individual's unique needs. She provides a holistic approach to comprehensive care, caring for the whole person, mind, and body.
Education
Maryville University
Doctor of Nursing Practice
Specialties
Anxiety

Depression

ADHD

Bipolar

Sleep or Insomnia

Trauma & PTSD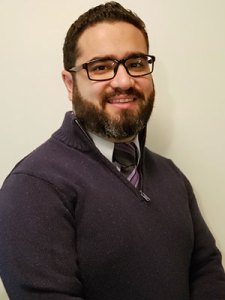 Self Pay Rate: $99
Duarte Aguiar, LCPC
Philosophy of Care
Duarte Aguiar is licensed in the state of Maryland as a Licensed Clinical Professional Counselor (LCPC) and is a National Board Certified Counselor (NCC). He is a graduate of Loyola University with a master's degree in Clinical Mental Health Counseling. Duarte has 5 years' experience providing therapy in Maryland to a diverse client-base in a variety of clinical settings including school-based (adolescent and adult), substance abuse/recovery clinic, marriage and family, individual, groups, and psychoeducation. Duarte specializes in the use of Cognitive Behavioral Therapy (CBT) and Trauma-Focused CBT, Motivational Interviewing, Person-Centered Approach, and Pastoral Counseling to treat various diagnoses. 
Duarte's philosophy of care as a spiritually oriented therapist consists of a holistic perspective of the person(s) present in therapy. Inspired and informed by the person-centered approach, Duarte believes in the value of being present in a non-judgmental, therapeutic relationship while helping to challenge the client(s) to live up to THEIR own expectations. With that said, Duarte believes in bringing the client's own beliefs, aspirations, and values to the forefront and using those unique aspects of the client's virtues to guide the development of a trusting and open therapeutic atmosphere. 
Duarte is committed to providing a safe space where the client can feel heard, accepted, encouraged and even challenged. 
Education
Loyola University Maryland
Master's in Clinical Mental Health Counseling
Specialties
Anxiety

PTSD 

Grief/loss

Depression

ADHD

Substance use/abuse/recovery

Anger and stress management

Oppositional and conduct disorders

Marriage and family issues

Catholic Counseling