Marriage is difficult—sometimes, couples and individuals change, morphing into people who no longer fit together. However, divorce can be a grueling process without the right emotional support. That's why divorce counseling is an excellent resource for couples and families going through a divorce.
Divorce counseling focuses on supporting clients throughout their divorce, opening lines of healthy communication, and cultivating a smooth transition period into their new chapter of life. At Thriveworks, our expert divorce counselors can help you both improve your communication and problem-solving skills and guide you through this challenging life transition in a way that works for you both.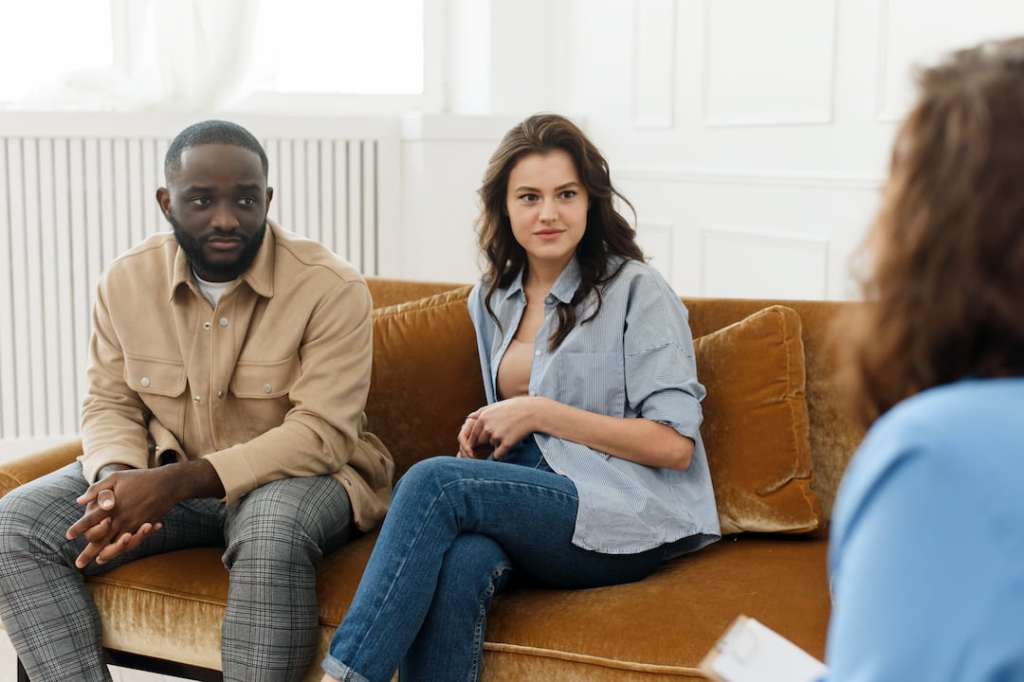 What Is Divorce Counseling?
Divorce counseling is a type of psychotherapy service that allows a couple to receive supportive services either pre-, during, or post-divorce. Divorce counseling is for couples who are considering divorce, currently experiencing divorce, or have divorced and would like to work on their personal relationship or parenting relationship. 
Further, individuals in the process of divorce or who have been personally impacted by divorce—including families and children—can engage in divorce counseling. Divorce counseling is not limited to individual and couples counseling but extends to family counseling and group counseling settings as well. It can serve as the main purpose of counseling or a helpful aspect of other kinds of therapy.
Conditions Addressed by Divorce Counseling
One benefit of divorce counseling is that it can address a wide variety of presenting symptoms and concerns. However, here are some of the most common presenting symptoms and concerns in divorce counseling: 
Communication strategies

Interpersonal skills

Trauma-related conditions

Sexuality and sex-related concerns
These are just a few mental health conditions and topics that can be addressed by divorce counseling. Divorce can impact many areas of one's life, and in turn, divorce counseling is meant to address those areas.
What Are the 5 Stages of Divorce?
While there is no definitive research that posits that there is a specific, set number of stages of divorce, most scholars actually use the five stages of grief to describe the way that people experience a divorce. These stages are: 
Denial

Anger

Bargaining

Depression

Acceptance
While these stages can be linear, they are not always linear, and some can be minimally experienced. Just as everyone experiences grief differently, every person will experience the grief of divorce uniquely as well.
What Type of Therapist Is Best for Divorce?
A therapist best suited for this type of work is a divorce therapist who is educated and competent in relationships and relational therapy. Further, this therapist should feel comfortable engaging in therapeutic challenging with their clients when necessary. 
Inspiring others to set boundaries and keep up good communication is difficult, but with divorce, it is often necessary to make sure that these things happen in order to smooth the transition out of marriage. Because of this, a divorce therapist needs to be firm in helping clients maintain their boundaries as well as foster healthy communication between those in the session. 
One of the best tools a therapist in this field can use is psychoeducation: empowering the clients to learn and use helpful tools and techniques to be the most effective version of themselves.
What Are the Goals of Divorce Counseling?
Divorces happen for a variety of different reasons between unique groups of people, and as such, the goals of divorce counseling are client and situation-specific. 
Some common goals for divorced or divorcing couples in counseling are to: 
Improve the quality and quantity of communication 

Decrease levels of anxiety

Decrease levels of overall stress

Increase self-efficacy

Increase levels of distress tolerance

Increase engagement in self-care and wellness behaviors 
However, in a general sense, the main overarching goal of divorce counseling is to enable the participant(s) to leave their divorce encounter as the most effective, supported, and well-equipped versions of themselves. Divorce counseling should provide empowerment and tools to handle challenges and challenging situations effectively, both now and in the future.
What Are Warning Signs of Divorce?
Warning signs of divorce are, again, couple and situation-specific; however, there are some generalized signs that a relationship is at the point of a breakdown. The following are potential warning signs of a divorce: 
Decrease in the frequency of sex

Decrease in feelings of interconnectedness

Less time spent together

Less time spent on previously enjoyed activities

Higher frequency and more intense conflict

More time spent apart

More solitary decision-making on decisions that were previously made together

Less time spent with partner's family and friends

Decreased feelings of love and admiration

Feelings of hopelessness
The presence of any of these does not mean that divorce is guaranteed, however. These issues only signify that something is wrong in the relationship and needs to be addressed. If a couple is committed to getting help from a mental health professional and improving their relationship, a divorce may not be necessary. When the roots of these issues go unaddressed or agreeable solutions cannot be found, though, these signs may be more serious. Ultimately, the decision around what signs are cause for divorce is up to you.
Want to talk to a therapist?
Start working with one of our top-rated providers. We have availability now and accept most major insurances.
How Do You Grow After Divorce?
One of the best ways to grow after a divorce is to pursue psychotherapy and attend counseling sessions, either with your ex-partner or individually. These sessions will aim to help you be the best version of yourself by focusing on areas of your life that need growth. 
Some common areas of intrapersonal growth after a divorce include: 
Meeting new people and engaging in new activities

Practicing self-compassion and self-forgiveness

Recognizing areas of growth

Learning a new skill or hobby

Strengthening your social support network
Though divorce is challenging and distressing, it can be a chance to start over and choose a new path. Choosing to invest in yourself after a divorce is the best way to move forward and plant seeds for a happy and fulfilling future.
What Is the Goal of Divorce Mediation for Troubled Couples?
The overall goal of divorce mediation for couples is to provide a neutral, psychologically safe place where problems can be resolved efficiently and effectively with the guidance of a trained professional.
Divorce mediation aims to help couples increase the quality and quantity of their communication to resolve matters and minimize emotional outbursts. It can also teach clients effective coping skills and emotional regulation strategies that will increase their overall levels of distress tolerance, which will decrease the propensity for conflicts to occur.
What Is the Primary Focus of the Divorce Mediator?
The main focus of a divorce mediator is to provide a safe, neutral space for couples to be able to identify, explore, and problem-solve without judgment—a space that is protected and necessitated by the mediator when and if conflict arises. 
Further, the divorce mediator is tasked to stay neutral and not take the side of one client over the other. Mediators nurture and foster a trusting, supportive relationship with their clients that allows them to be open, honest, and self-reflective as they work collaboratively toward solving problems and resolving conflicts.  
How Do You Stay Calm During Divorce Mediation?
One of the best ways to stay calm during divorce mediation is to prepare yourself beforehand. Staying calm and focused on the goal of your session is the best way to ensure that the session is effective and will minimize the possibility of additional emotional hurt occurring between parties. 
Take some time before you enter into your mediated session to practice some mindfulness techniques and engage in an activity that allows you to feel centered. Make a list of some coping strategies, mantras, things that make you happy, or even call a trusted friend or family member before or after a session to help you stay calm and focused. 
When to Consider Divorce Counseling for Yourself or Your Family
Divorce counseling is warranted whenever you or your family are being directly affected by a divorce—don't wait for negative symptoms to start taking a toll. 
Even so, there are some common signs and symptoms that your mental health and that of your family might be negatively impacted by the divorce and therapy might be warranted:
Increased irritability

Increased interpersonal conflict

Depressed mood

Increase in overall stress levels

Increased anxiety

Avoidance of people, places, things that were not previously avoided

Decreases in appetite or increases in appetite

Disruptions/disturbances in sleep patterns

Decreased engagement in hygiene practices
If you are going through a divorce and you and/or your family are showing signs of struggling, consider seeing a mental health professional. Divorce counseling can be applied to individuals, couples, or families in therapy, so speak to a provider and decide which option(s) could work best for your family and situation.
Benefits of Divorce Counseling for Individuals and Families
Divorce counseling for individuals and families has many benefits; it's highly encouraged that individuals and families experiencing the effects of divorce seek counseling services. 
Divorce counseling has been shown to have the following positive impacts on individual functioning: 
Decrease in stress

Decreased anxiety

Elevated mood

Increased life satisfaction

Increased engagement in self-care and wellness behaviors
For families, divorce counseling has been shown to have the following positive impacts on familial functioning: 
Decreased conflict

Increased use of quality communication

Increased connection

Increases in time spent together

Decreases in levels of stress
It's important to remember that divorce is both an individual and group process, and it needs to be addressed as such. Sometimes, choosing both individual and couples/family therapy is the best way to chart a path of growth and healing after divorce.
Get Expert Help: Thriveworks Divorce Counseling
Divorce is hard, which makes finding support before, during, and after your divorce so important. Thriveworks has the resources you need to get back on your feet and move with your life in a healthy way.
Thriveworks makes it easy and affordable to get connected with one of our divorce counselors. We accept most major forms of insurance, and also provide self-pay options for those who are out-of-network. You can choose from any number of divorce counselors in your area by using our online booking tool and filtering for divorce counseling.
Our divorce counselors will provide you with compassionate, empathetic, and knowledgeable guidance as you move through this difficult process, shaping your treatment plan to your goals and needs. Call a local office or go online to book a session and get started today.