Highlights


If you're ready to look for a new provider, or are feeling ready to tackle your challenges on your own, you may be wondering how to break up with your therapist.
First and foremost, remember that they're mental health professionals—you aren't in a romantic relationship or a friendship with them.
Their main priority is to ensure that you receive the best care possible, and won't be offended if you don't think you are receiving that care from them.
Be sure to speak directly but kindly when it comes time to break up with your therapist. If they offer to help you with a referral, you have the choice to say yes or no.
Lastly, be sure to reflect on your therapeutic goals before breaking up with your therapist, as this will help guide your decision-making process.
Therapists and clients have a professional relationship that's built on mutual trust and respect. When someone attends therapy sessions, they work alongside their therapist to make improvements to their mental health. But sometimes, a client might feel like their therapist just doesn't understand them, isn't easy to talk to, or really isn't a match — in which case they should absolutely find a new provider who's a better fit. 
That said, some people may feel guilty, worried, or uncertain about telling their therapist that they're calling it quits – or finding a new mental health professional to work with. So how can you break up with your therapist, without hurting their feelings?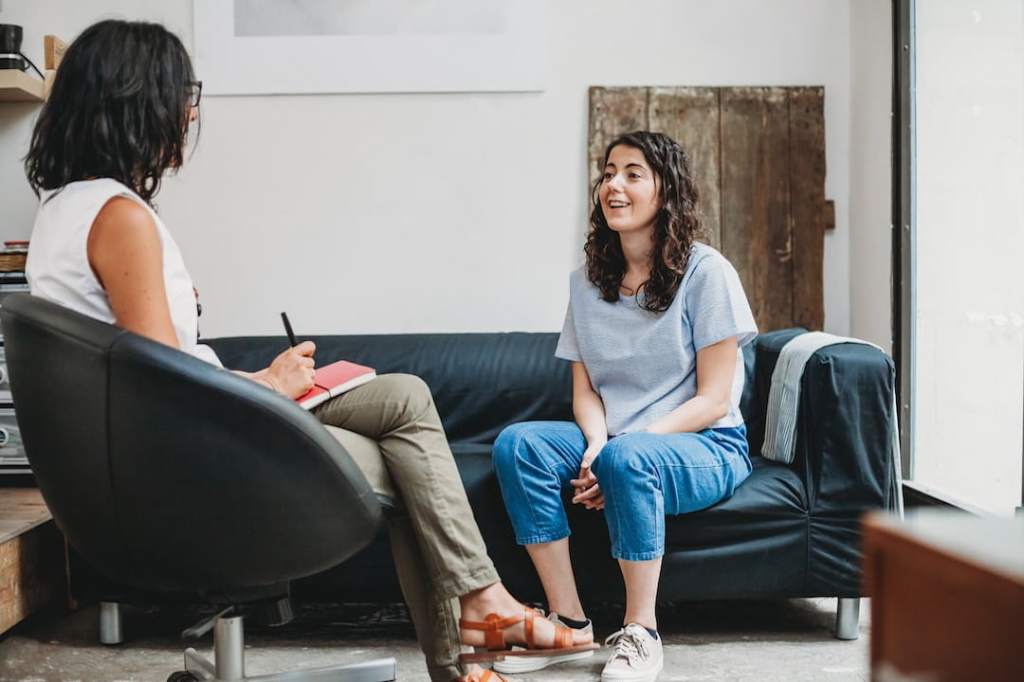 How Do I Break Up with My Therapist Nicely?
There's one overarching rule to remember if you're wondering how to break up with your therapist. And it's that they really don't mind if you want to end therapy or talk to another professional. Usually, therapists want to link you up with the most compatible person to help you pursue your goals. They may even offer to help you find someone else, which is known as a referral. 
So don't stress out about wondering how to break up with your therapist. It's not your job to protect your therapist's feelings but rather to take care of yourself in pursuit of your healing journey. Therapists are aware they are not going to be every client's preference. 
That being said, mental health professionals are still human beings. If they've done something to offend you, upset you, or otherwise leave you feeling dissatisfied, it was likely not their intention. And sharing that feedback with them can help them improve for other clients.
Follow along below for some ironclad examples of how to break up with your therapist. 
What Can You Say to Break Up with a Therapist? 
Remember that if you're "breaking up" with your therapist: 
It's

not

a

friendship

It's

not

a romantic relationship
It's a therapeutic relationship you've formed with a mental health professional who has years of experience. They're meeting with you to help you. Some things you can say if you're wondering how to break up with your therapist include: 
"I want to thank you for all your help in supporting me, but I think I am growing and in need of something new as I grow." 

"I feel that it's time for me to move on, but I want to be sure to say thank you, and let you know I've appreciated what I've learned from our time together." 

"Thank you for the skills you've helped me learn, and the issues you've helped me to resolve. But I think I need someone else who matches my needs a little bit better. Do you have any recommendations?" 
Keep in mind that you should keep your wording simple. Avoid over-apologizing, and stay focused on the subject you're bringing up. Even if you're upset with your therapist, they're not likely to take it personally. If they offer to help you find someone else and you don't want their help in locating a new therapist, it's perfectly ok to decline. 
Want to talk to a therapist?
Start working with one of our top-rated providers. We have availability now and accept most major insurances.
How Do You Tell a Therapist You're Leaving?
In certain situations, clients may be forced or will choose to end therapy for a different reason apart from not "clicking" with their therapist. Some of the circumstances involved could be: 
You are planning to move out of town or out of state

You can no longer afford therapy

You feel that you've learned enough from your sessions and are ready to step out on your own 

You're experiencing legal issues that may result in your incarceration or a large amount of time spent in court

OR

any other life adjustment that is causing you to need to leave your therapeutic relationship
The best thing to do is be authentic and honest with your therapist about your needs. This will help a therapist understand how to best help you. 
Is It Time to Break Up with My Therapist?
If you've just started therapy, it's helpful to give your therapist and yourself some time to get to know each other, establish goals, and get a general feel for each other's communication styles and background. 
But when you've given it ample time, here's a helpful list of reasons to follow through with finding a new provider if you're wondering how to break up with your therapist. It's time to move on if you feel… 
Your therapist just doesn't get you.

You are not growing or progressing toward your goals.

That your therapist is talking over you or talking down to you.

Your therapist has a lack of compassion or genuine interest or concern in who you are.

Your therapist is not providing you with unconditional positive regard (the ability to be non-judgmental in their approach).
Any of these reasons are valid excuses to end therapeutic sessions with a provider and look to find a new therapist. Remember: Therapy can be a lot like dating: It might take time to find a good match! 
You can express why you feel like there isn't a good connection between the two of you, but it won't be helpful to communicate aggressively or angrily. Even though the therapist isn't likely to take any hurtful comments to heart, you might feel bad afterward and regret your decision to snap at them. 
Goodbye Isn't Always a Bad Thing
Don't stress out about ending a therapeutic relationship. If you get stuck, or nervous before your "breakup," read through the tips and pointers we've listed above. 
After some reflection, and with the right wording, you can feel good about your decision to leave therapy, or find a new therapist to work with. Finding the right provider to work with can take some time, but it's worth connecting with a mental health professional who can address your needs successfully.