Highlights


Bullying is belligerent, unwanted behavior that involves a real or perceived power difference. Though it can happen to anyone, today it's an especially big problem in schools.

National Bullying Prevention Month is observed in October, with specific events like Unity Day on October 19th and World Day of Bullying Prevention on the first Monday of the month.

An important part of bullying prevention is to be able to detect signs of bullying. Noticing patterns attributed to both bullied kids and kids that may be bullying others gives you and others opportunities to stop bullying.

There are many ways to take part in the fight against bullying during October, like wearing orange or blue, or participating in charity events.
From elementary school through high school, many children experience bullying from their classmates every year. 
Bullying is harmful to all parties and can cause lingering emotional trauma that affects children well into adulthood. In an effort to protect kids and limit bullying's damaging effects, October has been recognized as National Bullying Prevention Month. This national event is meant to inspire more people to get involved in spreading awareness about bullying and educating others on what their role could be in preventing it.
Whether you learn how to spot the signs of bullying in your child or simply wear orange on Unity Day, taking action during National Bullying Prevention Month will move us one step closer to putting a stop to bullying.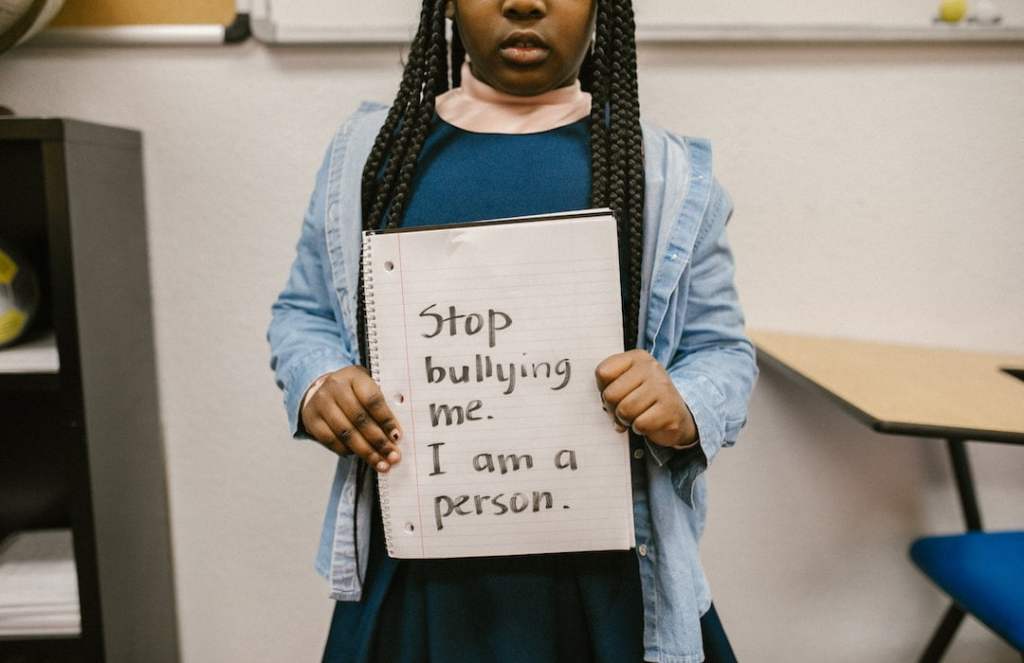 What Is Bullying?
Bullying is defined as aggressive, unwanted behavior that involves a real or perceived power imbalance. The behavior is usually repeated or has the potential to be repeated over time.
Types of Bullying
There are three main types of bullying: verbal, physical, and social.
Verbal bullying is the act of expressing mean or rude things through spoken or written words. This can look like teasing, name-calling, or threatening. 

Physical bullying can come in the form of hitting or punching, tripping, pushing, and stealing and breaking belongings. 

Finally, there's social bullying. Often, this looks like excluding, spreading rumors about, intentionally embarrassing, or telling people not to be friends with another person.
Since bullying is largely a problem in schools, in the past students could sometimes find an escape from bullying at home. However, with the advent of technology, cyberbullying—or bullying using the internet and social media—has worsened the issue. Now, bullied kids can't always get away from their tormentors, since they can reach them just about anywhere. 
Even so, there's always action that can be taken to prevent bullying from happening, which is where National Bullying Prevention Month comes in.
What Month Is National Bullying Prevention Month?
National Bullying Prevention Month is observed all across the United States during the month of October. Started in 2006 by PACER's National Bullying Prevention Center, this event helps draw attention to the harm bullying causes to youth in the U.S. and around the world. 
What Day Is National Bullying Prevention Day?
Within Bullying Prevention Month, there's Unity Day, celebrated this year on October 19th. There's also World Day of Bullying Prevention, held on the first Monday of October.
What Color Is for Bullying Prevention?
Orange and blue are worn to show support and raise awareness about bullying prevention. Many schools participate by encouraging students and teachers to wear these colors and by making orange or blue decorations. The goal is to push students and others to educate themselves on how to prevent bullying. 
Orange is usually worn for Unity Day, while blue is largely worn on World Day of Bullying Prevention.
Stop Bullying—Spot the Signs
Spotting the signs of bullying is often a frontline defense in the fight against bullying, since many children might not feel comfortable broaching the subject themselves with parents or teachers. 
If you notice indicators that your child may be a victim of bullying or could be bullying others, it's important to have thoughtful conversations with them about it, as they will either need a safe space to air out their troubles or these signs could be pointing to other issues like depression. 
According to Stopbullying.gov, these are some common warning signs that your child could be being bullied:
Strange injuries

Clothing, books, electronics, or other belongings being lost or destroyed 

Feeling sick, frequent headaches or stomach aches, or faking illness

Unusual eating habits, like skipping meals, frequent binge eating, or coming home hungry

Worsening grades, loss of motivation, not wanting to go to school

Sudden loss of friends or avoidance of social situations

Decreased self-esteem or feelings of helplessness

Self-destructive habits like running away from home, talking about suicide, or harming themselves
Next, here are signs that your child might be bullying others:
Increase in physical or verbal fights

They're friends with kids who bully others

Increased aggression

Frequent visits to detention or the principal's office

You're finding unexplained extra money or new belongings on them

Deflecting by blaming other people or circumstances for their problems

Refusal to accept responsibility for their actions
Facilitating conversations around bullying and creating a safe space for your child to speak about their problems is a vital part of giving kids hope in these dreadful situations. By making them feel heard, it can help both a bullied child and a bully admit what's really happening and stop the bullying from continuing.
How to Be Active During National Bullying Prevention Month
One of the easiest ways to show support and draw attention to the cause is to wear orange on Unity Day, October 19th. Making decorations like posters and signs is also an excellent way to spread awareness. 
Since a main objective of National Bullying Prevention Month is to encourage others to educate themselves on bullying, another way to participate is to increase your own knowledge. Doing your own research and learning more about the dangers of bullying will better equip you to help others or to intervene when you see situations of bullying.
Bullying Prevention Month Hashtag
Another way to support the cause is to spread the word on social media! If you're looking to post, use the hashtags #BlueUp or just #bullyingpreventionmonth to help get the word out and remind people that October is Bullying Prevention Month.
If you'd like to get involved in something more action-based, there are a variety of activities and fundraisers on the national and local levels that you can take part in, such as the Run, Walk, Roll Against Bullying, a virtual event led by PACER.
Bullying Prevention Month Quotes
Though things like cyberbullying are relatively new issues, the idea of the strong picking on the weak is a very old one. While it's sad and unfortunate that we still have to deal with this problem, it does mean that there is a wealth of wisdom to draw from when coping with its consequences. 
"Be kind for everyone you meet is fighting a hard battle." 
– Plato
"Wrong is wrong even if everyone is doing it. Right is right even if no one is doing it." 
– St. Augustine
"There is no exercise better for the heart than reaching down and lifting people up" 
– John Holmes
Whatever you do, remember that bullying is a year-round issue. Students all across the U.S. are affected by bullying and cyberbullying daily, and being aware and educating others plays an integral part in bullying prevention. We all want our children to live happier, healthier lives, and putting an end to bullying is essential to making that happen.