One of the hardest parts of therapy can be reckoning with our emotions. Emotions affect all of us, but sometimes focusing on the ones that feel good can cause us to avoid the ones that feel worse. However, though not all emotions feel good at first, it can help to accept all of our emotions and function from the belief that none are bad or should be avoided. This approach is called emotionally focused therapy.
Emotionally focused therapy (EFT) is a therapeutic approach that helps individuals and couples with their emotional well-being and addresses emotional distress or relational challenges. It can be a difficult process, but this approach can help change unhelpful behaviors and negative patterns that occur as a result of your emotions, helping you live a better life.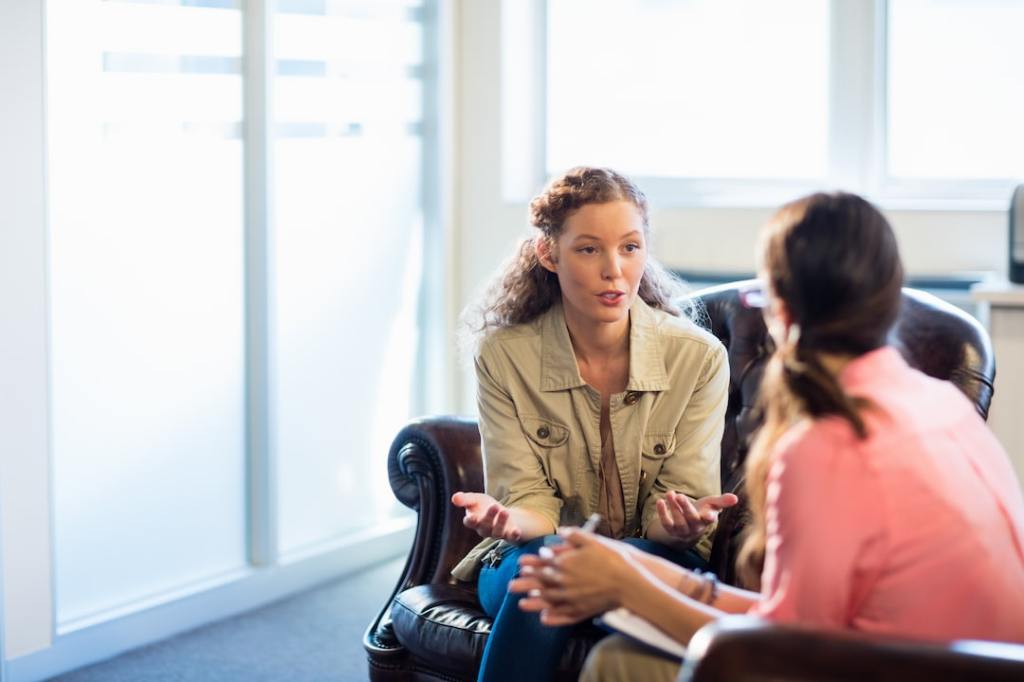 What Is Emotionally Focused Therapy?
Emotionally focused therapy is an approach to healing that works from the belief that emotions are strongly linked to identity. Emotions guide us in making decisions and forming preferences on a daily basis. 
EFT assumes that lack of emotional awareness is harmful, and avoiding or dismissing your emotions can lead to negative outcomes in your life, which is why it works to heal the connection between oneself and their emotions. EFT is a more experiential approach to therapy as it is subjective to an individual's needs, ideas, and the like. With this type of therapeutic approach, a client is the expert in their own emotional experience.
What Are the Key Principles of Emotionally Focused Therapy?
Some key principles in emotionally focused therapy follow the process of accepting and processing one's emotions. These steps include: 
Coming to know your emotions through increased awareness and acceptance. 

Learning to transform emotions and better use them as information as opposed to labeling them as "negative" or "harmful." 

Being able to navigate your emotional experiences in a controlled way rather than feeling like your emotions are controlling you. 
EFT helps with noticing, identifying, and naming emotions to know them in a new, fresh way. Becoming more familiar with and accepting of your emotions allows you to better control the behaviors, thoughts, and actions that your emotions cause—especially those that are negative or unhelpful.
What Are the Three Stages of Emotionally Focused Therapy?
The three stages of EFT are the following:
De-escalation:

This stage is focused on helping the individual to break out of negative patterns of cycles that contribute to emotional disconnection or avoidance. A therapist works with the individual to increase awareness of emotions and thoughts associated with these cycles. This in turn helps to improve self-regulation and reduce emotional distress.

Restructuring bonds with oneself or others:

In this stage, an individual may work on developing a new sense of emotional security with themselves, but also in their relationships. A therapist would guide the client to create new, positive interactions with emotions and improve self-awareness, causing one to trust their emotions as a helpful signal to honor and consider rather than something negative to run from or avoid.

Consolidation:

This final stage focused on the individual solidifying and reinforcing changes made in the previous stages of EFT. The client would practice integrating new patterns of problem-solving and start learning to trust their intuition and emotional cues in daily practice. This is where growth and security happens. 
Throughout these stages, therapists support and guide their clients through the difficult process of facing their emotions and unlearning the unhelpful habits that those emotions are tied to.
How EFT Differs from Other Therapeutic Approaches
Although EFT is particularly used for couples therapy, emotionally focused individual therapy (EFIT) may also offer principles for individual work. Here are some possible ways that EFIT differs from other therapy approaches:
It focused largely on emotions.

EFT places an emphasis on emotions and self-regulation, recognizing that emotions play a central role in our thoughts, behaviors, and relationship patterns. It helps individuals to identify and understand their emotions as they develop skills to self-regulate and express themselves in a healthy way.

It is an attachment-based approach.

EFT is firmly rooted in the importance of relationships and their impact on an individual's emotional health. It works towards helping people learn to develop healthy attachments in relationships, creating healthy and more satisfying connections.

It can incorporate techniques from other therapy approaches,

such as

cognitive behavioral therapy

(CBT),

solution-focused brief therapy

, and

mindfulness

-based approaches. Therapists often integrate many other approaches at the same time as EFT. This may include some emotional processing, creative visualization, role play, understanding one's own internal dialogue, and helping clients access and explore their emotions in a safe and therapeutic environment.
Benefits of Emotionally Focused Therapy
Often, EFT can offer benefits for individuals as well as couples seeking help with their relationships. 
One benefit is being able to have a more positive emotional connection with yourself or between you and your partner. EFT focuses on creating a safe and secure emotional bond with the self and in relationship connections. Because of this, it can help couples identify and understand their own underlying emotions and needs, leading to deeper emotional connections. 
It also offers improved communication skills, healthier patterns, and increased self-awareness. EFT encourages individuals to focus on honoring their own emotions, needs, and attachment styles. By better understanding of yourself, you can better relate to others.
Want to talk to a therapist?
Start working with one of our top-rated providers. We have availability now and accept most major insurances.
The Emotionally Focused Therapy Process
The process for EFT is often different for each individual. There is truly no formula, but rather a wide array of focuses, such as increasing self-awareness, healing from past relationship wounds or trauma, and exploring emotional regulation skills and positive coping skills to manage difficult emotions. 
It is important to note that the specific goals of EFIT can vary based on the individual and the therapist and client work collaboratively to tailor the therapy to their specific circumstances and challenges.
What Is the Goal of Emotionally Focused Individual Therapy?
The primary goal of EFIT is to develop a more secure sense of self, improve emotional regulation skills, and foster healthier relationships. 
By developing self-awareness, individuals can develop a deeper understanding of their own needs and patterns, as well as how those patterns affect others. Individuals can also gain insights into their own behaviors, reactions, and relationship dynamics, gaining clarity on which ones are healthy and which may need to change. 
Increasing self-esteem and self-compassion is also another goal that EFIT may help with as individuals develop a more positive overall sense of self. EFT encourages individuals to challenge self-criticism and self-defeating thoughts and beliefs, promoting a sense of self-acceptance and self-worth. 
If you think you could benefit from learning more about your emotions and receiving professional support and guidance, see a mental health professional about your concerns. They can help you identify specific behaviors that need to be addressed and work with you to create therapeutic goals and a treatment plan that works for you.