Highlights


We don't stop having sex nor do we lose interest in sex as we get older, but we do often experience changes in sexual function.
The good news is we can still maintain a satisfying sex life as we get older by understanding these changes in sexual function, communicating with our partner, and practicing safe sex.
First, educate yourself on how sexual function can change with age; common changes include low libido, erectile dysfunction, and evolving sexual preferences.
Also, maintain effective communication with your partner about your sexual preferences, including what you do and don't like.
Finally, continue to practice safe sex; respond to the rise of STDs among older individuals by using protection and communicating with your partner and healthcare provider.
A common misconception is that as we age, we stop having sex or lose interest in sex altogether. This simply isn't true, as supported by a recent University of Michigan/AARP poll of 1,000 older adults, or those between 65 and 80 years old. 
This poll found that nearly two-thirds of these older adult participants are interested in sex, and 40% are sexually active, suggesting that sexual interest and engagement don't stop as we age—but, that doesn't mean we feel comfortable divulging details about our sex life. Survey results also revealed that only 17% of participants had talked to their doctor about a problem they were experiencing with their sexual health. This suggests that older adults might feel hesitant to talk about sex with a healthcare provider, which raises concern, as maintaining a healthy and satisfying sex life is important at any age.
We want to empower you to maintain a healthy, satisfying sex life as you get older. You can do so by understanding how sexual function might change with age, communicating with your partner, and practicing safe sex.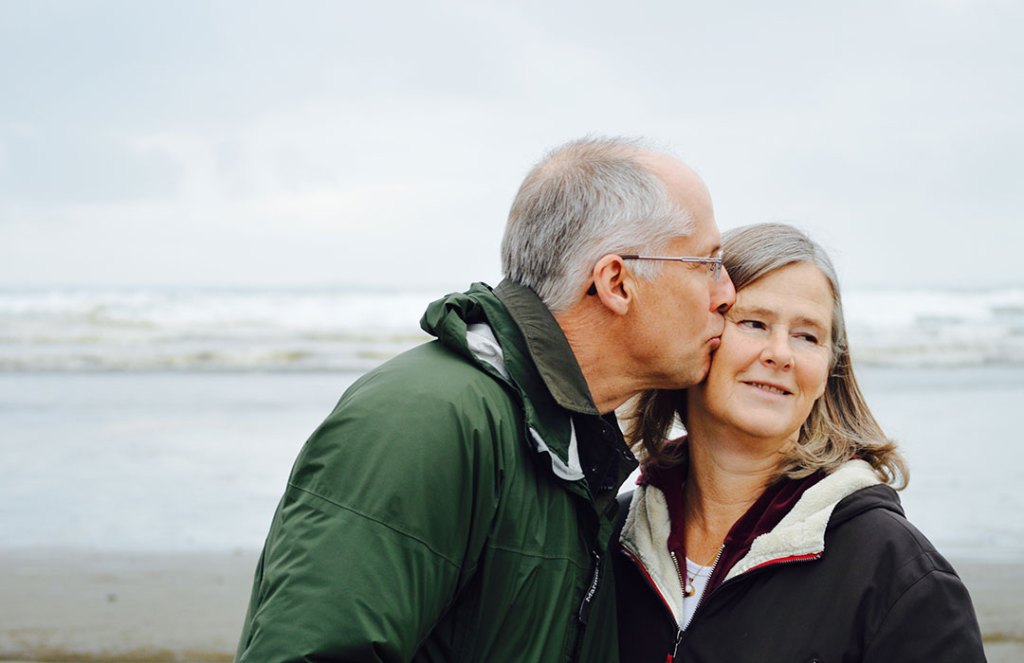 Understanding How Sexual Function Might Change with Age
The first step is to educate yourself on how sexual functioning can change with age. Because while sexual pleasure and interest do not decrease with age for many people, other changes do occur. For example, common changes in sexual functioning over time include: low libido, decrease in testosterone or estrogen, erectile dysfunction, as well as changes in sexual preferences.
Daniel Sher, Registered Clinical Psychologist and Consultant for the Between Us Clinic, says it's important to remember that these changes are natural, to feel comfortable working with a professional to address the changes (and explore potential causes), and to communicate about these changes with your partner, too:
"It is important to realize that changes in our sexual function and preferences are inevitable as a person ages—this is completely natural. It is still important, however, to feel comfortable enough to seek professional help. Why? There are things that can be done to help you compensate for these changes. Furthermore, erectile difficulties can serve as a warning sign of other health problems and getting assessed can help you improve your overall health. Communication is also vital in light of the fact that libido and sexual preferences can change naturally as a person ages."
Now, keep in mind: Despite these changes in sexual functioning, you can have a happier, more satisfying sex life than ever before. "It is possible for your sex life to be even more fulfilling during your later years," says Sher. "Why? As a person ages, they typically develop a greater degree of self-confidence and insight as to what works for them in the bedroom and what doesn't. It's important to use this wisdom to deepen your sexual experience." 
Communicating with Your Partner
Communication is important in every major area of your life, including your sex life. You can supplement a satisfying sex life as you age by maintaining effective communication with your partner. Sex Therapist Angela Watson explains how communicating has helped both her and her husband stay sexually satisfied in their marriage of 20 years:
"Our key to maintaining sexual satisfaction over the years has without a doubt been communication. This means being open with one another about our feelings, sexual interests, what turns us on, and most importantly what turns us off. Being 100% open with one another has allowed us both to explore many aspects of our sexuality which have taught us many lessons about our needs and desires.
Another thing that has done wonders for our sex life is being open with experimentation and open to fulfilling one another's fantasies. While sex definitely does change with age, our sex life has gotten better with age (much like a fine wine)."
You can enjoy an improved sex life as you age, too! Remember the importance of communicating with your partner, and then follow our next steps: practicing safe sex and understanding how sexual functions can change over time.
Practicing Safe Sex
Also, continue to practice safe sex. It's always important to practice safe sex, regardless of your age. Unfortunately, though, it seems that this isn't a priority among many older adults. 
Recent reports from the Centers for Disease Control and Prevention (CDC), show that STDs are on the rise in the US—especially among older adults. For example, in 2012, there were 20,321 cases of chlamydia reported among 45 to 54 years old; and in 2016, that number rose to 32,316 cases. Similarly, there were 12,383 cases of gonorrhea reported in 2012 among this age group and 24,142 in 2016. There was also a rise seen among individuals aged 55 to 64 and 65 or older. 
Why the increase? There are likely a few factors involved: 
First, older adults may date around after divorce or the death of a partner. 

Second, their immune systems aren't as strong, as these systems lose the ability to fight off disease over time. 

Also, older adults don't typically receive STD screening because they are hesitant to bring the subject up to their doctors. 
The good news is there's an easy fix for getting these STD rates down again: engage in safe sex practices. This means using protection and, again, communicating with both your partner and your health care provider. This is essential to maintaining a satisfying (and healthy) sex life.