Highlights


Since 1989, October has been Domestic Violence Awareness Month—a 31-day period to reflect on the massive impact this form of abuse has on Americans. 

The purpose of this observance period is to show support, become better informed, and share resources wherever possible—tools that may help survivors escape their domestic abuser. 

Purple clothing and ribbons are used during Domestic Violence Awareness Month, and the universal hand sign for domestic violence is also a signal that all of us should be encouraged to learn and recognize.   

Some of the best ways to celebrate Domestic Violence Awareness Month include wearing purple and displaying ribbons, volunteering at a local outreach program, and sharing domestic violence resources online that connect survivors with advocacy groups who can help.
Each October, volunteers, families, employers, and advocacy groups work together for a common purpose: to bring Domestic Violence Awareness Month into the public's eye. Since 1989, 31 days in October remind us of the strength and resilience of domestic violence survivors—we're encouraged to help support them through educating ourselves, volunteering,  and sharing the resources available for those affected.
Domestic violence is a huge issue, as recent findings indicate it accounts for 15% of all violent crimes committed in the U.S. while draining over $8.3 billion dollars from the economy annually. Even more shocking, 20 people become victims of domestic violence every minute—with 20,000 phone calls a day made to domestic violence hot lines. These numbers and statistics don't account for the emotional wounds left behind by domestic violence, but the message is still the same: Abuse leaves a deep impact.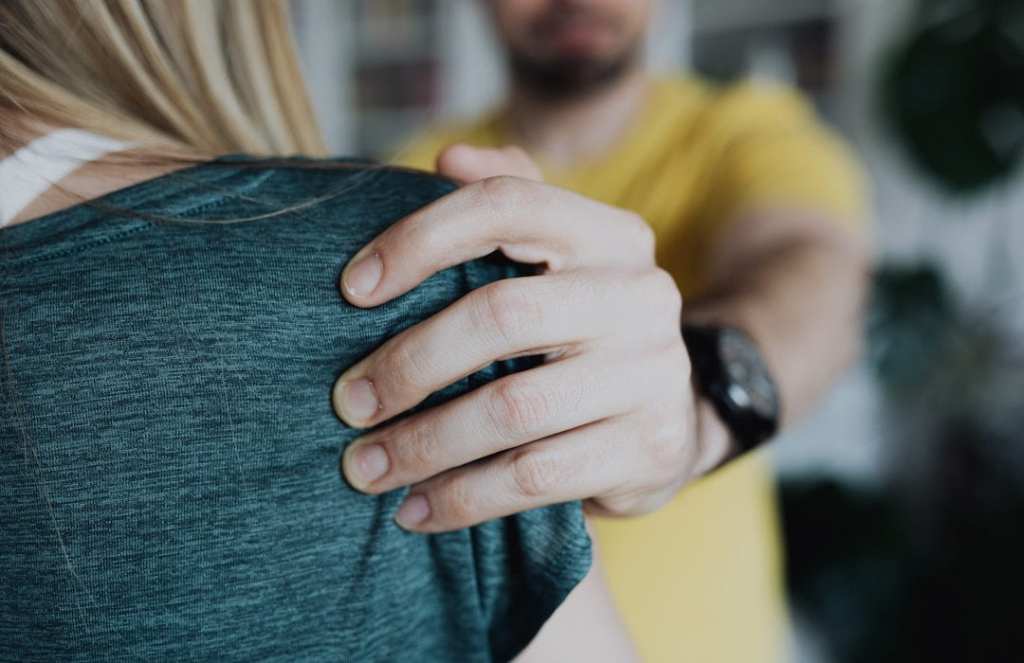 What Is the Purpose of Domestic Violence Awareness Month?
Domestic Violence Awareness Month serves to educate and warn the public about forms of abuse that can cause lasting harm and trauma to survivors and their loved ones. This annual observance can also help prevent domestic violence from becoming a generational pattern—young boys are 10 times more likely to become abusive if they witness their own mother being abused. 
Creating dialogue and showing support during Domestic Violence Awareness Month not only helps prevent abuse from occurring—the hope is to also provide victims with the resources and information they need to leave abusive situations and households. 
What Is the Symbol for Domestic Violence Awareness?
Purple has been traditionally used as the color for Domestic Violence Awareness Month and is worn by domestic violence survivors as well as supporters and volunteers. Purple ribbons are displayed and purple t-shirts are commonly worn throughout October. 
Beyond the colors used to symbolize Domestic Violence Awareness Month, a universal hand sign, the symbol for domestic violence, is used as a signal for help in instances where someone is trying to escape an abusive situation. 
If possible (and if it's safe to do so), those who are suffering from domestic abuse and violence can use the following to signal for help: 
Hold up your hand, with the palm out and your fingers and thumb outstretched as though signaling for someone to stop

Tuck your thumb across your palm horizontally

Close your fingers over the top of your thumb, making a fist

Repeat from the beginning as needed to get passerby's attention
Remember, as with any dangerous situation, people who are suffering from abuse should use extreme caution when trying to escape their abusers; avoid sharing your plans to leave the situation or household. 
If you or someone in your household is being subjected to abuse, always delete your internet search history and never leave browser tabs or text messages open after accessing domestic violence resources. 
Want to talk to a therapist about past abuse or neglect?
Start working with one of our top-rated providers. We have availability now and accept most major insurances.
How Do You Celebrate Domestic Violence Awareness Month?
Some great ways to celebrate and raise domestic violence awareness during October include the following: 
Wear the color purple, or proudly display purple ribbons in your home, office, or on personal items. 

Volunteer at a local outreach program that works with survivors of domestic violence (if you feel comfortable doing so).

Spread resources and share information about Domestic Violence Awareness Month, both electronically and in person. 
Just as importantly, the following resources can be shared on social media platforms, newsletters, and more: 
With public support, domestic violence survivors may be encouraged to leave unsafe relationships that are causing them harm. Though we may not immediately see the ripples created by domestic violence, October offers us the chance to reflect, remember, and remain vigilant.