Highlights


Volunteering can seem like an impossible time commitment: Work, relationships, and our home life may get in the way of giving back, even if we want to volunteer.
But if we make time to volunteer, not only will our perception of time become stretched, we'll also experience lower levels of stress and reduce our risk for high blood pressure or heart disease.
Just remember not to go overboard—volunteering more than 15 hours per week is associated with increased unhappiness and may actually hurt your mental health due to burnout.
The benefits of volunteering can be enjoyed in a variety of ways; for example, by starting a food bank garden, donating clothes or furniture to local organizations, or helping at community events.
I always wanted to volunteer in my late teens and early twenties but felt like life was so chaotic that trying to support anyone else was probably too much. So instead, I spent several years waiting for the "perfect time" for life to calm down. Once I arrived at a sense of white picket-fenced adulthood, I promised myself that I'd help feed the homeless, volunteer with an after-school program, deliver with Meals on Wheels; you know, all the things. And as I waited, I went through breakups, roommate crises, family drama, and some serious health scares.
All of those events served to solidify the reasoning that I was probably better off using my time to take care of myself before helping others, like putting on my oxygen mask in an airplane before helping someone with theirs. Like most other people, I wanted to volunteer but didn't believe I had time to. 
What I didn't know was that by volunteering, I could've made some of the chaos (that I thought was so horrible) more bearable; and some of the challenges I thought I faced might've seemed far less insignificant. As it turns out, volunteering or being generous can actually enhance our quality of life, increase feelings of well-being, and protect us against stress, even though we're giving our own valuable time away to assist others.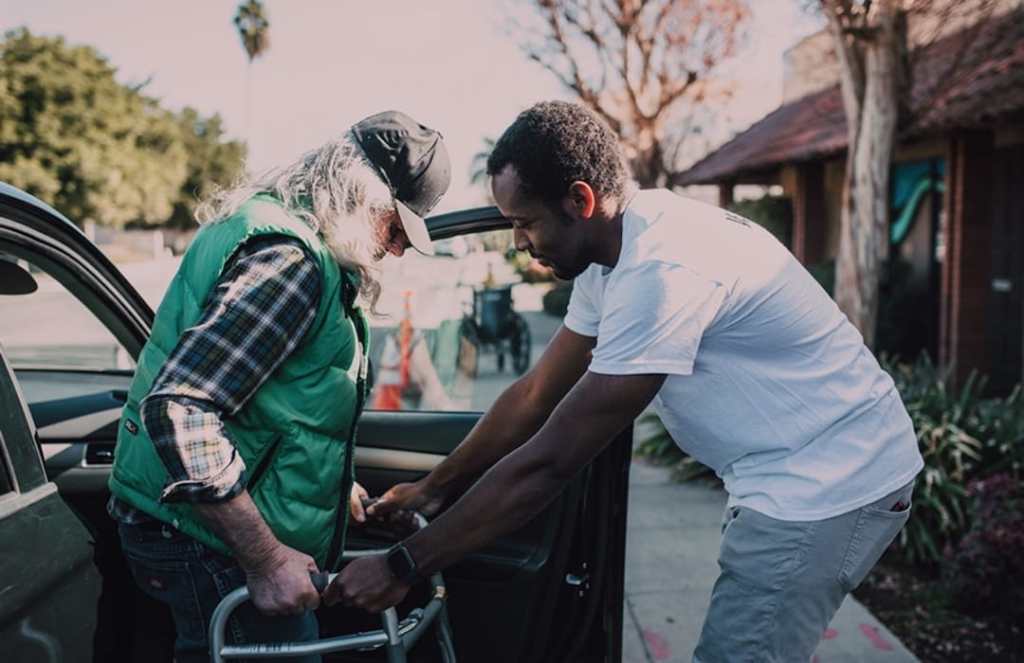 Volunteering Reduces Stress and Makes Us Feel Less Pressed For Time
While I was busy waiting for life to eventually calm down, my brain kept telling me that realistically, I didn't have any time to volunteer. I was too busy with class, work, friends, relationships, and traveling. But when we choose to volunteer our time toward helping others, making us feel like we have more time on our hands. There's no way to make a 24-hr day longer, but choosing to volunteer can make people feel as though they actually have more time in their day to get their personal tasks accomplished.
Part of this may be due to the way that volunteering relieves stress; our brain's reward center is activated when we behave altruistically, releasing endorphins that encourage pro-social behavior. Volunteering regularly may also play a role in lowering one's risk of high blood pressure or heart disease. These are both diseases that can be caused by high levels of anxiety for extended periods of time—but the benefits of volunteering seem to aid in the prevention of cardiovascular diseases by reducing our perceived stress.
Other Mental Health Benefits of Volunteering and Generosity
Sometimes a little perspective is the best way to remind ourselves of what we have going right—after all, our brains tend to hyperfocus on the negatives instead of the big picture. And that's why volunteering seems to be so beneficial: Helping others in need serves as a reality check. Seeing someone, especially a family, without food, shelter, or adequate clothing might make your old car, your demanding job, or expensive household repairs seem a little less important. 
A study that compared people who gave money to others against a control group who spent money on themselves found that the former group reported higher feelings of happiness and fulfillment over the course of a month—and even showed increased brain activity in areas associated with positive decision-making. The benefits of volunteering seem to improve our mental and physical health, with a report from the U.K. concluding that volunteering, even for short time periods, improves our physical health, mental health, and perceived quality of life.
4 Ways to Enjoy the Benefits of Volunteering 
The benefits of volunteering are definitely good for both your mental and physical wellbeing, but once volunteers start to commit to more than 15 hrs a week, they show a sharp decline in their mental health and overall happiness. Aim for 2-5 hours per week if you're interested in giving volunteer work a try. There are endless ways to become involved and make a contribution to a cause of your choosing, and a few may involve: 
Donating food, clothing, or furniture:

I use about half of my garden to donate fresh produce to the food bank, and I've found that that helps me feel a sense of fulfillment and satisfaction. You don't always have to go volunteer in-person to give back, and for some, doing so may not be possible. But by donating food, clothing, or things like furniture that you no longer need or use, you're still giving back and can enjoy the benefits of volunteering, too. 

Helping with or running a community event:

Oftentimes, community events need volunteers to help run things. Is there a better way to enjoy the benefits of volunteering than getting a free ticket to a local event? It's also a great opportunity to meet other people who are involved in your community. They may hold different beliefs and viewpoints on different local issues, granting you a wider perspective. 

Giving time to an afterschool program:

Schools may offer opportunities to tutor or spend time with youth. If you have any experience working with kids or are simply looking for another way to enjoy the benefits of volunteering, spending a few hours a week with a child or teen who needs a consistent role model could be the perfect fit. 

Volunteering your skills:

If you have special skills, which might include sewing, law practice, graphic design, cooking, carpentry, or if you're good with animals, you may be able to further your skillset and assist in other ways, too. For professionals, performing pro-bono work could help to advance your career, and keep your mental health and happiness in top shape as you pursue your goals. 
The benefits of volunteering seem a little paradoxical. Time is a valuable resource, but in giving a portion of it away, we're actually rewarding ourselves while helping others, too. We all have our problems, goals, and personal lives to attend to. There are certainly moments when I have to walk away from everything for a bit. I'll put some headphones in, and go pull weeds from in-between the corn and tomatoes. 
And when I remember that a family in need may get to enjoy dinner tonight because I made time to grow something fresh seems to offset most issues fairly quickly. I think that stepping away from our daily hustle and the tunnel vision it creates to volunteer, even if only for a few hours, could be one of the keys to long-term happiness.