Highlights


Volunteering often appears daunting due to time constraints—work, relationships, and household commitments may compete for our attention, despite our desire to give back.
Yet, when we carve out time for volunteering, not only does our perception of time expand, but we also unlock the potential for reduced stress levels and a lowered risk of high blood pressure or heart disease.
It's essential to strike a balance, though—excessive volunteering, surpassing 15 hours per week, can lead to heightened unhappiness and potential mental health challenges stemming from burnout. T
The rewards of volunteering manifest in diverse forms, from cultivating a food bank garden to donating clothes or furniture to local organizations, or actively participating in community events.
I had always dreamt of volunteering during my late teens and early twenties, but the chaotic whirlwind of life made me hesitate to lend a helping hand. It felt like I was on a quest to reach that idyllic stage of white picket-fenced adulthood when I could commit to feeding the homeless, supporting after-school programs, and delivering meals with organizations like Meals on Wheels. 
During my wait, I encountered breakups, roommate conflicts, family turmoil, and even faced some serious health scares. Little did I know that volunteering could have made the chaos I deemed unbearable more manageable. It might have made the challenges I faced seem less daunting. 
As it turns out, being generous and giving your time to help others can enrich your own life, boost your sense of well-being, and provide a shield against stress, all while giving away your valuable time to support others. Learn more below about the mental and physical benefits of volunteering, and how to get started.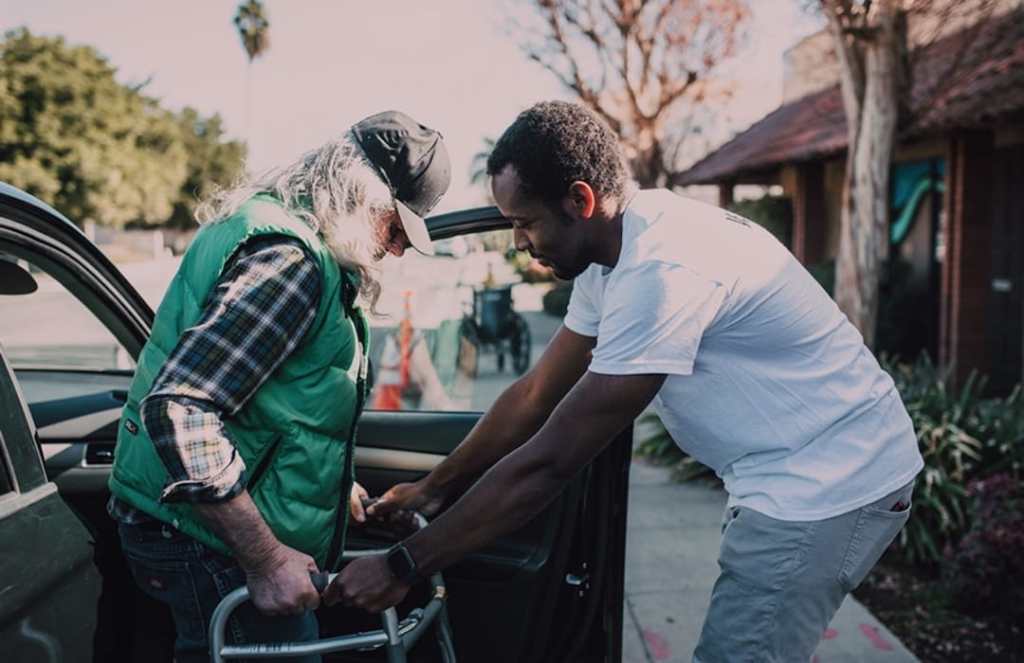 What Is the Main Benefit of Volunteering?
There are several benefits of volunteering, but the primary benefit seems to be stress relief. Part of this may be due to the way that volunteering relieves stress; our brain's reward center is activated when we behave altruistically, releasing endorphins that encourage prosocial behavior. 
Other benefits of volunteering include: 
Possibly

lowering one's risk of high blood pressure or heart disease. 

Giving the impression that you have

more time

in your day for things other than volunteering. 

Allowing the brain to focus less on the negative aspects of life, which

our brains tend to hyperfocus

on. 
The benefits of volunteering seem to improve our mental and physical health, with a report from the U.K. concluding that volunteering, even for short periods, improves our physical health, mental health, and perceived quality of life.
Why Is Volunteering Important?
Volunteering is important because it can foster a sense of:
Compassion

: Volunteering exposes individuals to various cultures, perspectives, and social dilemmas. This exposure can foster compassion,

empathy

, and a more extensive worldview, fostering individuals who are more compassionate and receptive to differing viewpoints.

Emotional well-being

: Numerous studies have highlighted that volunteering can positively affect one's mental and emotional well-being. It can reduce stress levels, alleviate feelings of

loneliness

, augment

self-esteem

, and enhance overall contentment.

Community

: Volunteering allows individuals to actively engage in serving their communities and contributing to the betterment of society. It plays a role in addressing a wide range of social, ecological, and humanitarian concerns, thus leading to an enhancement of the world.

Personal achievement

: Volunteering provides opportunities for personal advancement and growth. It enables individuals to acquire fresh skills, attain practical experience, and broaden their understanding, which can have favorable implications for both personal and career development.

Unity

: Volunteering encourages a sense of belonging and social unity within localities. It brings people together, promotes cooperative efforts, and strengthens the bonds that create a more robust and cohesive society.
Volunteering offers important benefits not only for the communities it serves but also for the individuals who participate in it. 
Want to talk to a therapist?
Start working with one of our top-rated providers. We have availability now and accept most major insurances.
What Does It Mean to Serve Others?
Serving others means prioritizing their well-being and their needs above your own, selflessly offering support and assistance. Serving can take various forms, from acts of kindness and volunteering to charitable donations and providing emotional or practical support.
Engaging in acts of service fosters strong, interconnected communities, bringing fulfillment and personal growth. Just keep in mind that once volunteers start to commit to more than 15 hours a week they show a sharp decline in their mental health and overall happiness. Aim for 2-5 hours per week if you're interested in giving volunteer work a try. 
What Is a Good Way to Serve Others?
There are endless ways to serve others and make a contribution. A  few may involve: 
Donating food, clothing, or furniture

: If you have a garden, donate fresh produce to the food bank—my way of giving back. You don't always have to go volunteer in person to give back, and for some, doing so may not be possible. But by donating food, clothing, or things like furniture that you no longer need or use, you're still giving back and can enjoy the benefits of volunteering, too. 

Helping with or running a community event

: Oftentimes, community events need volunteers to help run things. Is there a better way to enjoy the benefits of volunteering than getting a free ticket to a local event? It's also a great opportunity to meet other people who are involved in your community. They may hold different beliefs and viewpoints on different local issues, granting you a wider perspective. 

Giving time to an afterschool program

: Schools may offer opportunities to tutor or spend time with youth. If you have any experience working with kids or are simply looking for another way to enjoy the benefits of volunteering, spending a few hours a week with a child or teen who needs a consistent role model could be the perfect fit. 

Volunteering your skills

: If you have special skills, which might include sewing, law practice, graphic design, cooking, carpentry, or if you're good with animals, you may be able to further your skills and assist in other ways, too. For professionals, performing pro-bono work could help to advance your career, and keep your mental health and happiness in top shape as you pursue your goals. 
The benefits of volunteering seem a little paradoxical. Time is a valuable resource, but in giving a portion of it away, we're rewarding ourselves while helping others, too. We all have our problems, goals, and personal lives to attend to. There are certainly moments when to walk away from everything for a bit. I'll put some headphones in, and go pull weeds from in-between the corn and tomatoes. 
And when I remember that a family in need may get to enjoy dinner tonight because I made time to grow something fresh seems to offset most issues fairly quickly. I think that stepping away from our daily hustle and the tunnel vision it creates to volunteer, even if only for a few hours, could be one of the keys to long-term happiness.