Meetings, appointments, consultations, and more can all now be held efficiently through any number of video conferencing sites. Businesses are adapting to the change, using e-meetings to maintain and create new connections across the globe. 
Across the sectors, businesses are discovering the benefits of new remote communication, and therapy and psychiatry are no different. The traditional in-person set-up of psychiatry is still as relevant and effective as it's always been, but telepsychiatry is rising to meet the wave of underserved communities, providing mental health resources where there previously were few.
We'll detail these benefits of telepsychiatry and also delve into our specific telepsychiatry program here at Thriveworks – in which we offer comprehensive, compassionate care.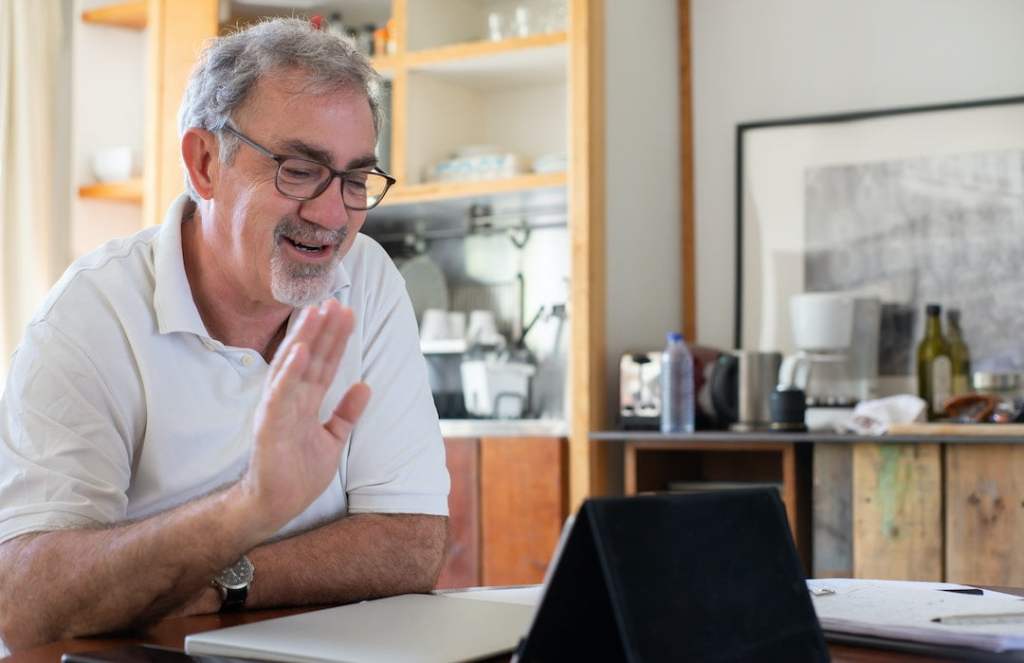 What Is Telepsychiatry?
Telepsychiatry uses phone or video conferencing to provide psychiatric care, which involves diagnosing, treating, and/or preventing mental health disorders. Unlike other mental health professionals, psychiatric providers can treat mental health conditions with prescription medication. 
In most ways, telepsychiatry is identical to traditional psychiatry, but the meetings between telepsychiatrist and patient are held virtually. It can seem strange to some, but it is an effective form of mental health care endorsed by the American Psychiatric Association (APA).
The importance of mental health is often overlooked, but it's a very necessary part of medicine. Mental illness is one of the most common health issues in the U.S., and, according to the U.S. Centers for Disease Control and Prevention, over 50% of Americans will experience a mental illness during their lifetime. American telepsychiatry is an adaptive and innovative way to help meet the needs of those who have mental health issues.
Telepsych has existed for many years, but it was rarely utilized, most people being in favor of face-to-face treatment. However, due to the COVID-19 pandemic, use of telepsychiatry has skyrocketed since 2020.
What Does Telepsychiatry Do?
Though telepsychiatry is extremely similar to traditional in-person psychiatry, it increases access to these services.
During the pandemic, people could no longer meet with their therapists and psychiatrists in person, but they still needed access to care and resources. Like with many other sectors and organizations, it became necessary to have what used to be in-person conversations over the phone or through virtual meetings. 
This allowed the mental health industry to keep functioning and enabled people in need of mental health services to continue to receive care. It also helped the field grow. As video conferencing technology started to advance, telehealth services began to expand with it, making telepsychiatry a much more efficient and effective avenue for mental health care. Telepsychiatry became an effective way to reach people that were unreachable.
Despite how common mental and behavioral health issues are, there have not been adequate resources to meet the demand for care, causing what's known as the "Mental Health Gap." Now, with the advent of telepsych, mental health care is more accessible—and convenient—than it's ever been.
What Are the Benefits of Telepsychiatry?
There are a number of benefits to telepsychiatry, especially since it makes psychiatry so readily-accessible. Some examples of these benefits include:
      1. Reducing delays and waiting times 
Telepsychiatry gives psychiatrists and patients more flexibility in scheduling appointments. Since there is no need for patients to leave wherever they are to go to their psychiatry sessions, more times become available for them to meet with their provider.
      2. Creating more accessibility 
Telepsychiatry gives people in rural areas, working adults, people with children, people with transportation restrictions, and elderly people much more accessible care. Therapy and psychiatry are often centralized, with offices in larger cities so as to reach the most people per office, so the nearest office could be an hour or more away from many.
Having access to telepsychiatry reduces the need for working people to take time off, parents to pay for childcare, and for others to pay for transportation, thereby getting rid of many barriers to care. Overall, telepsychiatry better allows mental health providers to meet the unique needs of their patients.
      3. Allowing patients to have a comfortable setting
For some, a therapist or psychiatrist office can put them in a good mindset for receiving help. For others, though, new settings can be anxiety- and stress-inducing. Telepsychiatry allows these individuals to talk to their provider in a setting that's most comfortable to them, such as their home.
Online meetings can also provide relief for people with panic disorders or agoraphobia, since it negates the need for travel, taking more stress out of the equation. Removing extra stress around the unfamiliar can help sessions be more productive and even effective.
      4. Reducing stigma
Though receiving mental health care is becoming more normalized, there is still stigma around it. For people worried about that stigma, telepsychiatry allows them to attend their sessions without being seen walking into the office. Plus, much of the stigma evokes a certain image of traditional or stereotypical therapy and psychiatry: sitting on a couch, talking to someone with a notebook, etc. Telepsychiatry looks very different from this, which may remove some of the uncomfort or stigmatization around it for people new to therapy or psychiatry.
Want to talk to a psychiatric nurse practitioner?
Start working with one of our top-rated providers. We have availability now and accept most major insurances.
How Effective Is Telepsychiatry? Is Telepsychiatry as Effective as In-Person Practices?
Yes, telepsychiatry is just as effective as in-person psychiatric services. In fact, research has shown that telepsychiatry can lead to improved results, as well as higher patient and psychiatrist satisfaction.
In terms of quality of service, telepsychiatry has been shown to match in-person psychiatry in care quality, effectiveness of treatment, and diagnostic accuracy.
What Is the Best Telepsychiatry Platform?
There are a wide number of psychiatry companies to choose from. However, here at Thriveworks, we offer our clients the comfort and convenience of telepsychiatry, plus other select benefits that will help you on your journey to mental wellness.
Thriveworks psychiatry resources and services are accessible online, including medication management and a comprehensive assessment. Our psychiatric nurse practitioners are accessible quickly, often available for video conferencing within the same week of scheduling, and able to treat a variety of mental health disorders online including anxiety disorders, depressive disorders, bipolar disorders, and emotional disorders.
Thriveworks offers additional benefits, including: 
No waitlists:

New clients can meet with their provider often within the same week of scheduling.

Insurance accepted:

We accept a wide range of insurance plans, covering 1 in 2 insured Americans across the country, as well as offering affordable self-pay options for the uninsured.

Evening and weekend appointments:

Our schedule is made to fit yours by offering appointments on both evenings and weekends, in addition to the standard daytime and week-day sessions.

High-touch support:

The Thriveworks support team is there to offer you high-quality support 7 days a week via phone and email.

Lasting relationships:

Our clinical team is dedicated to building long-standing careers here and lasting relationships with clients.
If you're looking for support and help with your mental health, consider booking an online psychiatry appointment with Thriveworks. Telepsychiatry can offer you a flexible and personalized route to improving your mental health. Thriveworks is here and ready to assist you in finding whatever you need, so call or book online today.