We accept insurance and offer affordable self-pay rates
Pay as little as $10 a session using your insurance
Don't see your insurance? Contact us! We accept hundreds of insurance plans.
Not using insurance? We have affordable self-pay rates starting as low as $99 a session.
Exceptional mental health care designed for your needs

Video Sessions
In-person care doesn't work for every lifestyle or schedule. We offer effective and convenient psychiatry services over video.

Only Top Providers
The search for an exceptional provider can be discouraging. We hire only the top 4% of providers* to join our team and provide the very best care to our clients.

High-Touch Support
On-the-spot support is hard to come by. Our support team and medical assistants are available 7 days a week including holidays, and your provider is available between sessions by phone or email.

Full 30-Minute Sessions
Others hide how long your psychiatry sessions last, and they're often only 10-15 minutes after your initial intake. We offer full 30-minute sessions every time, following a comprehensive 50-60 minute intake.

No Waitlists
Average wait times for mental health care can be three weeks or more. We provide next-day psychiatry appointments to new clients.

Evening and Weekend Appointments
Finding a convenient time to get mental health care is a challenge. We offer options that work with busy schedules like evening and weekend sessions.

Flexible Cancellations
Life happens, we get it. We have a flexible cancellation policy that lets you cancel or reschedule your session for free with just 23.5 hours' notice.

Real, Lasting Relationships
Many online mental health services aren't practices but loosely affiliated directories of providers. We have full-time, dedicated team members who build long-standing careers here and lasting relationships with clients.
Getting psychiatric care at Thriveworks is easy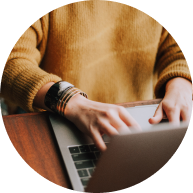 Step 1)
Book online or call us to schedule your first session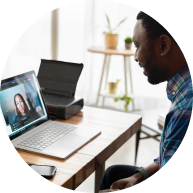 Step 2)
Chat with a medical assistant to ensure the best provider match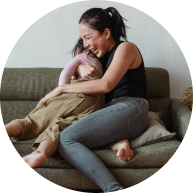 Step 3)
Start treatment and work toward a happier, healthier life
Join others receiving life-changing mental health help at Thriveworks
★★★★★
"Dr. Brenke has changed my life for the good. Her choice of meds has been better than any doctor I have seen. Also very nice and kind."
★★★★★
"I've been very satisfied with both my medication management and my general meetings. The staff is very responsive and I absolutely love the extended hours. Without them, I wouldn't be able to go so consistently."
★★★★★
"My therapist Laura Guise is amazing! Psychiatric Nurse Meghan Rise is amazing! I am so fortunate to have both of these providers to support me. We all know that trying to manage one's own mental health can be tough."
★★★★★
"I spoke to a real person right away and got help that day. When you are in the middle of a pandemic and need mental health care right away, it was nice to have Thriveworks respond to me and give me immediate care and support."
Online psychiatry provides quality, effective care

Our board-certified psychiatric providers diagnose and treat mental health conditions online over video. They're able to prescribe medication, if needed, to adult clients suffering from:

We offer personalized treatment plans based on your unique needs. They're able to prescribe medications like antidepressants, anti-anxiety medication, and other non-stimulant medications.
Get added support from our online counselors
We also offer online counseling at Thriveworks, which uses therapeutic techniques to help individuals, couples, and families manage their unique challenges, including:
Our online counselors are licensed providers who deliver exceptional mental health care by phone and video. They're able to work with your psychiatric provider to offer comprehensive and effective treatment.
FAQ about psychiatry at Thriveworks
*We only hire the top 3.7% of clinical applicants (data as of 07/21)