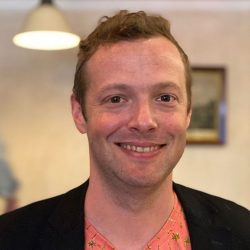 Hampton Lintorn-Catlin
Expertise
Leadership, team-building, organizational excellence, computer programming, public speaking
A technology and product leader with over 17 years of industry experience, Hampton serves as the Chief Technology Officer at Thriveworks. He oversees the development and use of corporate IT and Software Development, and works with key stakeholders to build the proper products to support the goals of the organization.
Hampton is best known for creating the Sass language, the world's first and most popular CSS language, adopted by Google, Facebook, Apple, Microsoft, and more. He was also Co-Founder and CEO at Veue TV, a live video platform where video hosts and audiences can interact in real-time.
Hampton speaks regularly at conferences about leadership, product design, technology, and how to thrive as an ADHD and LGBT leader in the tech field. He finds meaning and joy in building the most innovative businesses, teams, and software in the world.
About our editorial policy
We are dedicated to providing you with valuable resources that educate and empower you to live better. We reference authoritative sources that provide additional value, and we also enforce a tiered review process in which at least three individuals — one or more being licensed clinical experts — review and edit each piece of content before it is published. In addition, we frequently update old content to reflect the most up-to-date information. Read more about
our editorial policy
today.
About our expert review panel & process
Thriveworks' own licensed mental health professionals ensure that our content is accurate and truly helpful to our readers. These professionals bring extensive experience and expertise in the mental health field, which enables them to verify the integrity of our content and improve its value via their own insights and tips. Read more about our
mental health experts
today.
---
Articles written by Hampton Lintorn-Catlin