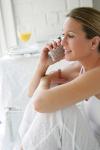 Do Counselors Use Telephone Counseling?
Professionals use telephone counseling—often.
In a recent survey of American Psychological Association (APA) member psychologists, 98% affirmed that they have provided counseling services over the phone. And 69% responded that they provide psychotherapy by phone, at least on occasion.8 Similarly, a survey of psychiatrists found 45% use the telephone as an adjunct to face-to-face (FTF) sessions, and 19% use it as their primary medium for providing treatment.9
Also, research has found that for some medical practices up to 70% of problems are handled solely by telephone. 10 In my own study of 841 mental health professionals, 73% reported using telephone counseling. Such data irrefutably shows that the use of the telephone in the delivery of mental health services is almost universal, and this doesn't even include para-counseling services, such as those provided through radio or television call-in programs.
---
8VandenBos, G.R., & Williams, S. (2000), October. The Internet versus the telephone: what is telehealth, anyway?Professional Psychology: Research and Practice, 31(5), 490-492.
9Lester, (2002).
10Anderson, D. M., Duffy, K., Halltt C. D., Marcus A. C. (1992, May-June). Cancer prevention counseling on telephone helplines. Public Health Reports, 107(3), 107.