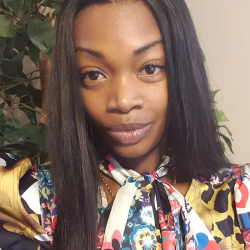 Board-Certified Psychiatric Mental Health Nurse Practitioner
Dr. Khadija Tuitt, PMHNP-BC
Education
Doctor of Nursing Practice (DNP) from the University of Massachusetts-Amherst
Expertise
General/Undisclosed: Behavioral Issues, Bipolar, Borderline Personality, Career, Child Therapy, Coping Skills, Divorce, Domestic Abuse, Eating Disorders, Family Conflict, Gender Identity/Transgender Concerns, Grief, Health Monitor, Infidelity, Life Transitions, Men's Issues, Mental Stress, Military/Veteran, Narcissism, Obsessive-Compulsive, Oppositional Defiance, Parenting, Pregnancy, Prenatal, Postpartum, Relationships, School Issues, Self Esteem, Sexual Abuse, Sexual Orientation/Lesbian, Gay, Bisexual, Sleep/Insomnia, Stress, Substance Use, Trauma and PTSD, and Women's Issues
Khadija Tuitt is a Board-Certified Psychiatric Mental Health Nurse Practitioner (PMHNP-BC) with over 15 years of nursing experience in both acute inpatient and community outpatient psychiatric nursing. Khadija specializes in evaluating, diagnosing, and treating individuals across the lifespan who suffer from a host of mental health issues including depression, anxiety and panic disorders, post-traumatic stress disorder (PTSD), bipolar and mood disorders, psychotic disorders, and co-occurring substance use disorders.
Khadija completed her Doctor of Nursing Practice (DNP) at the University of Massachusetts-Amherst. She is certified in Medication-Assisted Treatment (MAT) and Motivational Interviewing. Khadija was a 2019 nominee for Schwartz Center National Caregiver of the Year and she received the 2020 Diversity Award from the University of Massachusetts-Amherst College of Nursing.
About our editorial policy
We are dedicated to providing you with valuable resources that educate and empower you to live better. We reference authoritative sources that provide additional value, and we also enforce a tiered review process in which at least three individuals — one or more being licensed clinical experts — review and edit each piece of content before it is published. In addition, we frequently update old content to reflect the most up-to-date information. Read more about
our editorial policy
today.
About our expert review panel & process
Thriveworks' own licensed mental health professionals ensure that our content is accurate and truly helpful to our readers. These professionals bring extensive experience and expertise in the mental health field, which enables them to verify the integrity of our content and improve its value via their own insights and tips. Read more about our
mental health experts
today.
---