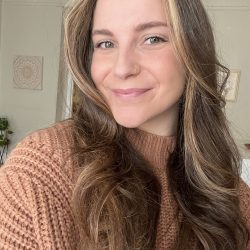 Mary Beth Britten
Education
BA in English from Virginia Tech; MAT from Austin Peay
Expertise
Research and academic writing, self-care, pets, health
Mary Beth is a high school English teacher in the Richmond area. She is passionate about giving her students a voice and prides herself on helping them understand the importance of the written word. Whether it be academic writing or copywriting, she knows how to reach and engage with her intended audience. Her favorite part of the school day is when a light bulb goes off in a student's mind while they're writing. Mary Beth received her Bachelor's degree in English and her Master's degree in Teaching Secondary English. She has taught grades 7th-12th in her professional career, teaching students in Virginia, Georgia, Tennessee, and Ethiopia. Recently, she has ventured into a career in copywriting. Outside of teaching and copywriting, Mary Beth has enjoyed traveling the world. When she's not on a long-distance adventure, she's enjoying a local restaurant with friends or a trail with her German Shepherd mix, Willow.
About our editorial policy
We are dedicated to providing you with valuable resources that educate and empower you to live better. We reference authoritative sources that provide additional value, and we also enforce a tiered review process in which at least three individuals — one or more being licensed clinical experts — review and edit each piece of content before it is published. In addition, we frequently update old content to reflect the most up-to-date information. Read more about
our editorial policy
today.
About our expert review panel & process
Thriveworks' own licensed mental health professionals ensure that our content is accurate and truly helpful to our readers. These professionals bring extensive experience and expertise in the mental health field, which enables them to verify the integrity of our content and improve its value via their own insights and tips. Read more about our
mental health experts
today.
---
Articles written by Mary Beth Britten