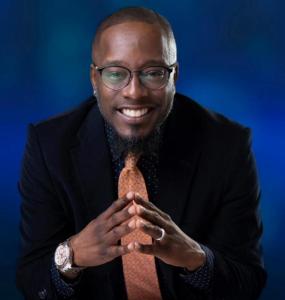 Accepting:
Aetna
Anthem
Blue Cross Blue Shield
Cigna
Humana
Magellan
Multiplan
Optum
United Behavioral Health
Self Pay Rate: $120: Individuals
$140: Couples/Families

Schedules: In Person & Online
DeShawn Artis, LPC
Currently residing in Atlanta, Ga, DeShawn is a Licensed Professional Counselor (LPC).  In 2012, DeShawn graduated from Argosy University-Atlanta with his Master's in Community Counseling, to include a concentration in Marriage and Family Therapy.  DeShawn also completed four years in the United States Marine Corps and received an Honorable Discharge in 2002.
Since 2012, DeShawn has had a myriad of experiences within the realm of mental health.  His experiences include in-home community counseling work, psychiatric hospital settings, residential substance abuse, dual diagnosis programs, and working with the LGBTQ population. DeShawn is currently working towards completing his Doctorate in Psychology at California Southern University.
DeShawn believes his best tool that he can offer clients is his gift of authenticity and creativity.  Authenticity from the therapist, DeShawn asserts, encourages clients to seek their true self and promotes self-awareness.  Authenticity, DeShawn believes is achieved through  honest, compassionate, objective self-evaluation.  Authenticity, bonded with creativity and therapeutic skill, works to maximize positive therapeutic outcomes.  DeShawn uses an an eclectic approach, understanding there are many avenues to approach a problem.  He specializes in Cognitive Behavioral Therapy (CBT), Rational Emotive Behavioral Therapy (REBT) and is Dialectical Behavior Therapy (DBT) informed. DeShawn stresses the importance of being able to "think about your thinking."  This is done to challenge unhelpful thinking, while disrupting and seeking to replace maladaptive behavioral patterns.  DeShawn is also able to provide motivational coaching to help clients reach their goals.
One of DeShawn's passions is working with the whole family system. In order for change within the individual to be created and sustained, DeShawn contends that equipping the whole family with therapeutic tools is imperative.  DeShawn's approach is direct, yet compassionate.  With a thoughtful and inquisitive questioning style, DeShawn acknowledges that the client is the expert in their own life.  DeShawn maintains that one of the therapist's primary roles when working with clients is to operate as a guide, both client and counselor working collaboratively together to reach identified goals.     Understanding that no two people experience upsets in cognitions and mood, exactly the same, DeShawn has been compassionately and humorously referred to by his peers as the "Depression Whisperer."
When not saving the world, one client at a time, DeShawn can be found in his kitchen, dishing up delectables to astound his friends.  He also has a dog named Mello (resembles a fox), who loves sniffing up all the sensational scents in the background.
Areas of focus but not limited to:
Anxiety
Depression
Trauma
Substance and Addiction Issues
Communication and Conflict Resolution
Career and Life Transitions
Grief
Suicide
Sexual Identity
Family Conflict
Love and Relationships
Populations served:
Children
Teenagers
Adults
Families and Couples
LGBTQ Population