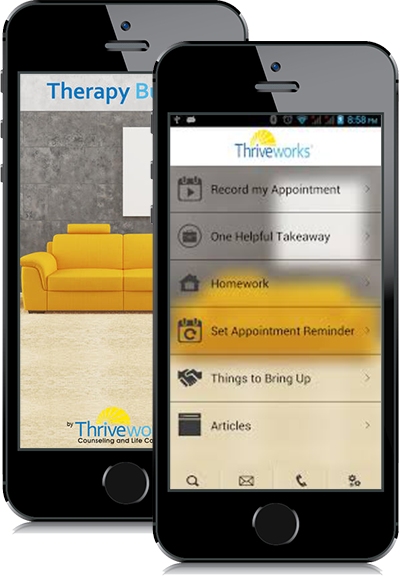 Download our Cutting-Edge Mobile App!

Get the most out of your counseling or coaching sessions with Therapy Buddy.

An important part of the Thriveworks counseling process is downloading our app, which we've specifically designed to supplement your face-to-face therapy time.
Developed by Thriveworks (featured in The Boston Globe, Newsday, AJC, The Monitor, Counseling Today, Psychiatric Times, CNN, and more), this app provides users with five helpful, password-protected features, and direct access to our blog, contact form and phone line.
On Developing Our Therapy Buddy Mobile App

For years people have said to me, "You should build an app."
I'd reply, "No thank you! The world doesn't need another useless app." Apple has almost a million apps in their store, many not worth the bandwidth they're downloaded on. I should know; I've bought and deleted most of them. …
To continue reading about how and why we developed this app, go here.
Our counseling app offers 5 password-protected features*

Write a "helpful takeaway" for each session
Create a homework assignment task list
Create a list of things to bring up at your next session
Set an alert reminder for your next appointment
*Password-protected features are stored within the app for maximum privacy and security. Read the terms of use for more information.
Our FREE Mobile App
Helps Our Clients Thrive

Therapy Buddy, our free, cutting-edge mobile app, is available on the iTunes App Store and on Google Play!
Get the Android App! Get the iOS App!
This app is simple and clean with the just the right amount of information to track without being overwhelming. Love the recorder too! Thanks!

Our Clients Love Our App!