Get Happy
Experience the Thriveworks Difference
The Thriveworks Difference
At Thriveworks, we aim to create a positive experience for our clients every step of the way. This includes our expert-level staff, committed customer service, and innovative technologies that help clients get the most out of their sessions.
Our approach to care includes both excellent service and unique quality offerings. We call this the Thriveworks Difference, and it's getting better all of the time.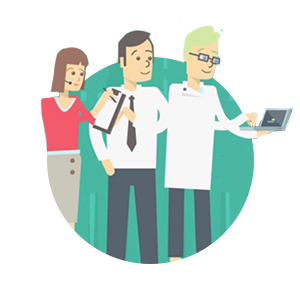 Enrollment Benefits
Clients pay $99 for the first 60 days, then just $9.99 per month*
This is what your enrollment gets you: valuable services insurance does not cover.

Advice by Email
Your counselor or coach is available by email to offer quick, non-medically necessary guidance (during business hours). Since many Thriveworks providers receive emails by both computer and smartphone, responses are often very prompt. This service is available to you even though it doesn't qualify for insurance reimbursement.

Advice by Phone
Need some on-the-spot guidance? Consult with your counselor/coach by phone for non-medically necessary advice, even when you don't have an appointment. He/she will make a best effort to be available. This service is available to you even though it doesn't qualify for insurance reimbursement.

Therapy Buddy
Get the most out of your sessions with Therapy Buddy, our mobile app with five password-protected features. Available for iPhone and Android.

Portal
Access to exclusive video content by leaders in the counseling/psychology field.

Community Discussion
Have a life improvement question or want to encourage others? Join the discussion at thriveworks.com/community, our mental health discussion board moderated by mental health professionals.
Our Premium Quality Standard
We go above and beyond to provide excellent clinical and customer service.

No Wait
More than 97% of sessions begin on time or early.

Online Counseling
Can't make it in? Connect with your provider via telephone or HIPAA compliant videoconference.

Excellent Providers
Highly-trained, top-rated licensed providers.

Fast
Most clients are offered an appointment that's within as little as 24 hours of inquiry.

Premium Session Times
Most of our offices are open from 8am-9pm M-F and on the weekends.
Value
To make our services affordable to you, we are in network with most major insurance plans.

Free Coffee
Of course, we provide free coffee and tea refreshments in our offices.

Online Booking
Clients can schedule or change sessions conveniently online.
Focused on Quality and Value
There are many places to seek counseling. At Thriveworks, we strive to be the absolute best! Clients support our practice by paying a nominal fee of $99 for the first 6 days, then just $9.99 per month*, which helps us provide premium services not covered by insurance.
100% Satisfaction Guarantee
If your first session experience is less than stellar, we'll work to make it right. If we can't, we'll refund your initial enrollment fee (up to one week after your session).
Pause or Cancel Anytime
Clients are in control. Pause or cancel your enrollment by following the prompts emailed to you when you scheduled your first appointment, or by simply emailing us at support@thriveworks.com.
*We do not provide preferred access to providers or make our practice inaccessible to clients who are unable/unwilling to pay the fee. If this is you, call us so we can provide you a waiver.
---