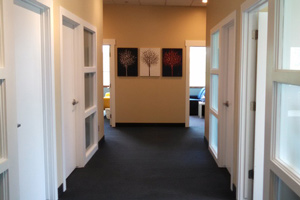 Grand Rapids Counseling Office
Find Us at Grand Rapids Counseling
Our beautiful office is located right off of I-196, Cascade Road (Exit 40A). After exiting on Cascade, turn left onto East Paris Avenue.
Drive approximately two miles to Park East Court SE (you'll see Chemical Bank on the corner) and turn left. Drive all the way to the end of Park East Court SE, you will see a monument with our sign on it. Use the front door of the building, our suite is directly inside on the right.
The building is handicap accessible and The Rapid (public bus system) also stops on Park East Court SE.
Come Inside!
While it's not polite to brag, we won't pretend that we aren't crazy about how our office looks.
When you come see us, you won't have the same awkward experience you come to expect from typical mental health practices' waiting rooms. In fact, you'll be here for such a short amount out of time that we hesitate to even call it a waiting room.
Upon you're arrival, the following will be waiting for you:
A calm, pleasing environment
Comfortable seating
Complimentary refreshments
Reading materials
Mobile charging station