We launched the Counselor Directory in 2013 to help counselors promote their practices, at absolutely zero cost. Hundreds of counselors have taken us up on this offer. We plan to continue this free service in 2014, and for years to come. But to do this, we need a small favor…
Please help us spread the word! There are 2 easy ways to do this.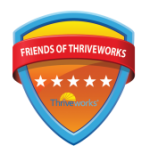 1) Add the "Friend of Thriveworks" badge to your website!
Embed your Friends of Thriveworks badge on your site (Just copy and paste the snippet below!) *Copy everything in the box:
or 2) Simply mention the directory in a blog post (or on your website), and link to it at: https://thriveworks.com/find-counselor (you can also just link to your own profile).
That's it. We have a lot of great things planned for the directory in 2014, and we're excited you're a part of it!
P.S. Be sure to email us after you post the badge, or link to your directory profile! We will be tweeting out promotions for some of the best profiles!