Find New Counseling Clients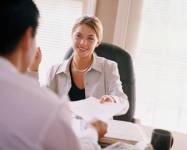 Thriveworks: Connecting Clients with Excellent Therapists
Please Note that This Offering is Only Available to Select Providers, in Select Areas. For more information, call us at 1-855-4-THRIVE.
If you are a counselor in full- or part-time private practice, you know that one of the biggest challenges of running a practice is building, and maintaining, a full caseload of counseling clients.
If you are like many therapists, the pursuit of new clients is a constant burden, and a distraction from doing what you're passionate about–helping people. Or, worse yet, perhaps you're like many counselors in that your part-time caseload isn't enough to make a living, so to help pay the bills you also have a second job, which distracts you further from your goal of growing your private practice!
Counseling Clients
Thriveworks has developed a state-of-the-art program that connects you with new clients who are a good fit for your counseling practice.
Note: The requirements to becoming a Thriveworks counselor are rigorous. However, if you qualify, Thriveworks can connect you with counseling clients who are a great fit for your counseling practice.
Here's how the process works (A Basic Overview).
Thriveworks learns about you and your counseling practice.
This includes the types of payments you accept, the demographic of clients you see, the presenting problems you are most suited to work with, and other important issues (for example, do you speak a second language?, offer religious counseling?, have a handicap-accessible office?, etc.).
Thriveworks actively promotes your practice.
We let clients know that you are accepting new clients.
Thriveworks actively promotes your practice.
We find new clients who are a good fit for the care you provide! There is no other service for therapists, anywhere, that provides this level of assistance.
Prospective clients call Thriveworks. We screen and schedule new clients on your behalf.
Thriveworks screens and schedules new clients for your therapy / life coaching practice. In fact, we guarantee our success in bringing new clients into your office! In addition, you are given acces to an online calendar, so that your schedule is always up-to-date. We also send you an email confirmation when each new clients is scheduled!
New clients show up for their first appointments, ready to begin counseling / life coaching!
To clients, Thriveworks means quality, client-centric care. Because of this, there is a rigorous screening process for any counselor interested in joining Thriveworks.
Want to learn more? Let's talk!
We'd love to talk with you about whether Thriveworks is a good fit for your practice. Call us at1-855-4-THRIVE, or simply complete the inquiry form below.